Berkeley
Country:
United States
State or province:
California
Team Leader
David Brandt
Contact
Admin
Login
---
Team Badges
---
Recent Blog Posts
---
El Sobrante Stroll
October 2, 2019
---
September 15, 2019
El Sobrante Stroll
We had a very large outing in El Sobrante California at their annual El Sobrante Stroll. This event in which the main road through town is closed to cars starts with a parade and continues with hundreds of attendees walking from booth both.   Our booth was two spaces down from a motorcycle club (who's name I won't mention) and across from Baptist Church booth. Just prior to the outing, I had received a max order of Rosaries which is about 500. We gave them ALL away along with "how to" pamphlets. We actually had seven evangelists working the street and the booth. Here are some stories.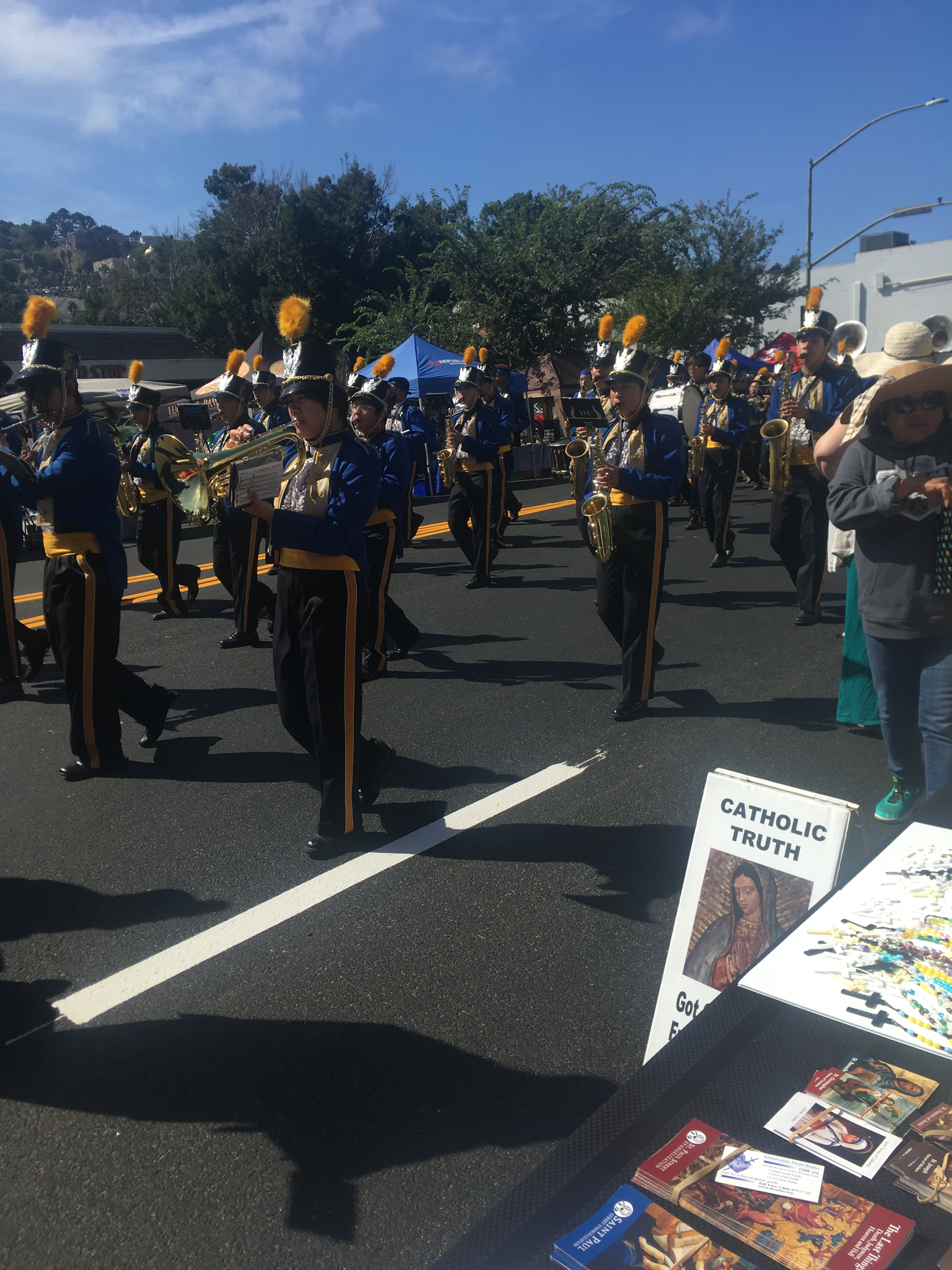 Chuck:
Two parishioners one from St. David of Wales and one from St Callista happened upon our booth and stayed awhile to acquaint themselves with us and learn about the SPSE Ministry. They seemed delighted to know we were there and doing the Ministry.
The St David man took our group photo.
It was rewarding to see Dave Brandt rewarded at long last with a street booth at the Stroll. Dave has tried and thought about it for some years.
Moralma (first time)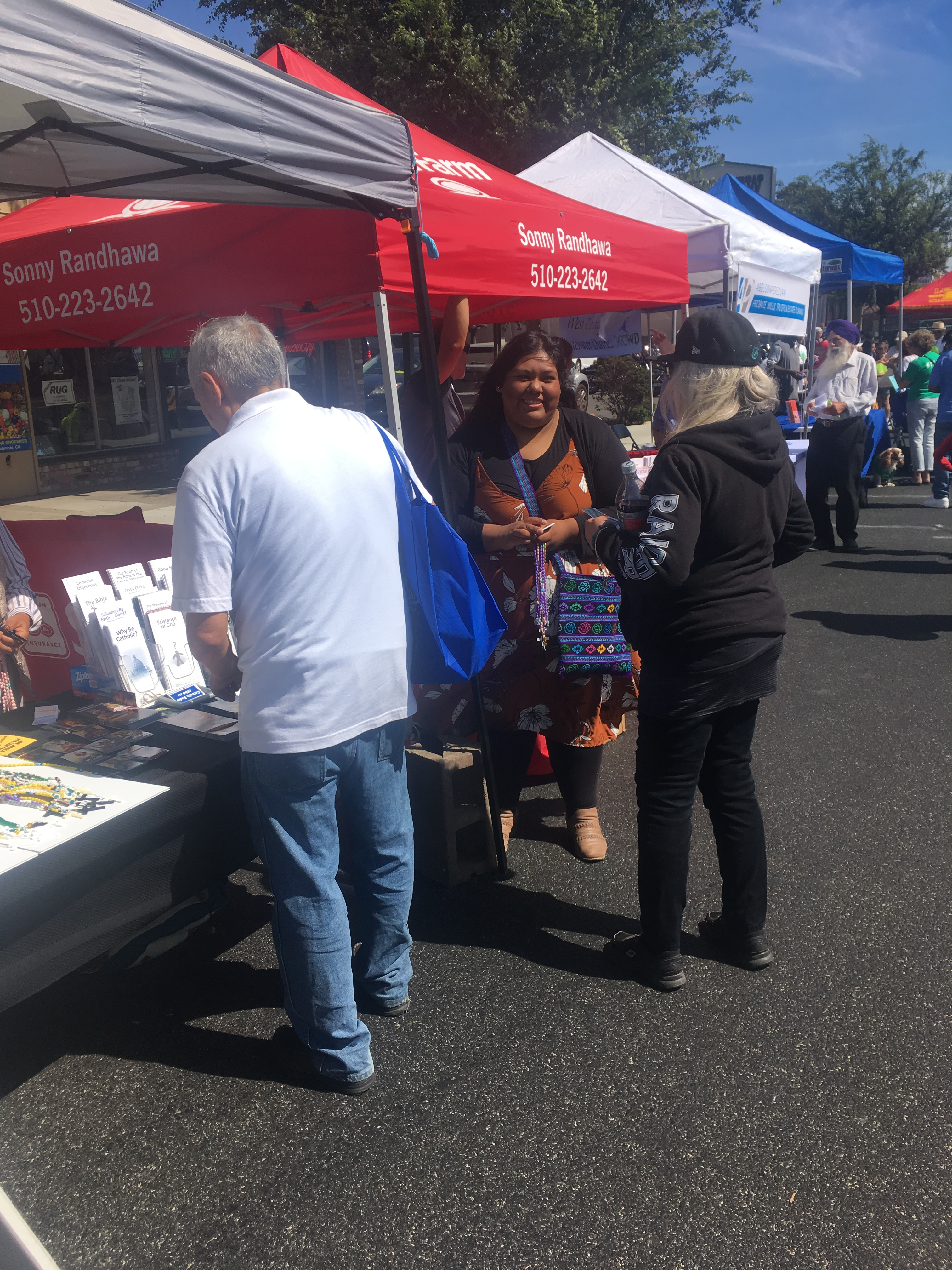 Thank you for letting me help you guys on Sunday, my heart was overwhelmed with joy to see that many people have a craving for Jesus. There were three encounters that I had which shows how St. Paul Street Evangelization really has an impact on people.
There was a lady who at first couldn't believe that the rosaries were free. After asking her if she knew how to pray the rosary she said she did but still wanted the pamphlet on how to pray the rosary. I also asked if she was Catholic and she said she was and where she went to mass, and she said she watched it on TV. I invited her to try to go to church because the mass was beautiful in person. She left and after a while came back looking for me to introduce me to her friend and to ask if her friend could also have a rosary. They needed to pray for one of their friends because he was diagnosed with cancer. Those rosaries will encourage them to pray even more especially during the difficult time that they are facing. We also took down her friend's name to pray for him.
There was a young man who kept looking at the booth from afar but seem to hesitate to get close to the booth. I don't know if he was going through something difficult or if he felt melancholy remembering the Church but his eyes had tears. He finally approached the booth when I spoke with him and I said the rosaries were free and all the prayer cards were free. He really seemed to like the St. Michael prayer card. After he grabbed the card I asked if he went to church and he said no but his mom went every Sunday. I suggested that he should go with her. When people see us handing out rosaries reminds them that is time to go back to the church.
There was also a couple that really seemed to like what we were doing but when I asked if they went to church they said they haven't gone since they left in El Sobrante because they moved to Vallejo. But they did say that maybe is time to go back. And I let them know about masstimes.orgwhere they can always find a Catholic church near them.
My favorite thing about this event is being able to hand out rosaries to kids which was very easy because they were attracted to the colorful beads. Many times they would help us also evangelize because even though some parents would hesitate to come to the booth they would have to stop by when the kids got near to choose their rosaries.
David
Met with a woman who was a Christian Scientist whose husband was Catholic. They sent their child to a local Catholic grammar school. She told me that they had spent their marriage sticking with their own faiths and agreeing to disagree. I gave her a Whey Be Catholic pamphlet and a Catholic Radio card. Her child took a Rosary. Please pray for that Catholic unity may come to their marriage.
Met a guy that I befriended many years ago because our sons were friends. We chatted about general "howzit goin" stuff and he finally said, "So what are you doing here?" I said, "Givin' out Catholic stuff." Then I handed him a Catholic radio card which he put in his wallet. I am interested to see if next time I see him, he mentions listening to the station.
At the end of the day, as we were taking down all our booth, I got to thinking how I did not have as many interactions as I would have withed. I then put the kibosh on that thinking because I realized that I helped 6 other evangelists have those encounters.
Paul (first time):
I offered a gentleman a free Rosary and asked him if he was Catholic. He looked off to the side and shrugged saying, "I'm kinda Catholic". I remembered being in his shoes for many years and the joy that I experienced when I finally came back. I looked him in the eye, and shook his hand while giving him a Rosary and Roasary pamphlet and said, "Welcome home".
Rita
We were approached by at least four people from local Catholic Churches who had never heard of the I ministry and wanted to learn more about it. They were visibly moved and expressed gratitude to us for being out there. I made it a point of connecting them with our team director so they could learn more and hopefully get engage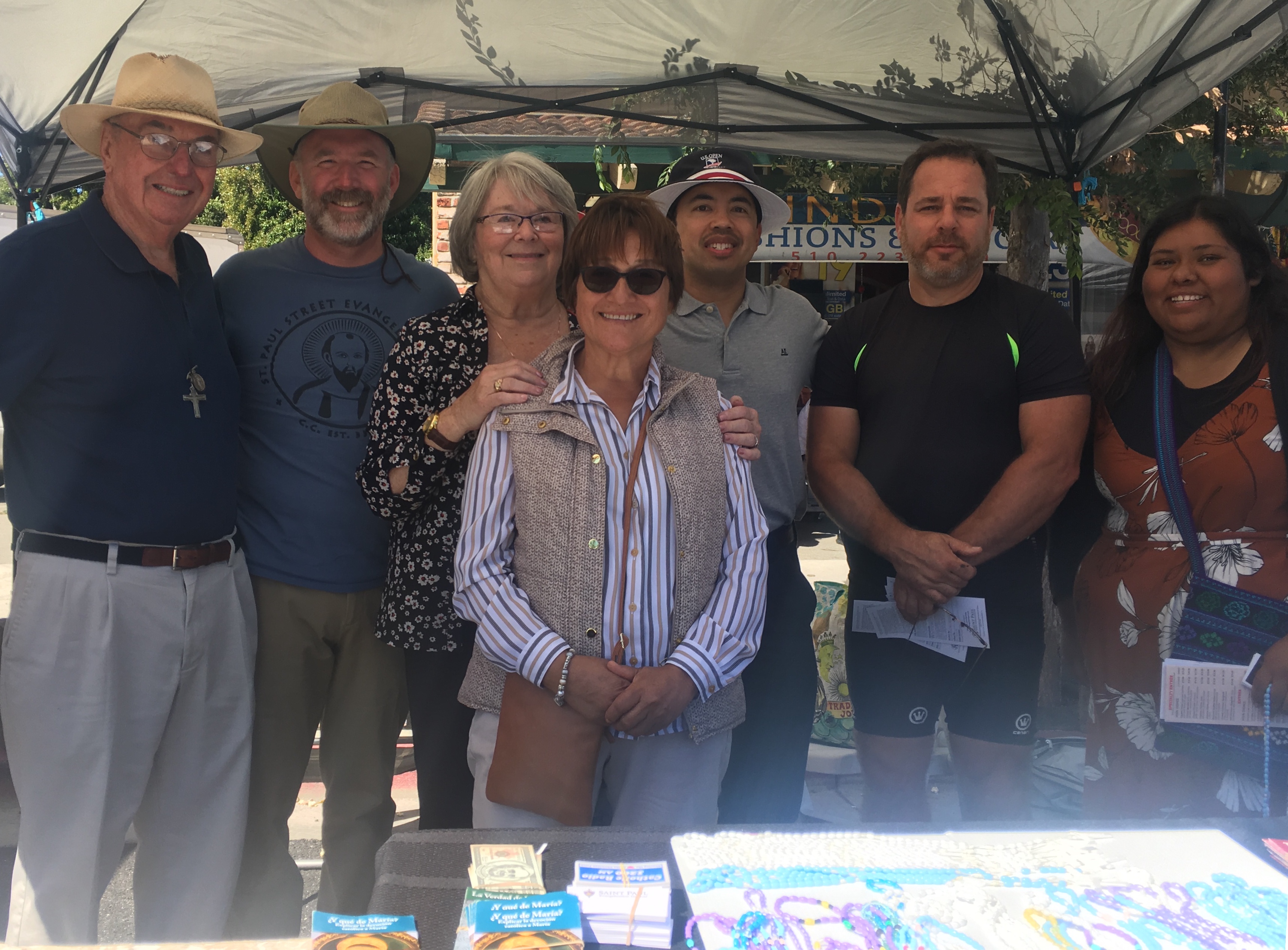 Left to Right- Chuck, David, Rita, Maria, Rodney, Paul & Moralma