Berkeley
Country:
United States
State or province:
California
Team Leader
David Brandt
Contact
Admin
Login
---
Team Badges
---
Recent Blog Posts
---
Finally back at it in Berkeley
July 11, 2021
---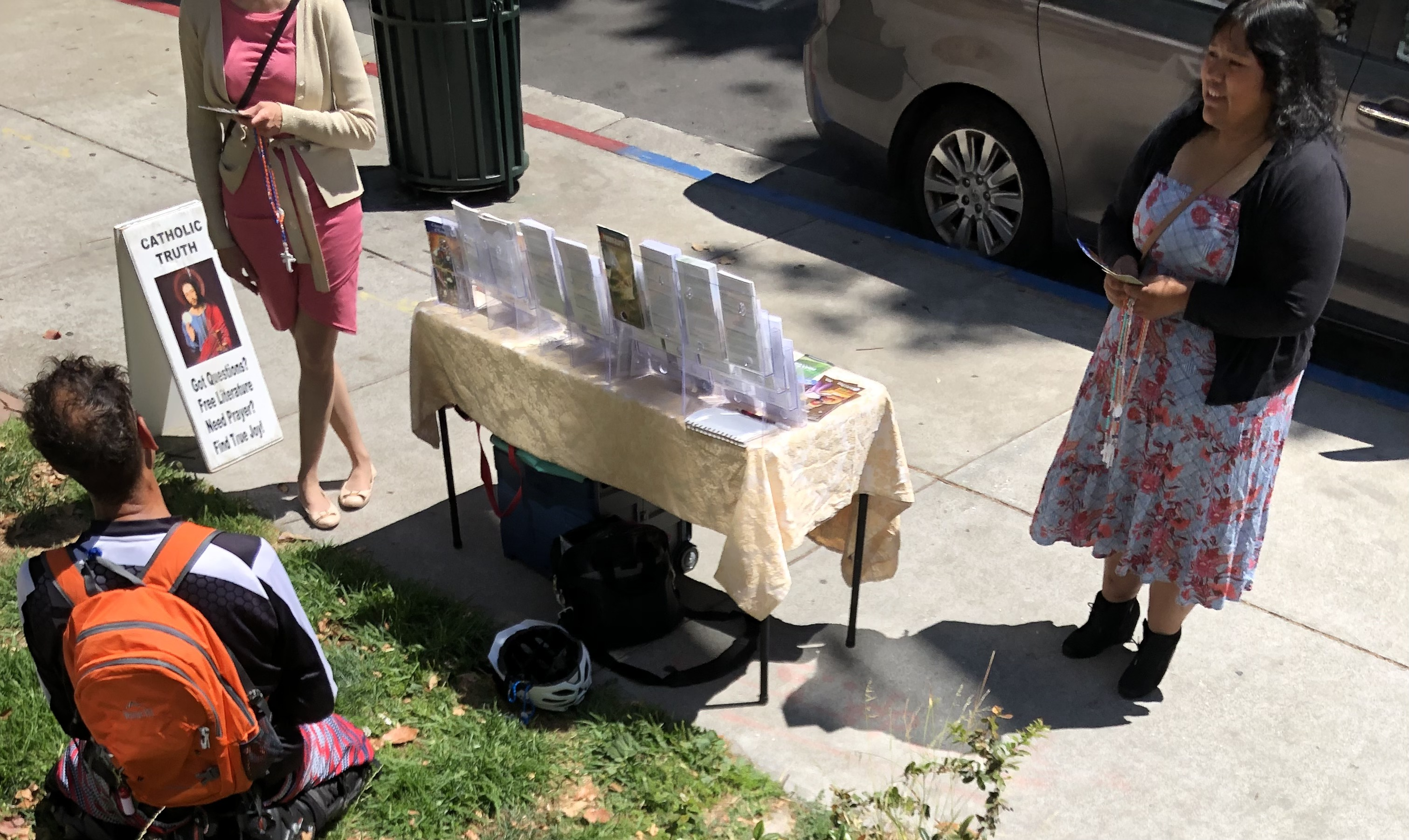 The Berkeley chapter of St. Paul Street Evangelization went out for the first time in about 9 months. California has had almost a month to get used to being opened up. We stationed ourselves outside the entrance to the Berkeley Farmers Market. Today's team members were David, Tracy and Alma. Here are their stories:
David
I focused on offering rosaries and Daily Prayer pamphlets. I got many, many "No's", but it seemed as though people were going out of their way to be polite about it. My first actual conversation was with a man named Rafael. He has a friend who is struggling with envy, and he thought having a Rosary would help his friend with the issue.
I met a young lady whose dad is Catholic and whose mom is "Christian." I told her Catholics are Christian, too. She sort of agreed. I started sharing with her how the Rosary is a form of meditation. She liked that and said she enjoys meditation. I told her most modern, popular forms of meditation focus on clearing the mind, where the Rosary helps people focus their mind on God.
I met a woman who said she was raised Catholic and asked for the Daily Prayer card. I told her that pamphlet had morning prayers and evening prayers will come back to her after she uses it.
Tracy
Tracy immediately engaged with a signature gatherer named Andrew. He was collecting signatures for an environmental cause. He accepted a Rosary from her and shared that at one point in his life, he seriously considered if he had a vocation to the priesthood. He ultimately decided to become a social worker, like his mom. But, he says, the Catholic faith is still "his heart." He is not currently attending church because he recently moved & hasn't figured out where to attend. After learning where he lived, Tracy told him the closest Catholic Church to his house. And he's excited to go. Tracy told David about the discussion and a while later, as Andrew was making small talk with David while tossing out an empty cup, David gave him a Catholic Radio card and a "Reasons to Return to the Church" pamphlet. He told David he would go see the church in his area.
A very tall roller-blader named Luigi stopped to converse at the table with Alma & Tracy. Luigi had a lot on his mind & shared many ideas and thoughts about faith and about relationships. He also had done some Christian ministry in the area. God constantly reasserts Himself for Luigi -- through his many twists & turns with several marriages. And Luigi requested prayers (in our prayer register book) for his relationship with his young adult daughter. Although he was a bit scattered, it seemed he appreciated the opportunity to talk through many things that had been stirring his mind for a long time. Tracy noticed he peppered his conversations with swear words, and finally she asked if he'd ever considered making a serious effort not to swear. Luigi said he hadn't, and then he pondered the suggestion, and suddenly thanked her and left, appearing to be a man on a new mission.
Tracy also met with a man named Rasa who was a former LDS member and missionary to Korea. He has some deep interest and curiosity about Catholicism, based on his mother (who was always a spiritual seeker with him) who spoke well of Catholicism in the few years before she passed on. He brought up the Rosary and they actually went in depth with the Rosary pamphlet talking about how to pray it.
Alma met one of the staffers from the farmer's market named Chantelle, who does security and clean up. She came back twice asking for miraculous medals and Rosaries. In tears, she told Alma that we should be there EVERY Saturday and that she was going to use the Rosaries with her grandchildren. She also took the St. Michael prayer card and said everybody could use more Jesus.
A man turned down Alma's offer of a free Rosary because he is Jewish and kept walking. Next, a young woman came by. Alma asked if she was Catholic, and she said she did not know. Then the Jewish man who said no came back to the table because the young woman was his daughter. In front of him, she accepted a Rosary and he did not try to stop her.
After looking back at all our collective encounters, what at first seemed like a day where everyone said no, turned out to be quite an engaging day.
These were the prayer intentions gathered today. Please make it a point to pray for these.
• Melisa, recovering from foot injury and surgery. Please pray for quick and successful recovery.
• Chantelle, for her life to get better.
• Luigi, prayers of gratitude and to open channels of communication between he and his 21 year-old daughter, and for his ex-wife.
• Jesse, for help to find a job.
• David, for help to find a job.
Hail Mary, full of grace, the Lord is with thee. Blessed art thou among women and blessed is the fruit of thy womb, Jesus. Holy Mary, mother of God, pray for these intentions and pray for us sinners, now and at the hour of our death.
Amen