Berkeley
Country:
United States
State or province:
California
Team Leader
David Brandt
Contact
Admin
Login
---
Team Badges
---
Recent Blog Posts
---
THE CAR SHOW IS BACK!
October 1, 2021
---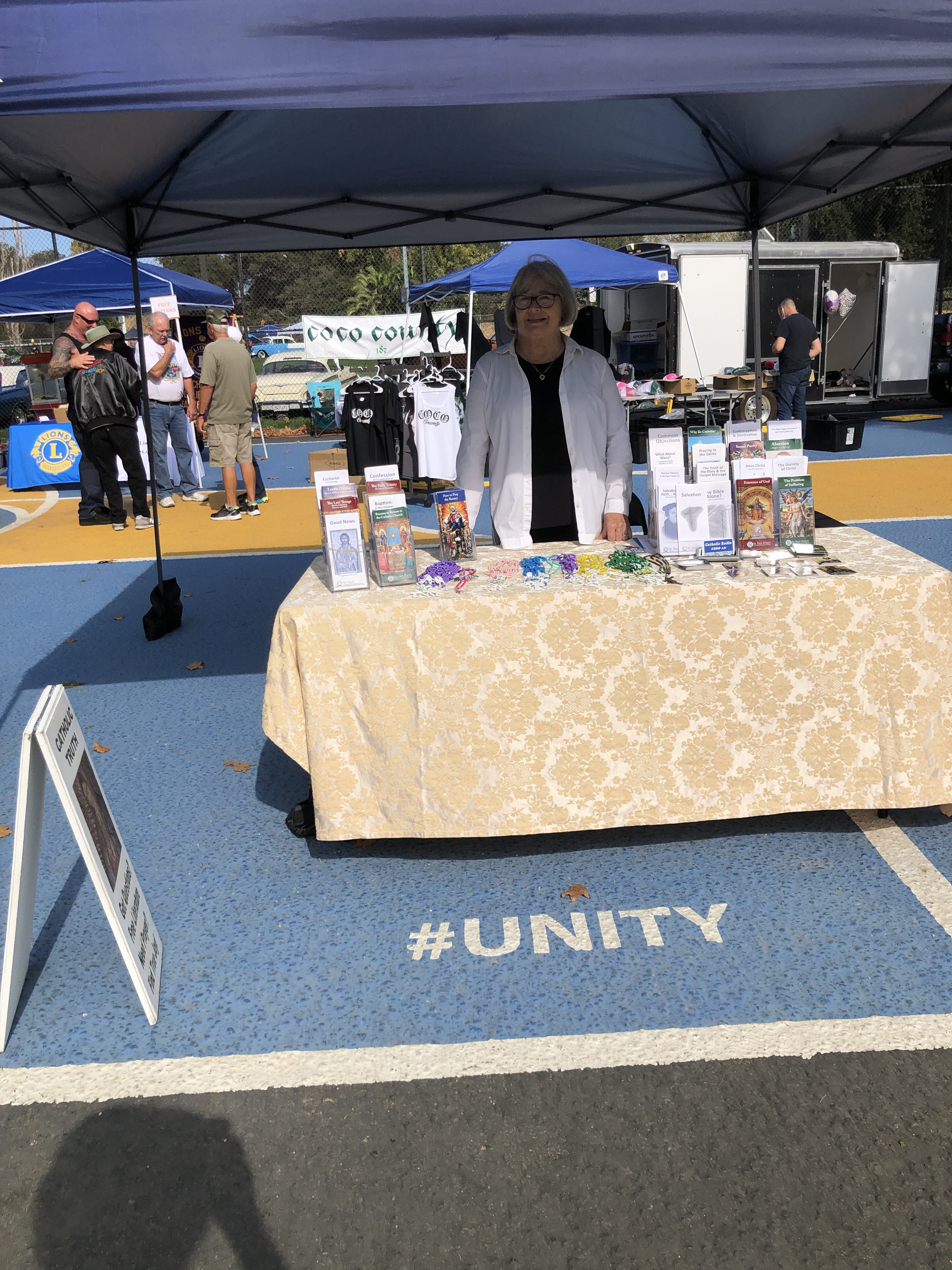 On September 26, 2021, 2 members of the Berkeley Street Evangelization team worked at the Pinole Car show. This car show which resumed this year after missing last year to the virus was very well attended. Rita and Dave had a booth there and connected with many people.
Stories.
Dave & Rita met a woman who is coming out of a difficult period in her life. She had a 6-year-old girl with her and shared how she is coming back to her faith and really wanted to start reading the Bible. She wanted a recommendation for which one to get. Dave happened to have a paperbacked Ignatius Bible that he had been carrying to street evangelizing for a long time and never used. It even had those tabs that help you quickly answer protestant objections. He was going to show her the title and just decided it would be better to just give it to her. She was very moved and grateful for this. He also gave here the Lectio Divina pamphlet. She took a Rosary along with a manual. She felt like divine providence was at work.
They encountered another woman who had many, questions. She asked the questions in a spirit of genuine curiosity and eagerness. They spoke to her about avoiding churches that are Bible only based since that approach leads to splits and that they lack true authority. When Dave shared with her the fact that he had gained great spiritual insights from praying the Rosary, she said, "Like what? . . ." He discussed the amazing idea of Jesus being fully God and fully human. She took Rosaries for her whole family as well as Why Be Catholic and a Catholic Radio Card and various other pamphlets.
They met a number of families and individuals who were new to the area and did not know enough about the local parish.
One young lady working at a food booth across the isle from them who had Rosary and an instruction pamphlet promptly opened it up, sat down and boldly read out loud, the Apostle's Creed.
One woman had her 12-year-old daughter with her who had not received her first communion yet. She was talking about how she needed to get her into classes for first communion. Dave gave her the Eucharist and Confession pamphlets and briefly talked to her about how the two work together.
All together they gave out about 50 + Rosaries, a small handful of Miraculous Medals and a stack of My Daily Prayer cards. Rita's comment after all was done-
"I am always surprised at how much I think I get more out of the ministry than the people we encounter do; it is just such an honor to be there to experience people being able to ask questions and grow as we discuss the faith with them."