Homeless men and fun-seeking teens, Jesus loves them all - 2019-09-01
September 9, 2019
---
Homeless men and fun-seeking teens, Jesus loves them all and wants them to come to Him. So, thank you again for your prayers and other support for Boise's Catholic street evangelization effort. Two evangelists were available.
A panhandler, who had stationed himself across the walkway from our regular spot, complained to evangelist Chuck about how loudly he was offering free Rosaries to passersby. The man declined accepting one himself. At one point, a nicely dressed man gave the panhandler a bag of chips, then came over to our table to accept a Rosary and its pamphlet. A non-Catholic Christian and unfamiliar with the Rosary, our visitor was glad to see that the focus of the prayers is on Christ.
A group of 8-10 teens, from around the valley, stopped so each could snag a free Rosary. They were only minimally respectful with them, but may Our Lady bless them and use even this little positive action (of accepting a Rosary) to bring each of them to her Son and all the way to salvation.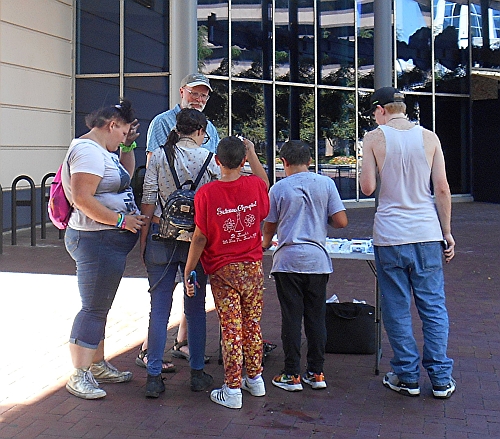 Other large groups of teenagers also swarmed the table for a Rosary. Many of them also took the pamphlet describing the devotion. For the most part, they did not know much about Jesus, or about prayer, but we encouraged them to get to know the God who loves them so much that He died for them.
"Walt" stopped by. In contrast to his usual vigor, he sat down and rested during our short (!) conversation. He'd been hospitalized for 3-4 days with a bad infection on his leg and, due to homelessness, found it challenging to keep up the schedule (and food requirements) for the ongoing antibiotics. However, he was heading to the library to work on a creative task for his model car project. I've never seen him with such low energy, and I've heard the life expectancy for homeless people is short. Please pray for Walt?
The homeless man who talked of suicide a few weeks ago greeted us as he passed by. He was doing better, and told us that he had given his Rosary away to another street person to comfort them. He was accompanied by another housing-challenged man, who tried to sell us a high-end bicycle rim. Because we don't bring cash with us (Matt 10:9), we were probably saved from receiving stolen goods.
A boy, about 8 years old, wanted a Rosary. Evangelist Chuck said he could have one if it was okay with his folks. He turned to wait for them to arrive. It was okay, so he happily chose one and received its booklet as well.
A group of college-aged non-Catholic Christians stopped and each respectfully accepted a Rosary.
Our "guardian angel" police officer rode by on his bicycle. I saw him too late for any interaction.
A woman walked by, carrying on her shoulder a small dog (that looked like a gray cat from its back). She said he had been frightened by the fountain.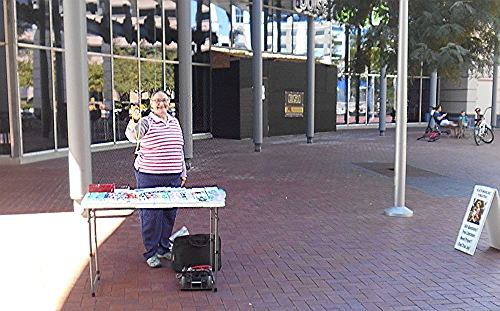 In the big flurry of activity, the two evangelists gave away a good 30 Rosaries and its pamphlet.
Please pray for these people, and for us again today? Please ask God to send people to us prepared and able to receive the Good News about our Savior Jesus Christ and the Catholic Church. Please ask that much good fruit for His Kingdom comes of today's efforts.
Using the Rosary to attract their attention, we invite everyone who comes to us, respectfully or not, to draw closer to Our Blessed Lady's Son, Jesus Christ. So thank you again for your prayers for this apostolate! In turn, may God protect and great bless you and those you love!
"Go with the strength you have" (Judg 6:14).