Age-old truth is still true - 2019-09-08
September 18, 2019
---
Age-old truth is still true. So thank you again for your prayers for Boise's Catholic street evangelization effort. Two evangelists were available.
Probably close to a dozen children in their early teens were wearing brightly colored t-shirts from a rock musician and that mocks purity. Please pray for them?
A couple, perhaps in their early 20s, stopped. The woman was upset at the Catholic Church, because her brother had committed suicide and her Catholic parents reacted by angrily writing him off as hopelessly condemned. Evangelist Lucy clarified the Catholic teaching: God grants enough grace to everyone to be saved; so we can hope that her brother was granted a split second before his decision became final to say, "oops," that is, to repent. The evangelist encouraged the two to pray for that for him, because God could backdate their prayers.  They agreed to do so, and each accepted a Rosary.  Per evangelist Chuck, the woman's breath smelled strongly of alcohol.
A woman stopped and asked for a medal with Mary on it.  (Our stash of Miraculous Medals was hiding from evangelist Lucy at that moment, so she offered our visitor a St. Benedict medal instead, telling her of its historic origins and protective value. She graciously accepted.)  The woman, a non-Catholic "completed Jew", but now-inactive Christian, is fond of Mary. She first heard of Our Blessed Mother when a Christian childhood friend told her that she looked like Mary. Currently, our visitor was suffering from the break-up of a romantic relationship and surprised herself at how much she was revealing to two sympathetic strangers.  Please pray for her? As is common in abuse situations, she still thinks about reconnecting with him. She smelled strongly of incense.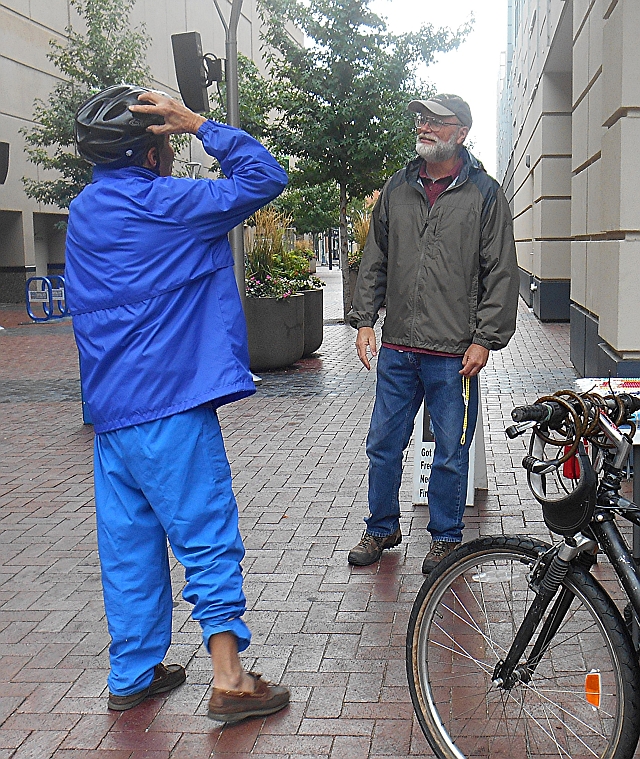 "Gary" stopped, and then recognized evangelist Chuck from their sons' Boy Scout days many years earlier.  A non-believer and interested in politics, Gary declined receiving a Rosary because he was "not religious." His comments, though, on the Catholic Church and Mary revealed many historical and theological misconceptions, errors, and lack of good instruction. For example, he.was astonished to hear of the perpetual virginity of the Blessed Virgin Mary.  He couldn't wrap his head around people living chastely. Please pray for him and all those called to public office?
A *kerygma* pamphlet went to a teen, who stopped for a free Rosary but couldn't quite remember who Jesus is.
We gave several Rosaries to groups of teenagers before we realized they were the same teens from last week, although there were a couple of new kids in the growing group. We encouraged them to put their Rosary somewhere they could see them on a daily basis, and one girl replied that she had hers hung in her room.
A grinning, hand-holding, middle-aged couple stopped. They wanted the Rosaries as a blessing for their wedding, that is just a couple weeks away.
Foot traffic was fairly light, due to rainy weather.  Still, the two evangelists gave away 15-20 Rosaries, mostly to teens on skateboards, and one copy of our Good News/*kerygma* pamphlet.
Please pray for these and for us again today? Please ask God to send people to us prepared to perceive their need for Jesus Christ and the Catholic Church, and that much good fruit for His Kingdom comes of our effort today.
Jesus Christ is real, and we want our visitors to grow close to him and be saved. So, thank you again for your prayers and other support for this apostolate. In turn, may God bless you and all those you love!
"Go with the strength you have" (Judg 6:14).