For those with eyes to see, the Rosary makes its mark – 2019-07-21
August 5, 2019
---
For those with eyes to see, the Rosary makes its mark. So thank you again for your prayers for Boise's Catholic street evangelization effort! One evangelist was there.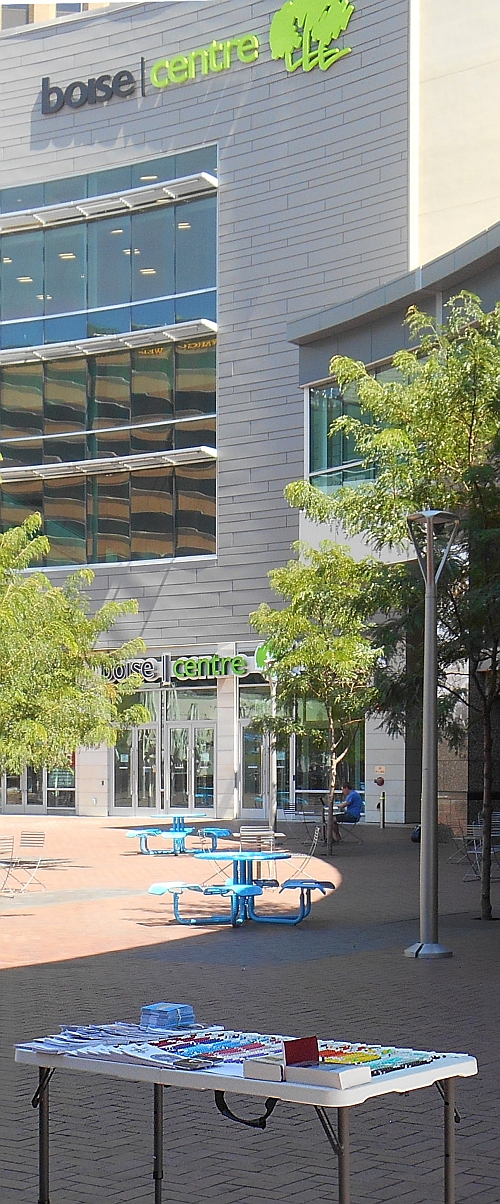 Have I reported to you the logo was chosen by the business park, where each week we encourage people to start praying the Rosary? I see the logo as three trees, whose shadows are kneeling. I find the choice oddly appropriate, since 1) Boise is nicknamed the "City of Trees", and 2) we pray for the salvation of everyone associated with it.
A woman, perhaps in her mid- to late-20s, had a bass ukulele strapped to her back and was vocally rehearsing some music as she walked by. She reached a stopping point, so I offered her a free Rosary. To my surprise, she came over. Not too familiar with Christianity or the Catholic Church (although she said she'd been a part of it for 17 years), she accepted a copy of the Catechism along with her free Rosary and its booklet.
Some attendees told me that the convention going on was for a video game. It seemed to attract men with bushy beards and prepper-style work clothes. One convention-attending man stopped in answer to my offer of a free Rosary. He remembered praying the Rosary as a child, and said he was still Catholic. Asked what parish he attended, he named some that aren't around here. I showed him the map of area parishes and he indicated one (that didn't contain any of the names he'd mentioned). Please pray for him?
While I was helping that man, a woman came to the table and gratefully helped herself to a copy of the pamphlet on how to pray it. I didn't get to talk with her.
Two women in their early 20s stopped by. Though each accepted a Rosary, they refused the pamphlet. They politely stood there for the brief explanation of the devotion, but seemed impatient to leave.
A shirtless but nicely groomed man in his late 20s or early 30s stopped by. He asked for a Catholic Bible. He also accepted a Rosary and its pamphlet.
A man walked by, scowled, and said something. The only word I caught was "pedophile." "You're a pedophile?!?" I asked, incredulous at his public confession. "No, the Catholic Church is," he responded. An ineffective no-she's-not/yes-she-is exchange followed. Please pray for him that he gets past his real objection to the Church and becomes actively Catholic?
A man came up and asked for a green Rosary. I pointed to the end of the table which held a small selection, and he chose the bright Kelly-green one.
The evangelist ended up giving away, 10-12 Rosaries, 1 copy of the Catechism, and 1 Catholic Bible.
Please pray for us again today? Please ask God to send people to us prepared to perceive their need for Our Savior Jesus Christ and His holy Catholic Church, and that much good fruit for His Kingdom comes of today's effort?
Praying the Rosary changes things for the better, so thank you again for your prayers, your encouragement, and other support for this apostolate, which puts them in people's hands. In turn, may God protect and greatly bless you and those you love!
"Go with the strength you have " (Judg 6:14).
P.S. For a photo that includes the logo, please visit our blog page.