The battle for souls still rages – 2019-07-28
August 6, 2019
---
The battle for souls still rages, so thank you again for your prayers for Boise's Catholic street evangelization effort. Three evangelists were available.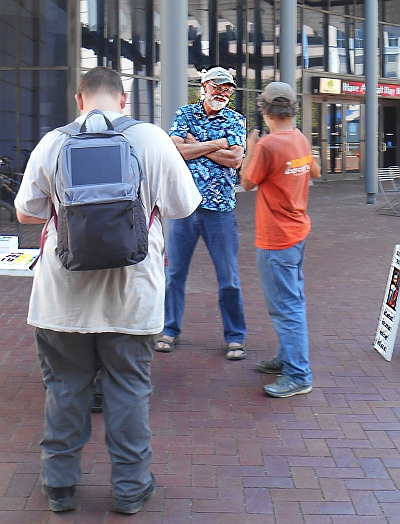 Repeat-visitor "Walt" and friend stopped, hoping to talk with evangelist Mike. While he waited, he told his story to each evangelist, as we arrived. On a positive note, he began his recitation by giving God the credit that things seemed to be turning around for him. However, he still seems caught in dreams of vengeance. Please pray for him?
Walt's companion, "Hosea", also visited at length. Also disabled, also feeling victimized, also believing that violence is a viable solution to interpersonal problems, he was understandably also without employment or steady housing. Asked what work skills he had, he proudly listed computer game "achievements." When he expressed the desire to move back in with his mother, who is also severely disabled, the evangelist tried to get him to commit to sharing the household workload if he did move back home. But one also wonders if his mom would even be safe with Hosea in the house. Prayers, please?
While "Walt" and "Hosea" were still there, a third homeless guy stopped. He wanted to know where churches were, but was not interested in a Rosary or anything else.
A woman, in her 20s and wearing a large 5-pointed star pendant, chose a Rosary. She declined the booklet.
The parents of "William" stopped at our table. They were downtown looking for him, their oldest son. He's homeless, having gotten in with the wrong crowd, which includes some who profess loyalty to the enemy of all humankind. His mom accepted a copy of the 12-year prayers of St. Bridget on the Passion of Christ. They have other children at home. Please pray for William and family?
Two nicely dressed children, both under 8 years old, came and chose Rosaries. They each accepted a copy of its pamphlet. Their parents were not in sight.
A man sporting many facial piercings, in his late teens or early 20s, stopped for a Rosary. Vaguely Christian but not connected with any church community, he accepted a copy of the map to area parishes and the invitation to get connected with RCIA.
Two women in their 20s stopped to receive their free Rosary and its booklet. One of them vaguely remembered who Jesus was. She accepted a copy of the Good News/kerygma pamphlet.
"Hope that works for you," the Catholic woman responded as evangelist Lucy explained the protection that God provides those who pray the Rosary. It led to a discussion of the power that the Blessed Virgin Mary has been granted over even the fallen angels. Truly, Our Blessed Mother is Queen of Angels.
"Caitlin", a recent high school graduate has just arrived in Boise to start college, was there with her mom. She took a Rosary, its pamphlet, and a map to local parishes.
A man in his early 20s and his wife/girlfriend went by, but then returned. They each accepted a Rosary and its pamphlet.
A middle-aged Catholic couple, who "have lots of Rosaries", stopped to cheer us on. They are involved in their local parish choir.
A young woman stopped. Evangelist Chuck gave her a Rosary and evangelist Mike gave her the pamphlet.
A man in his 20s was carrying drum sticks in his belt. Evangelist Chuck called him "Drummer Boy," and he came over. He took a Rosary, but was more interested in talking about music. Chuck forgot to give him the Rosary pamphlet, so ran it to him, saying, "the Rosary is the instrument and the pamphlet the sheet music." He just smiled.
There were two teenage couples who stopped at our table. In each case, she took a Rosary but he did not. In neither case did they answer or ask questions, they just smiled and took the Rosary and its pamphlet.
Two students, attending a local Catholic high school, stopped for a Rosary.
Altogether, the three evangelists found homes for 15-20 Rosaries and its pamphlet, 3-4 maps of area parishes, 1-2 copies of the Good News/kerygma pamphlet, and 1 St. Bridget prayer folder.
Please pray for us again today? Ask God to send people to us prepared to perceive their need for Jesus Christ and His holy Catholic Church. Please ask Him to grant that much good fruit for His Kingdom comes of today's efforts.
Many souls are in danger, so your prayers and other support for this apostolate is critical. Thank you! In turn, may God protect and greatly bless you and those you love!
" Go with the strength you have  " (Judg 6:14).