To Jesus through Mary - 2019-09-15
September 30, 2019
---
To Jesus through Mary. So, thank you again for your prayers for Boise's Catholic street evangelization effort. Two evangelists were available.
A national health insurance company fenced off the entire center of the business park for their conference. So, we sezzzt up just south of their enclosure. And, thanks to the barrier, everyone was funneled right past our table! We received appreciative glances from several of the conference workers, one even expressing his gratitude out loud for our presence.
"Kathleen" stopped to visit for a moment. She had traveled to the conference from a large city of ungodly reputation. She was inactive in her Catholic Faith, since her husband was not Catholic and they married in his non-Catholic Christian church. Although strongly urged to by her husband and the minister, she refuses to join that denomination. Evangelist Lucy encouraged her to find a Catholic parish at home, and get the paperwork started to get her marriage convalidated in the Catholic Church. Please pray for Kathleen?
The two women who received a Rosary from us a couple of weeks ago, the ones perhaps tempted to an unholy lifestyle, stopped by again to thank us for that "life-changing" Rosary. They gave no further details. Please continue to pray for them?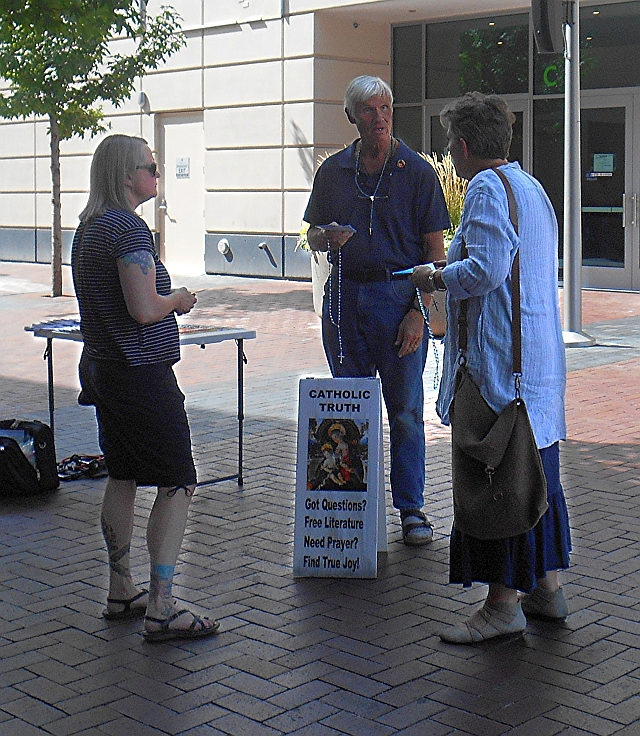 Two other women stopped and visited with evangelist Mike. One of them has a brother in the politically troubled area of an overseas country, where Catholics are persecuted and deadly violence has become frequent, She said that, in that country, people could tell you were Catholic by where you live or what clothes you wear. Here, she said, they can't tell and don't really care. Sad, but true.
A young man (woman?), in early to mid-teens, stopped by to acquire a Rosary. He came back several times, first to trade the Rosary for another, then to bring some friends to get a Rosary, and finally to trade his second Rosary back in because "it was broken." Assuming the chain had simply pulled apart (because the chain Rosaries tend to be quite delicate), we encouraged him to choose one made of string. Afterward, though, we noticed that the broken Rosary's crucifix had broken off below the INRI. (Odd. How does something like that even happen?) May Our Lady lead these souls to Her Son and salvation!
A group of four non-Catholic Christians stopped. Three out of the four accepted a Rosary, its booklet, and the encouragement to pray it.
A mother with a toddler stopped by. She accepted a Rosary for herself and her child, and received encouragement to pray it as a family, for the protection it provides.
Altogether, we two evangelists gave away 15-20 Rosaries, 2 Miraculous Medals, and 1-2 copies of the kerygma.
Please pray for us again today? Please ask God to send people to us prepared to perceive their need for Jesus Christ and His Holy Catholic Church, and that much good fruit for His Kingdom comes of today's efforts?
Our Blessed Lady leads people to her Son. So thank you again for your prayers and other support for this apostolate. In turn, may God protect and greatly bless you and those you love!
"Go with the strength you have" (Judg 6:14).