9/22: Hot or Cold
October 22, 2019
---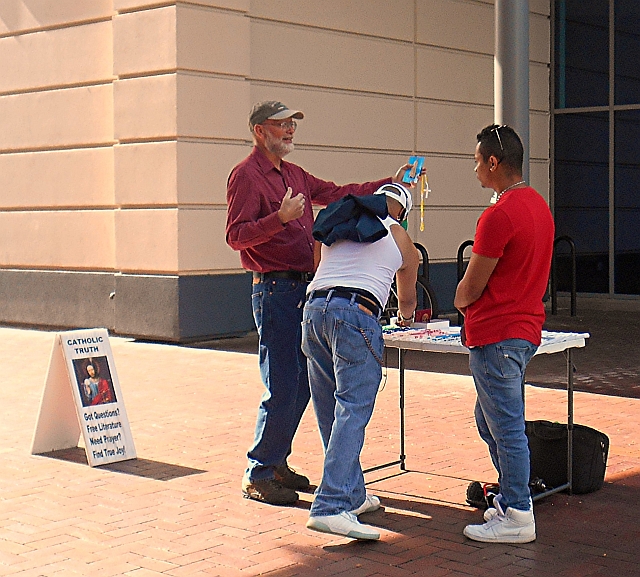 Pedestrian or dramatic encounter, we hope every soul finds Jesus Christ and salvation. So thank you for your prayers for Boise's Catholic street evangelization effort. Two evangelists were available.
A Catholic family from another part of the state stopped. They were visiting their daughter, who is a nursing student at the local university. They seemed appreciative of our presence for their daughter's sake. The grandmother asked if the Rosaries were blessed. Each member of the family chose a Rosary.
A couple, perhaps in their mid-20s, had heard of the Rosary and Jesus, but professed no particular religion or belief. They each took a Rosary and the pamphlet on how to pray it, as well as copy of the kerygma. They also listened politely as evangelist Lucy encouraged them to actually pray the Rosary, even if all they had were questions.
Two women stopped, Christians, the one very enthusiastic about the Rosary and seeking peace from it. She talked about having some other kind of prayer beads that she used to calm herself down at work, and looked forward to trying the Rosary. Each took a Rosary and its pamphlet.
The two teenage girls refused the offer of a free Rosary and walked on. Then they changed their minds and came back to the table. They seemed unsure if they were Christian or not, but accepted Rosaries, its pamphlet and one on the kerygma, and a brief explanation.
Repeat-visitor "John" paused to chat with evangelist Lucy. You may recall that he monitors the parking garages for the business center. He confided that he'd been under so much pressure over the last 14 months, that one day he found himself looking at his gun cabinet with a less-than-wise thought in mind. Please pray for him?
Two college-aged men stopped. The one wearing earphones already had a Rosary around his neck, but didn't know it was a Rosary and couldn't remember where he got it. The other wore an orange t-shirt. Each selected a Rosary and put them around their necks.
Then the man in the orange t-shirt wanted to tell us what was "messed up" about the Catholic Church. He started with the priest scandal, moved to the "worship" of Mary (though, ironically, now wearing her Rosary), then to Confession, then to how the Church forced Christianity on Native Americans and black slaves, then to how the Catholics messed up the Bible. He said the Bible was just man-made, that Jesus never wrote anything, therefore we need just Jesus.
As we countered his misconceptions and defended the reality of what the Church teaches on a specific issue, he would move to a new subject. He ended up accepting a Rosary brochure, and a copy of our FAQs on Mary and the Saints. Meanwhile, his friend in the earphones seemed uncomfortable with the discussion, frequently affirming our arguments in defense of Catholic esteem for Mary and the Saints, and tried to get his friend to quiet down.
During this lengthy discussion, a boy (pre-teen or early teens) on a skateboard saw us, stopped, then ducked through the college-aged men to come to the table for a Rosary, without even being asked. A Christian, the boy chose a Rosary and listened to a brief explanation of the devotion. Before he left, the anti-Catholic college man complimented him and told him he might be a pastor someday. May God grant him Catholic priesthood!
Then three women (perhaps late teens to early 30s) interrupted our intense conversation with the two college-aged men. Two of the women wanted a Rosary, accepted its pamphlet, and smiled at our explanation of the devotion. The third woman was hostile, even putting her foot on the table as if to kick it over. Her friend told her to stop.
Then she switched her attention to evangelist Lucy, who was still deep in conversation with the man in the orange shirt, and who had missed her earlier interaction with evangelist Chuck. The woman proceeded with crude speech and egregious behavior. At that, evangelist Lucy turned her back on the spectacle, and tried to explain away her behavior as the result of intoxication, which the young woman overheard and vehemently denied.
Evangelist Lucy then focused on our other visitors, and explained the Rosary more in depth to the young woman's companions. They listened politely, perhaps only out of embarrassment over their companion's behavior and a desire to be kind. The first woman, meanwhile, dissolved into screaming profanity. She and one of the other women retired to a picnic table nearby to smoke cigarettes and, in a quieter voice, she continued to rage against religion and us, but occasionally raised her voice to curse at us. She cursed again as we were leaving at the end of the session, so we called on God to bless her. St. Mary of Egypt, please pray for her?
Through all of that, the college-aged man in the earphones stuck with us, though he seemed upset by the conflict. Evangelist Lucy assured him that God can work with anger, and that indifference is much more difficult to reach with the Gospel. Remembering his sympathy for Catholic doctrine, she asked if he were Catholic. He told us he now attends a local non-Catholic Christian megachurch. He did accept a map to area parishes.
Altogether, the two evangelists gave away about 20 Rosaries and its booklet, perhaps 3 copies of the kerygma, and a copy each of "What about Mary?", "Praying to the Saints", "Marian Doctrines", and "Common Objections", as well as 1-2 maps of area parishes.
Please pray for us again today? Ask that much good fruit for His Kingdom comes of today's efforts.
Hot or cold, God can reach people (even if we can't). So thank you again for your prayers and other support for this apostolate. In turn, may God protect and greatly bless you and those you love!