All ages called to salvation - 2019-11-17
November 24, 2019
---
All ages called to salvation, thanks to your continuing prayers and sacrifices for the Boise Catholic street evangelization effort. Two evangelists were available.
A group of 20-something Catholic women stopped. They had just attended the 3-day Catholic conference for young adults, which had ended an hour or so earlier. Many of them didn't have their own Rosary, so they each chose one and accepted its booklet, as well as the encouragement to start praying it daily.
A young boy (3-4 years old) came for a Rosary. Possibly just attracted by their bright colors, he didn't know what they were and had never heard of Jesus. Evangelist Lucy tried to tell him briefly about salvation, and gave him a copy of the Rosary pamphlet as well as the one-page kerygma (for his parents). His family didn't slow down in passing, so he ran to catch up, calling, "Mom, this is for you!" May God bless his entire family!
About 6-8 young teens came by, in a couple of different groups. The first group consisted of three girls. Evangelist Chuck recognized one of them as having stopped many times before, and having practiced praying the opening prayers of the Rosary with us. The other two said this was their first time. The tallest girl asked if they could have "a necklace". We explained that the Rosaries weren't jewelry, but were for prayer. However, when we suggested we pray it together, they all whipped out their cell phones and said they were late for something. However, they each made sure they had selected a Rosary before they left.
Two women stopped. One claimed to be Catholic, but hadn't gone to Mass in a long time. Evangelist Lucy told her the name of the Catholic parish in her town, and gave her a copy of our "Returning Catholics" packet, which includes a "self-test" (examination of conscience) and a kind explanation of the Sacrament of Reconciliation.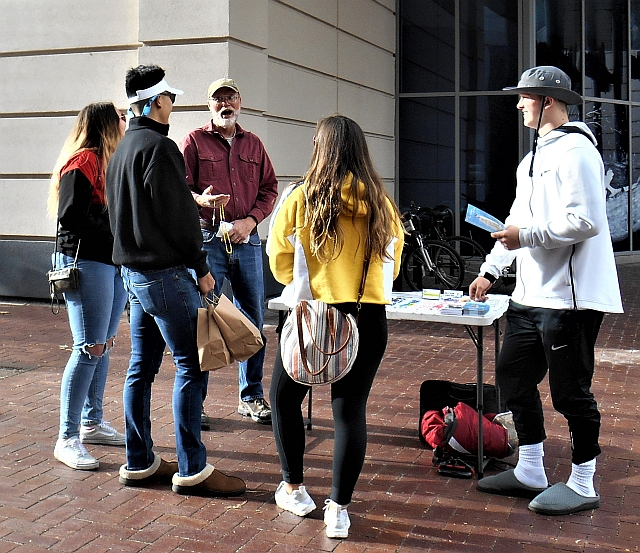 Four university students stopped when one of their number enthusiastically said "yes!" to our offer of a free Rosary. They were Christian but not Catholic, and were not practicing their faith. Evangelist Chuck encouraged them to dig deep into the Mysteries of the Rosary and to seek a deeper relationship with God.
A dark-haired man stopped, wanting a glow-in-the-dark Rosary "for protection". Evangelist Lucy let him know the protection comes with actually praying the Rosary. He professed to be Catholic, but when asked which parish he attended, he said they'd "just moved here." He did accept map to area parishes, and the invitation to get reconnected.
Altogether, the 2 evangelists gave away 15-20 Rosaries and its booklet, one "Returning Catholic" packet, 1-2 maps of area parishes, and at least one copy of the kerygma.
Please pray for us again today? There is a big family festival going on in the convention center today. In past years, we usually have many Catholic visitors who want to know how to reach their "lost" family members. Please ask God to grant that much good fruit for His Kingdom comes of today's effort?
Salvation is still necessary, and the Good News is that God is still offering it. So thank you again for your prayers and other support for this apostolate. In turn, may God protect and greatly bless you and all those you love!
"Go with the strength you have"  (Judg 6:14).