Big fish today - 2019-08-04
August 12, 2019
---
Challenges made it difficult for several of us to arrive on time for the session. As St. Jean Vianney said, "Big fish today!" Indeed. So thank you again for your prayers for Boise's Catholic street evangelization effort. Three evangelists were available.
A man in his early 20s, sporting a full beard, seemed a bit down on his luck. He gratefully accepted a Rosary, its explanation, and the encouragement to begin praying it. A nonbeliever, he also accepted a copy of our kerygma pamphlet.
Two women were in town for a few days, trying to decide if they should relocate here. They each accepted a Rosary and its booklet. They also accepted a map to area parishes, and the invitation to check out the tour of the historic cathedral a few blocks away.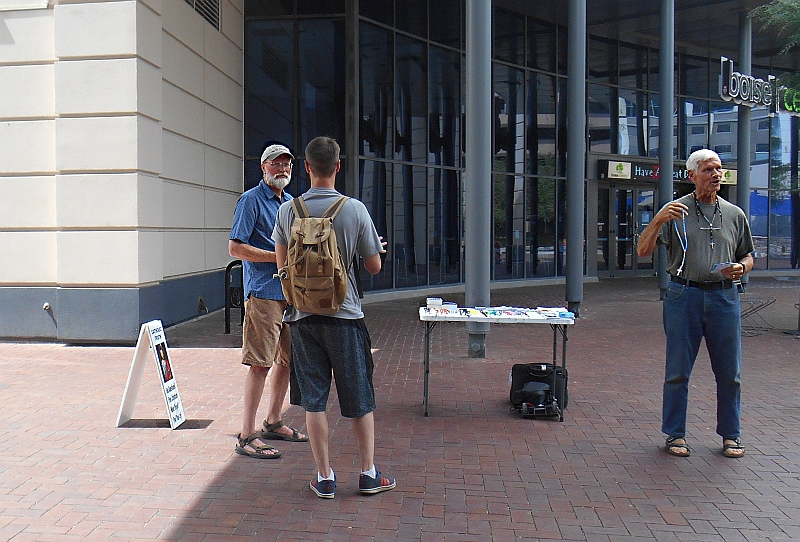 Then "Sam" arrived. A man in his early- to mid-20s and carrying a smallish backpack, Sam had been raised a non-Catholic Christian by a devout mother.
Then, in college, he had gotten talked out of his Christian faith. It was damaged first by listening to non-believing college professors, and then by reading works by deconstructionist authors.
Convinced at that point that religious faith was nonviable, Sam decided he must renounce it despite disapproval from family and his circle of believing friends. (He told us he hasn't yet broken the news to his mom.) Sam now says he believes only what can be "proven by the scientific method".
When evangelist Lucy tried to point out that scientific experimentation is highly disrespectful within the context of human relationships, he acted shocked at the personal nature of such a subject.
Evangelist Chuck recognized that Sam's problem in believing in transcendent reality stems from the non-Catholic worldview of his youth, namely, "I get to decide for myself what truth is."
Sam hopes that God will prove Himself to him, although he can't imagine what an irrefutable proof would look like. He seems unwilling to accept any third-party testimony from witnesses about matters of religious faith.
Evangelist Mike quipped that being a nonbeliever is at best temporary, referring to the Last Judgment. Please pray for Sam? He seems to still hope for a reason to believe again. May God grant it to him!
Altogether, we gave away 10-15 Rosaries and the booklet on how to pray it, as well as 2 copies of the kerygma, and at least 1 map of area parishes.
Please pray for us again today? Ask God to send people to us prepared to perceive their need for Jesus Christ and the Catholic Church. Please ask that He grant that much good fruit for His Kingdom comes of today's efforts.
Working to bring the straying sheep home, we thank you again for your prayers and other support for this apostolate. In turn, may God protect and greatly bless you and all of your loved ones!
"Go with the strength you have" (Judg 6:14).
P.S. SPSE headquarters replaced our old blog page with one from a different server. (Hope you got to see some of those past photos!) The address of the new page (with a photo from this session) is https://streetevangelization.com/team-page/?team-chapter=boise.