As fear recedes, some people approach to receive a Rosary - 2020-05-16
May 24, 2020
---
As fear recedes, some people approach to receive a Rosary and encouragement! So thank you again for your prayers for the Boise Catholic street evangelization effort.
A non-Catholic Christian stopped. He was surprised to hear that the Rosary was about Jesus, because he has a problem with Mary (and, in general, with asking the Saints to pray with him). He at least expressed a modicum of respect for Mary for carrying the Christ in her womb, but couldn't see her as the model Christian. Instead, he admired Paul. He already was in the habit of studying the Bible some every day. So evangelist Lucy asked if he also stopped to meditate afterwards on what he read, asking God to show him how to apply it in his life. He said, "To be honest, no." She then showed him in the pamphlet where to find each Mystery in the Bible, and encouraged him to spend some time every day meditating on them. He accepted the pamphlet.
A 20-something woman (sans mask) responded, "Yes, i do want a Rosary!" She said she was Catholic, so e. Lucy also gave her a copy of the prayers Pope Francis requested we add during the month of May.
A shabbily dressed man on a bicycle stopped. He chose the Rosary that e. Chuck was holding, but then said he'd give it to his girlfriend.
A man, the second member of a group of two people passing by on bicycles, circled back around and accepted a Rosary from us. The other half of the group, a woman, then came back and joined us, a moment or so later. They each accepted a Rosary and its booklet.
The two evangelists, in mask & gloves, gave away at least 4 Rosaries and the pamphlet on how to pray it, as well as an extra copy of the pamphlet. Foot traffic was light, so the evangelists also prayed aloud the first 17 Mysteries of the Rosary.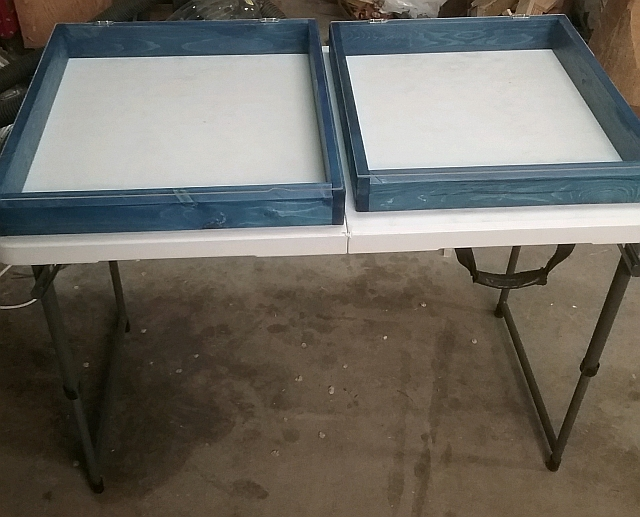 Please pray for us again today? We now have a Plexiglas table topper to protect our Rosaries and pamphlets from contamination, and we look forward to trying it out. (May God bless our benefactor!) Please pray that God will send people to us, ready to perceive their need for Our Savior and the Holy Catholic Church. Please pray that much good fruit for His Kingdom comes of today's efforts!
The reality of Jesus Christ still needs to be heard! So thank you again for your prayers and other support for this apostolate! In turn, may God protect and greatly bless you and all those you love!
"Go with the strength you have" (Judg 6:14).