People don't remain neutral about the Rosary! - 2020-06-14
June 22, 2020
---
People don't remain neutral about the Rosary! So thank you again for your prayers for the Boise Catholic street evangelization effort.
A group of adults on electric scooters passed by, then one man circled back. Staying on his moving scooter, he asked, "Why are you idolaters?" We replied, "We don't worship the Rosary!" But he insisted, "Then why do you sell the thing?" To which we replied, "We don't sell it, and it's for prayer." He declared, "It looks like idolatry to me," and sped away. Afterwards, we prayed 1 decade for him in reparation. Join us?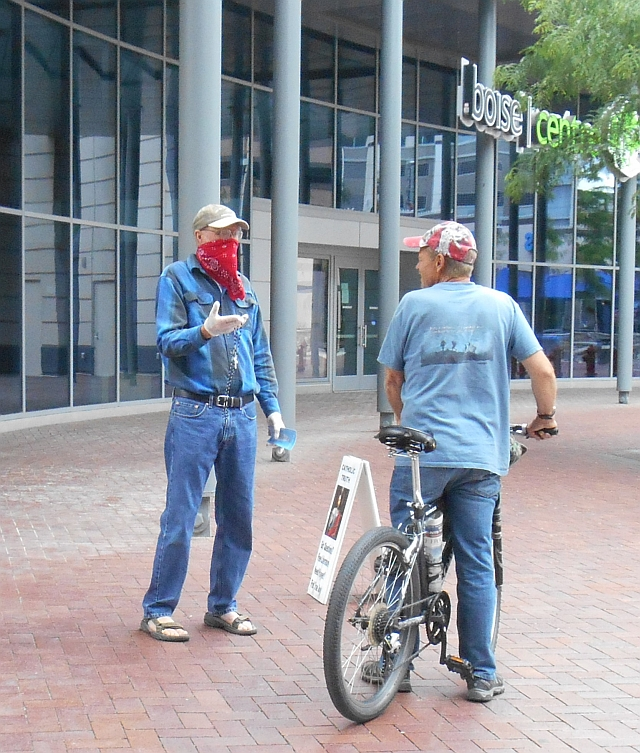 A visitor was evasive when asked whether he knew anything about the Rosary, or if he knew Christ. Finally, he admitted he was unsure which if any religion was true. E. Chuck encouraged him to be a "good agnostic" and to explore the prayers of the Rosary with an open mind, to dig deep into the Rosary's stories as he asked his questions. E. Lucy also gave him a Good News/kerygma pamphlet. He said he would study it and try the Rosary, saying, "Who knows? Maybe this will bring me to faith?" Lord, please grant he listens to the Holy Spirit!
A nonbeliever stopped, but didn't seem interested in the Rosary as itself. He saw it as just the same as prayer beads used in non-Christian religions. We gave a quick explanation the Rosary and how to pray it. We also gave him a copy of the kerygma. He seemed a bit reluctant to accept the pamphlet, but politely did so. Then he told us a story of a buddy of his who served in military active duty overseas. They were usually forbidden fires or any kind of light in the trenches, but during a cease-fire they were allowed some light. His buddy told him of one night during a ceasefire, when he looked up and down the trench at the fires. He said the only sound he could hear was the clicking of Rosary beads. After our visitor told us the story, he suddenly looked with new appreciation at the Rosary he had just chosen, and expressed an eagerness to learn to pray it.
A down-and-out-looking couple stopped. He wanted a purple Rosary, then said the woman should pick. She picked one out, then changed her mind two more times (those Rosaries were set aside for cleaning). The man was a non-believer, but eventually accepted the Rosary and kerygma brochures from e. Lucy, and chose a Rosary for himself. The woman told e. Chuck that she had been Catholic as a kid, and asked him for a Divine Mercy Chaplet prayer card. He explained that she could use the beads to pray this prayer as well. Please pray for them?
Quite a few people, including a group of young teens on skateboards or scooters, told us they already had a Rosary. We asked them to pray it for us.
A man called out, "I don't believe in magic". He didn't stop to talk, but we agree that magic use is reprehensible. We also recall the Church's teaching that any attempt to use occult powers is "gravely contrary to the virtue of religion" and is condemned (CCC 2117). Instead, we believe in God, His great love and mercy, and His Lordship.
Altogether, we gave away 15-20 Rosaries, 3 copies of the kerygma, and 1 Divine Mercy prayer card.
Please pray for us again today? Ask God to send people to us who are prepared to perceive their need for Jesus Christ and His Holy Catholic Church, and that much good fruit for His kingdom comes of today's efforts!
Even nonbelievers want to pray the Rosary! So thank you again for your prayers and other support for this apostolate! In turn, may God protect and greatly bless you and all those you love!
"Go with the strength you have"  (Judg 6:14).