People hunger for peace - 2020-06-21
June 28, 2020
---
People hunger for peace, so thank you again for your prayers for the Boise Catholic street evangelization effort. Two evangelists were available.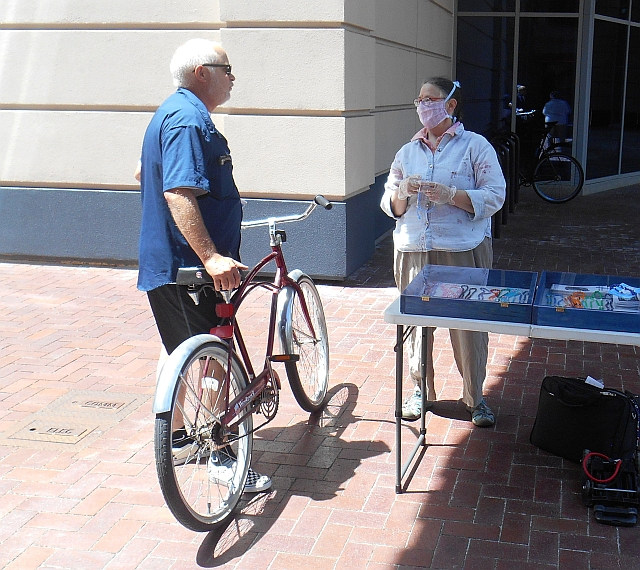 For the US holiday, "Father's Day", the business park's fountain was going, its first appearance since "Labor Day", last fall. Children played in the water, while other people biked through it, or sat and visited at nearby picnic tables. The weather was pleasant and people were generally cheerful.
Two men, early- to md-30s, accepted our offer of a free Rosary. One, stage-named "Watermelon", showed us a promotional photo of himself. Neither man seemed to have a current religious affiliation, but were familiar with Christianity from sometime in their past. They each accepted a Rosary and its booklet. When evangelist Lucy mentioned to one that people found protection and an unexplained experience of peace when they prayed the Rosary, he became enthusiastic about trying it.
Two early teens on bikes passed by, then came back for a Rosary. They put them in their pockets, but one Rosary fell out as they rode across the Grove. Later, an adult couple received Rosaries from us, then soon returned to the table, bringing the black Rosary they had found on the ground. We sanitized it and put it back into circulation. It was chosen again a short time later by a man in his 20s.
A woman, perhaps late 30s, came to our table dripping wet from the fountain. When she learned of the power in praying the Rosary, she asked for a second one for her brother "who struggles with addiction." E. Lucy encouraged her to pray it together with him, while e. Chuck encouraged her to also pray it for him.
"David" visited with us for a long while. He was Catholic, in his early 60s, and named a local parish. However, he hadn't checked to see if and when they had reopened. He proceeded to try to recite the Rosary prayers, but at first confused it with the Stations of the Cross devotion. When he got onto the correct prayers, he needed a lot of prompting. Except for a few key phrases, he didn't seem to know the Faith very well. Please pray for him?
Two adult men on bikes circled back for a Rosary. They were not familiar with the Rosary, but knew and loved Jesus Christ. They became interested in praying the Rosary when they saw how the Mysteries focused on Him. (This encounter left e. Lucy with "God bumps".)
A young lady broke off from (her parents?) and came over. E. Lucy talked with her a long time and she seemed very attentive.
Altogether, we gave away 10-15 Rosaries and its booklet.
Please pray for us again today? Ask that God send people to us prepared to perceive their need for Our Savior and His Holy Catholic Church, and that much good fruit for His kingdom comes of today's efforts.
Praying the Rosary brings peace, and people are hungry for that. So thank you again for your prayers and other support for this apostolate. In turn, may God protect and greatly bless you and all those you love!
"Go with the strength you have" (Judg 6:14).