Is there a growing hunger for prayer? - 2020-10-18
October 26, 2020
---
Is there a growing hunger for prayer? Thank you for your ongoing prayers for the Boise Catholic street evangelization effort. Two evangelists were available.
A 20-something couple stopped. She wanted the light-purple Rosary e. Lucy was holding. He declined receiving one, because "they start burning". Lord, have mercy! Christ, save them!
A group of 3 or 4 young women stopped. They each received a Rosary. One woman, lingered an extra few moments to receive an explanation of the devotion and the encouragement to "sit down and try it."
A Catholic man, walking past, pulled his well-used wooden Rosary out of his pocket to show us. Several other groups of people going by also happily claimed their Catholicism and devotion to the Rosary. May God bless them and keep them faithful!
A group of college-aged women stopped. They each accepted a Rosary, except one who had picked one up from us a few weeks ago. The woman e. Chuck talked to was Catholic, but said she was always confused about how to pray the Rosary. So he showed her how to use the pamphlet as a guide. Then she admitted that it was hard for her to find time to pray. E. Chuck then suggested she start out with just the three Hail Marys at the beginning of the Rosary and to make that a habit. Then e. Lucy told the group of all the blessings of praying the Rosary.
Four young men stopped, laden with food bags and on their way to spend the afternoon watching a sporting event. None of them were Catholic , but were interested in prayer. Even after three of them walked away, one stayed talking with e. Lucy for another minute.
A young man with a lunch bag stopped. He was unfamiliar with the Rosary, so e. Chuck started telling him about it. E. Lucy asked if he were a Christian. He was not, so we fixed him up with our Good News/kerygma pamphlet. He sat at a nearby picnic table to eat, and examine his Rosary.
A man on a bike passed. Then he came back to say that he had left the Church because he thought it was getting too political, and that it favored a candidate he did not like. We tried to explain that the Sacraments were much more important than politics, but he was adamant. He did, though, leave open the possibility that he would come back after the election. Please pray for him?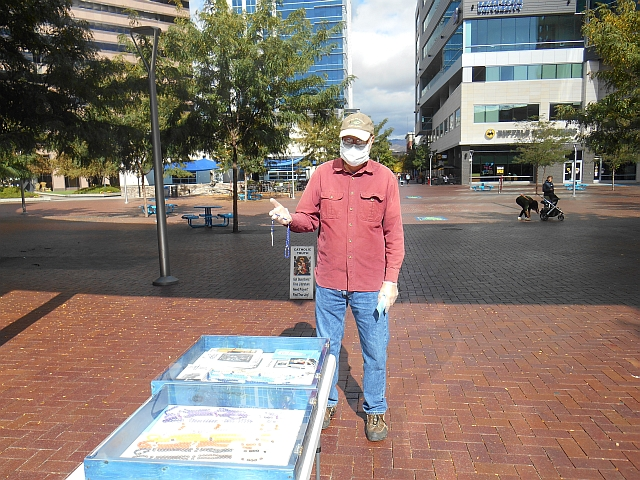 Altogether, the two evangelists gave away 15-20 Rosaries and its booklet, 1 kerygma, and 1 Divine Mercy bookmark.
Please pray for us again today? Ask God to prepare people to perceive their need for Our Savior Jesus Christ and His Holy Catholic Church, and that much good fruit for His Kingdom comes of today's efforts.
Greater numbers of people seem to be willing to give prayer a try. So, thank you again for your prayers and other support for this apostolate. In turn, may God protect and greatly bless you and all those you love!
Go with the strength you have" (Judg 6:14).