Our Lord loves us all: hot, cold, or merely curious - 2020-12-13
December 20, 2020
---
Our Lord loves us all: hot, cold, or merely curious. So thank you again for your prayers for the Boise Catholic street evangelization effort. Two evangelists were available.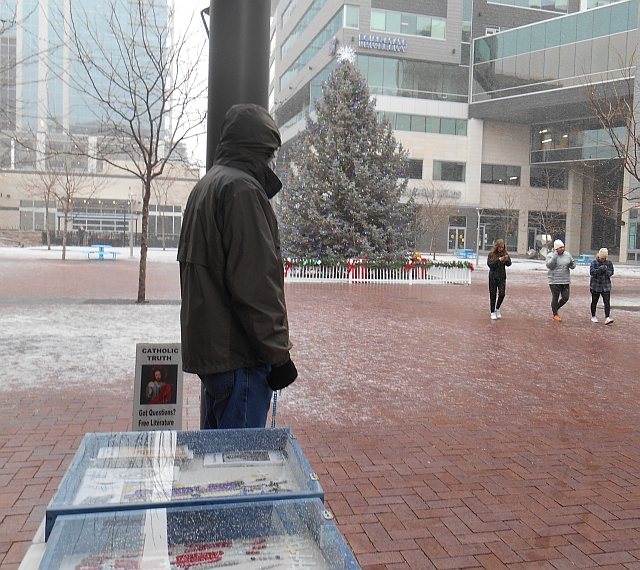 Several passersby declined receiving a Rosary, claiming loyalty to the enemy of all that is good. Lord, have mercy on their souls!
Three 20-somethings with a baby stopped, led by the woman. She and her husband accepted a Rosary, saying they knew all about it. The third man declined a Rosary, jokingly saying, "I might burst into flames if I touch it." E. Chuck replied that just the opposite would happen. May his heart become open to salvation in Christ, Who is the cure for that worry.
Two men, late teens or early 20s, almost said no. Then one of them decided it'd make a great present for his mother, and chose a Rosary. May your prayers join hers in praying her son back into the Faith!
A homeless-looking man asked for a replacement Rosary for the one he'd received from us some time ago. He declined the booklet, saying he already knew the prayers.
Another homeless-looking man was heading toward the lone bike in the bike rack in the corner of the business park near us. When e. Chuck called out an offer of a free Rosary, he came and chose one. Then he went and just stood in the corner, perhaps because it had some protection from the wind and snow. May God bless him and heal him!
A young woman, raised Catholic, accepted a Rosary. When she passed us again later, she asked if it had been blessed. May she continue to seek a deeper union with Christ through his mother in prayer.
A young couple approached the table led by the man. He said he knew all about the Rosary. The woman seemed reluctant, but chose a Rosary anyway. When asked, she admitted that she was raised Catholic but did not now attend Mass. When offered a map to area parishes. Both declined. Then, when e. Chuck reminded them of the many graces of the Eucharist, they merely smiled and moved on . Mother Mary, pray for them.
A young woman came back to the table after initially declining a Rosary. She had no idea what the Rosary was all about. E. Chuck began describing the Rosary devotion. E. Lucy then asked her if she was a Christian. She was not, but she accepted a Good News/kerygma pamphlet. Pray for her conversion.
It was cold, snowy, and blowy last week. So, there was not much foot traffic. However, the two evangelists still gave away about 10 Rosaries and its pamphlet, as well as 1 kerygma.
Please pray for us again today? Ask God to send people to us with hearts prepared to perceive their need for Our Savior Jesus Christ and His Holy Catholic Church, and that much good fruit for His Kingdom comes of today's efforts.
God can save souls, and we are amazed at how the Rosary appeals to even inactive Catholics. So thank you again for your prayers and other support for this apostolate! In turn, may God protect and bless you and all those you love!
"Pray … also for me, that speech may be given me … to make known with boldness the mystery of the gospel" (Eph 6:19-20).