Some were still interested in Jesus Christ and the Catholic Church! - 2021-02-14
February 22, 2021
---
Last week marked a Saint's Day that had been turned into an unrecognizable secular holiday. It had snowed a record amount in Boise the previous day, and a very light snow was still drifting down. So, foot traffic was light. Interest was low, but not absent.A mom broke away from her husband and teenage son to claim a Rosary. She said her son attended Catholic school. When e. Chuck tried to get the father and son to take a Rosary, the father made a face and shook his head, while the son ignored us and played with his phone. Please  pray for faith for the men in that family.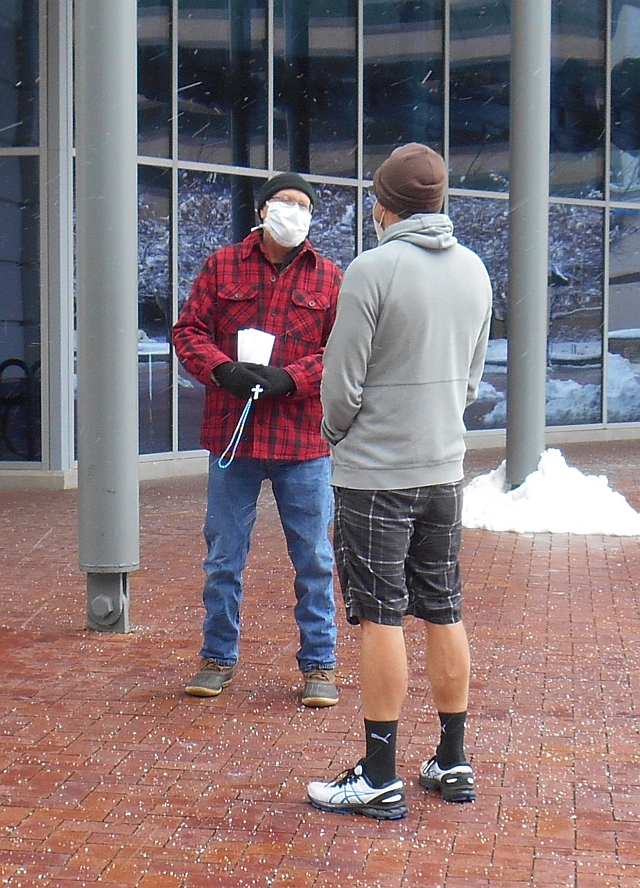 A man in his late teens or early 20s broke away from his group and came for a Rosary when the other two declined. I think he was being polite. Still, he chose one and received a brief explanation of the devotion and the encouragement to pray it. He is a non-Catholic Christian. Pray that God rewards his charity with Faith?
A college-age man stopped for a Rosary and its pamphlet.
A man approached the table to better hear what we were offering . When he heard it was a Rosary, he replied, "Oh, no thanks, I'm not Catholic." But he stayed to listen as e. Chuck explained how the Rosary helps us get closer to Christ. He changed his mind and accepted a Rosary and its pamphlet.
While e. Chuck talked with that man about the Rosary, e. Lucy offered one to a man passing by. He smiled, and then pulled up two layers of shirt to show one that proclaimed his disbelief in God. "I'm sorry", e. Lucy said, and then used e. Mike's quip: "But that's only a temporary condition." The man laughed and walked on.  A few minutes later he came back this way, giving us a friendly wave. E. Chuck asked him why he didn't believe in God. He stayed to talk. While his reasons were not well thought out, he listened as we tried to show him who God really is and what His Church is about. He changed the subject frequently and finally said he had to visit his aged mother. We parted amiably. Pray he hears God's call and heeds it!
Another man refused a Rosary, said he was a former Catholic, and hated the Church. We offered that the Rosary is still a good way to get closer to Christ. He replied that he thought it was all a bunch of nonsense and kept walking. Pray for healing and patience for this man?
In contrast to last week, about 90% of passersby said no thankyou. Still, we gave away perhaps 5 Rosaries and its pamphlet.
Please pray for us again today? One evangelist is available. Please ask God to send people to us prepared to perceive their need for Jesus Christ and His Holy Catholic Church, and that much good fruit for His Kingdom comes of today's efforts.
Some were still interested in Jesus Christ and the Catholic Church! So thank you again for your prayers and other support for this apostolate. In turn, may God protect and greatly bless you and all those you love!
"Go with the strength you have" (Judg 6:14).