Seeing past the glamour, some souls noticed our table - 2021-04-18
April 25, 2021
---
Seeing past the glamour, some souls noticed our table. So thank you again for your prayers for the Boise Catholic street evangelization effort.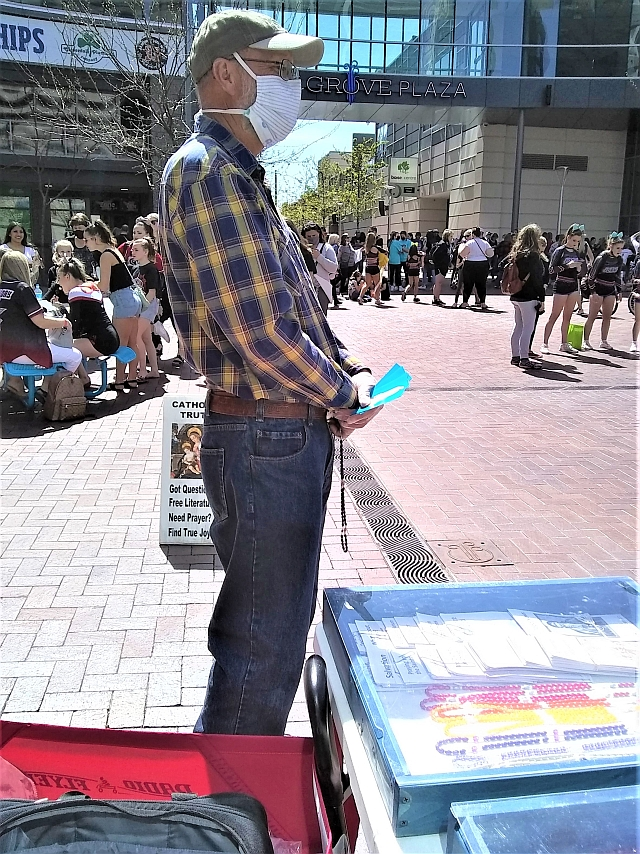 A cheerleader competition was going on, with large teams competing from all over the northwest. Participants, dressed in sparkles, ranged from 6-18 years old.
A family stopped: mom, 2 teens, and the much younger girl, who was a contestant. Not Christian, the mom still had a Rosary in her car. She didn't know about praying it, but when she needed comfort, she would touch it. We told of the advantages of actually praying the Rosary and set everyone up with one. E. Lucy also gave a copy of the kerygma to the mom.
A group of three teenage contestants stopped at our table. The boy chose a pink Rosary, and one of the two girls chose a black one.
A woman and teenage son went by, not part of the competition. She abruptly refused a Rosary, saying, "I'm ex-Catholic." Pray for healing for her and her return to the Church?
A woman politely refused our offer of a Rosary. Then, several minutes later, she came back. "I suddenly realized you were Catholic, and so, yes, I want a Rosary."
A family group from a neighboring state stopped for Rosaries. The fires there last summer came within a mile or two of their home, but they remained safe.
A man with children stopped. A non-Catholic Christian, he appreciated that the Rosary focuses on Christ. He also lamented that he hadn't been in a church in a year, saying his State was more strict on health rules. May Mary's Rosary keep him close to her Son.
A group of young people stopped to choose Rosaries. They seemed unsure how to answer when asked if they were Christian, until the oldest reminded them they all used to go to church a lot. Besides the Rosaries and pamphlet, they took a "Good News"/kerygma pamphlet. May they remember their Savior.
We had at least two, maybe three, Catholic families stop, as well as a group of Catholic teens, and the Catholic woman from a nearby picnic table. They each chose a Rosary.
"Ezekiel", a repeat visitor and who is homeless and nigh toothless, stopped for a Rosary. Not Catholic, he told us of the dream that had led him to Christianity. On the face of a big cliff, he had seen the words, "your debt has been paid". When he woke up, he looked into what that might mean, and discovered the good news about Jesus paying our debt for sin. He gladly took a Rosary and its pamphlet on how to pray it. Lay your protection on him, Lord Jesus.
The two evangelists gave away at least 15-20 Rosaries and its pamphlet, as well as 1-2 copies of the kerygma.
Please pray for us again today? Ask God to send people to us with hearts prepared to perceive their need for Our Savior and His Holy Catholic Church, and that much good fruit for His Kingdom comes of today's efforts.
Despite glamour and sparkles, and the lure of fleeting fame, some people were drawn to the weightier things offered by Our Savior. So thank you again for your prayers and other support for this apostolate. In turn, may God protect and greatly bless you and all those you love!
"Go with the strength you have" (Judg 6:14).
P.S.  A heart-felt shoutout to Joanne, and to the Rosary Makers of Holy Apostles parish, for the much-needed Rosaries they each donated to this apostolate!!! May God abundantly bless you!