Things haven't been going smoothly. - 2021-05-02
May 9, 2021
---
Just as we started getting set up, "Michael" [who first said his name was "Drew"] approached us saying he loved Jesus and wondered what we were up to. It seems he had some Catholic background, but he didn't know the difference between the Catholic and a non-Catholic liturgical denomination. He appeared to be part of the homeless community but offered us money for the Rosary, which we declined. He was very interested in how to pray the Rosary and also took the pamphlets on Suffering and on the Good News/kerygma. Then he sat at a nearby table to read the pamphlets. May Mother Mary surround Michael with protection and peace.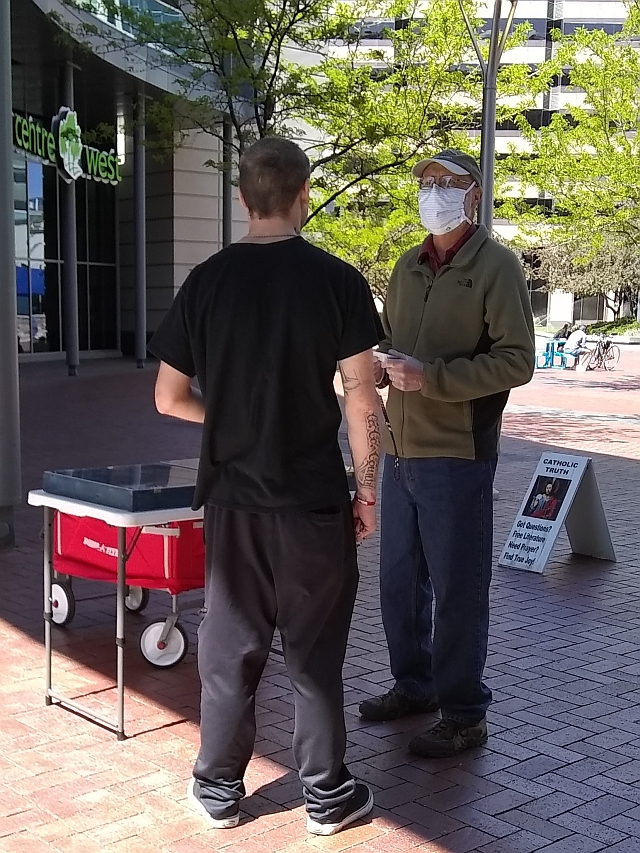 A family stopped, consisting of mother, father, and a child under 7. The mother and child each chose a Rosary. The father was Catholic and had a Rosary at home. The mom and child were not Christian, so e. Lucy gave them a copy of the kerygma. She also encouraged the dad to teach the other two how to pray the Rosary, and to pray it with them regularly for the protection it provides.
"John", the parking lot attendant, stopped by. We haven't seen him in a couple weeks because his electric wheelchair had been broken down. Usually he's been only interested in telling stories and talking about current events, but this time he started by admitting he was feeling defeated by his chronic back pain and he wondered how we handled feeling down. He also admitted he hadn't been praying or attending  recovery support meetings. E. Chuck talked with him for some time and then offered to pray for him, which he accepted. Please include John in your prayers.
A non-Catholic Christian man stopped, his wife stopping a few steps further on. From a populous state south of here, he said he had felt prompted by the Holy Spirit to pray inside the State capitol building. The building was locked, but they walked all the way around it and found an open door on the far side. The went in and prayed on each of the four floors, until a security guard intercepted them. The guard evidently welcomed the prayers, but ended their visit. After that, they found us. He asked e. Chuck what he thought about the Rosary, and e. Chuck explained the devotion. The man then accepted a Rosary and the booklet on how to pray it. Then he prayed for the two evangelists and their apostolate.
A man who had recently gotten out of prison stopped for a Rosary. He was talking to his wife (girlfriend?) on a video call. He told us he had accidently broken his wife's Rosary when he got his arm tangled in it, and felt bad about it. He saw a Rosary on our table similar in style. We showed him how to pray the Rosary and when he said his favorite story was when the boy Jesus was found in the temple, e. Chuck showed him that Joyful Mystery. She's due in Boise within the next week or ten days, so we encouraged him to learn to pray it before then, and then to pray it together with her. Pray he seeks Jesus in the Church.
A man came by and we exchanged pleasantries. He offered his belief that all religions were equally right in the basics, with which beliefwe respectfully disagreed. He then shared his theory that God has humans in (e. Chuck couldn't remember his word: time out? or detention? or parole?) and we found a certain common ground there, e. Lucy explaining Catholic teaching on our cooperation with grace. Pray that his journey from atheist to theist continues on to Christ.
A couple stopped. The man had been raised Catholic but had "become Christian". E. Chuck showed him that Catholics were Christian, and that he had made the opposite journey from into Catholicism and why. He agreed that Catholics were Christians and said he would try praying the Rosary again. May the seed that is the Rosary grow into his return to Catholicism.
Two men in their late teens, possibly brothers, stopped. One said he did believe in Jesus but it had been awhile. The other said he wasn't Christian until his brother/friend reminded him that they used to be. They chose Rosaries and accepted a Good News/kerygma pamphlet and our encouragement to return to active faith in Christ. May they hear Christ's loving call.
The two evangelists gave away 20-25 Rosaries and its pamphlet, a few copies of the kerygma, a copy of the Confession pamphlet (which has a self-test for how one's walk with God is going) and the pamphlet on Suffering.
Things haven't been going smoothly. So, please pray for us again today? Ask God to send people to us with hearts prepared to perceive their need for Jesus Christ and His Holy Catholic Church, and that much good fruit for His Kingdom comes of today's efforts.
In turn, may God protect and greatly bless you and all those you love!
"Go with the strength you have" (Judg 6:14).