Mother's Day - 2021-05-09
May 16, 2021
---
On the US Holiday called Mother's Day, many family groups were out. So thank you for your prayers for the Boise Catholic street evangelization effort. Two evangelists were available.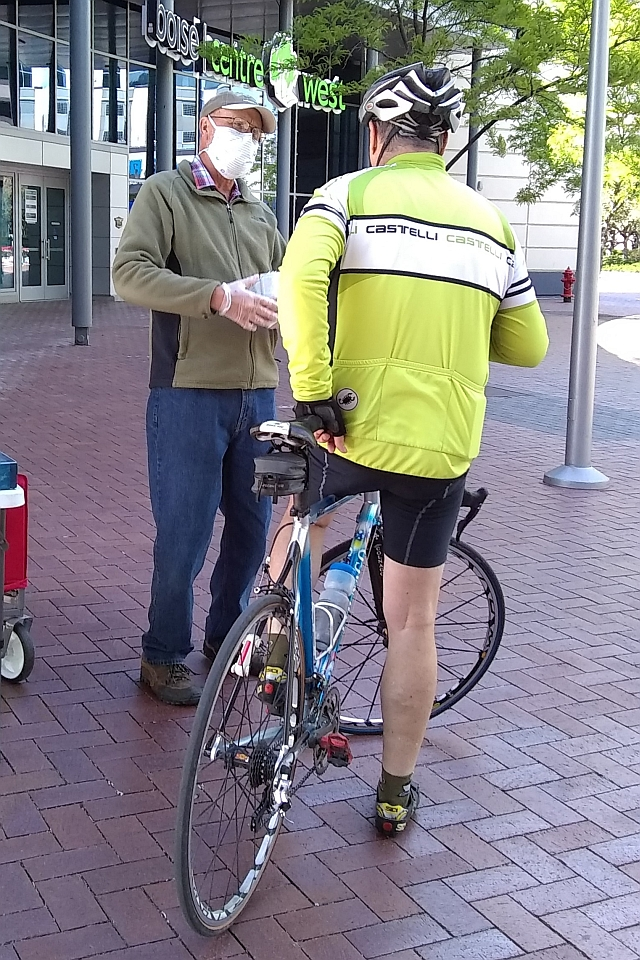 "Michael", the homeless man who had talked with us for so long last week stopped as e. Chuck arrived. He had read all the pamphlets and found them helpful, but had not tried praying the Rosary. They talked about the devotion and Michael agreed he should give it a try. He stayed a few moments longer to talk and ask questions, while e. Chuck set up. Pray Michael dives deep into Christ's life in the Rosary.
Two 20-something women went by, holding hands. One had 5-pointed stars all down the sleeve of her shirt and sported bizarre, red and black makeup. They both politely declined receiving a Rosary. Pray for them?
A mother and 3 children, all under the age of 10, stopped. They each accepted a Rosary.
A family with 4-5 small children went by, the parents definitively declining a Rosary. The children, however, got permission to receive one, so they all came running back to choose one.
Another family went by, also declining receiving a Rosary. Then the father came back and requested the booklet.
Yet another passing family refused our offer and, when their little daughter wanted one, the father said, "You don't want one of those." But as they walked away, the little girl started crying, so the father returned to let her pick one out. She requested pink (of which we have no more), but settled for red-and-silver. May Our Lady draw the whole family to Christ and His Church.
A man on a bicycle stopped and accepted a Rosary. Then he questioned e. Chuck a bit about praying to the Saints, wanting to know why Catholics couldn't go directly to God in prayer and confession. We assured him Catholics do pray directly to God and tried to show him the Church as a communion of saints limited by neither time nor place. He had already ridden 20 miles to get downtown. Pray that he exercises his prayer muscles with the Rosary.
Altogether, we gave away 15-20 Rosaries and its pamphlet.
Please pray for us again today? Ask God to send people to us prepared to perceive their need for Jesus Christ Our Savior and His Holy Catholic Church, and that much good fruit for His Kingdom comes of today's efforts.
Children are drawn to the Rosary. When they have their parents' permission, we let them have them and pray it draws their entire family to Jesus Christ and salvation. So thank you again for your prayers and other support for this apostolate. In turn, may God protect and greatly bless you and all those you love!
"Go with the strength you have" (Judg 6:14).