There are still lost sheep to be found! - 2021-05-16
May 23, 2021
---
There are still lost sheep to be found! So thank you again for your prayers for the Boise Catholic street evangelization apostolate.
A repeat visitor in his upper teens, "Jax", stopped when e. Chuck recognized him and hailed him over. He said his mother loved Rosaries and hung them in their house. We gave him another, and encouraged him to use this one for prayer, though he admitted he is currently enthralled by a non-Christian meditation video. Then he wanted to take the Crucifix off the Rosary and wear just that. We asked him not to, and gave him a plain cross on a chain. The cross kept falling off the chain, but Jax said he made jewelry, too, and could fix it. Mother Mary, pray for him?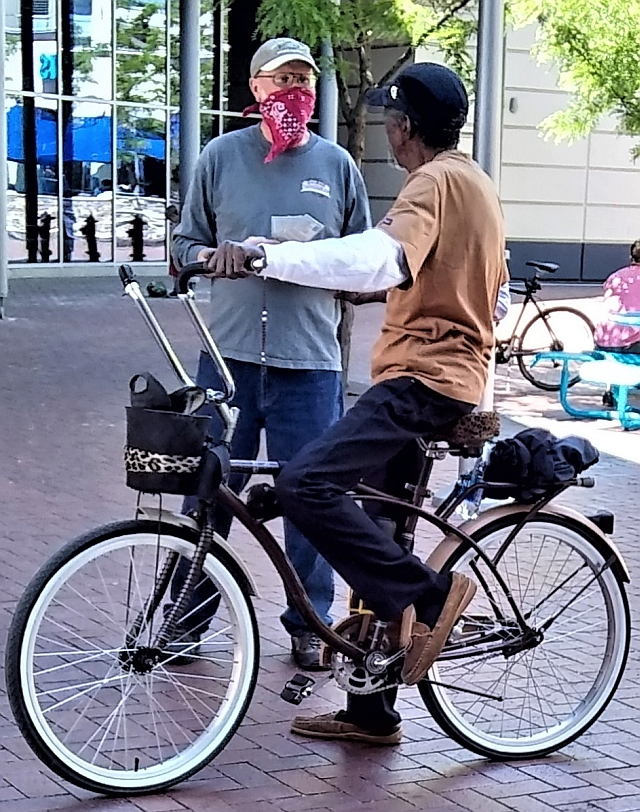 An older man on a bicycle told us we should not be giving out crosses, since they were a symbol of murder. He rambled on with his beliefs which ranged from agnostic to pantheistic, not seeming to notice that his beliefs contradicted one another. He had no patience for hearing about the divinity of Jesus Christ or that there was anything beyond the material world. Pray his eyes are opened to the reality of the triune God?
"Dominic", from the eastern part of the country, came unbidden behind our table. He told e. Lucy that he does a similar apostolate in his hometown, only he gives away a whole bagful of Catholic sacramentals to each visitor. Since that seems to work in his predominantly Catholic community, e. Lucy didn't bother to explain the rationale behind our approach. He said he forgot to bring his Rosary pamphlets with him when he came to Boise, so asked for some of ours, which we gladly gave him. He also didn't have a Rosary with him, so accepted one of ours. (Perhaps he is inspired him to start his apostolate up again, even when he's out of town.)
A couple stopped when the man turned toward our table in answer to our offer of a free Rosary. She was Catholic and familiar with the Rosary. They each chose one, and we encouraged the woman to teach it to the man and for them to pray it together.
An older couple, accompanying a girl about 10 years old, stopped. The man, very large, was belonged to pseudo-religious cult and was not interested in Christianity. The daughter and mom stayed in the background. Pray God's mercy calls the father all the way into the Church, and that his family follows him into the safe harbor of the Faith?
A very tall young man accepted a Rosary and its pamphlet. Then he asked us where the nearest Catholic church was, but not to give him any more paper. E. Chuck gave directions to the nearby cathedral, while e. Lucy showed him a thumbnail of the building.
A family stopped that consisted of mother, father, and a preteen. They wanted the girl to choose a Rosary, but we gave one to each of the parents, too, and encouraged them to pray it together.
A man stopped to tell us that he appreciated our faith and the fact that we were willing to share it, but he was not religious at all and didn't see the point for himself. He declined a Good News pamphlet and, as we shared our faith with him, he just smiled and repeated that religion was not for him. Pray he has a personal encounter with the living God?
A young couple stopped who knew nothing about the Rosary but knew who Christ is (she sported a Bible verse tattoo). We showed them how praying the Rosary can help us grow closer to Him, and encouraged them to learn it and practice the prayer together.
A man asked us in passing, "Are you guys Christian or Catholic?" We replied, "BOTH!"
We received an email from first-time evangelist "Pam", who had stood with us a couple of weeks ago. She said, "It was a great first time experience. I was thankful it was a little quiet so that I could talk with you and learn more. I am humbled by your prayerful approach to this apostolate. There was much peace and joy, even though it was quiet. I did enjoy being there. It 'filled my cup.'" She's hoping to join us again today. Please pray for her?
Altogether, the two evangelists last week gave away 12-15 Rosaries and its pamphlet on how to pray it, as well as 20-30 additional Rosary pamphlets.
Please pray for us again today? Ask that God sends people to us prepared to perceive their need for Our Savior Jesus Christ and the Holy Catholic Church, and that much good fruit for His Kingdom comes of today's efforts.
God continues to call people to Himself, and blesses us with the opportunity to be His instrument in this. So thank you again for your prayers and support for this apostolate! In turn, may God protect and bless you and all those you love!
"Go with the strength you have" (Judg 6:14).