He was grateful to be alive! - 2021-05-23
May 31, 2021
---
The man we prayed with a couple of weeks ago stood side by side with us for a while last week. So thank you again for your prayers for the Boise Catholic street evangelization effort!
"John", the parking lot attendant and our frequent visitor, was back after a few weeks' absence! He had been hospitalized for several days with an infection that had spread to several organs throughout his body. He was grateful to be alive! He not only met e. Lucy when she arrived and helped set up our table, but also started offering free Rosaries to passersby while she and e. Pam filled our display boxes.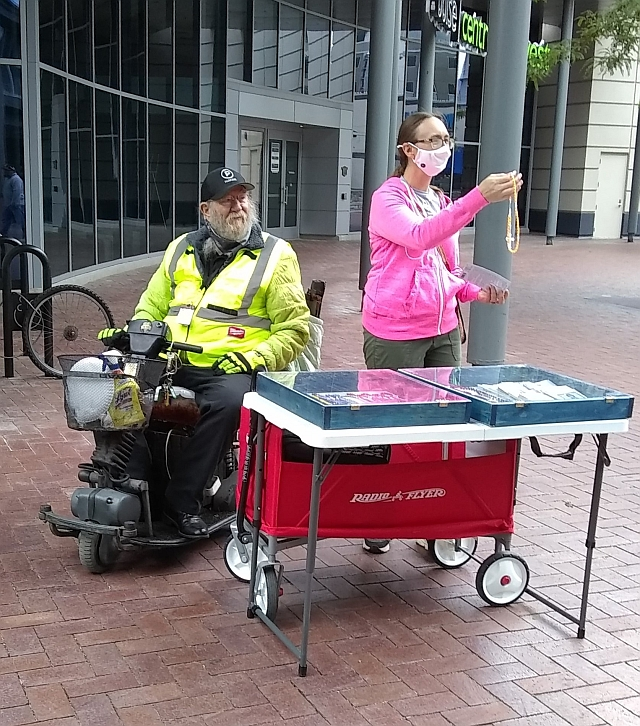 A Catholic man stopped for a Rosary, promising to pray it for us.
A teenage girl with brightly colored hair and black markings on her face stopped. She wanted a free Rosary. No, she wasn't Christian but graciously accepted our one-page summary of the kerygma.
The same girl came by again, a short time later, accompanied by another teenage girl, who also accepted Rosary, pamphlet, and kerygma. This repeated a couple of more times, until a total of 5 teenagers had been set up with a Rosary. May God bring this natural evangelist home to His Church, where she can lead many people to the Light and salvation!
A woman walked by, accompanied by a man. She refused a Rosary with a smile, telling us it was because of the denomination she identified with, nominally Christian but overtly anti-Catholic. She didn't stop for an explanation of the Rosary.
A Chesterton-shaped man with a gray beard stopped for a Rosary. Asked if he were Christian, he responded that he was not. E. Pam asked for details, and he replied that he followed a modern religion with multiple deities. E. Lucy offered him a copy of the one-page kerygma, asking him to take the time to read it. He said he would.
A heavyset, 20-something woman stopped. She accepted a Rosary, then asked for an extra one for a woman friend. She came back later, wearing both Rosaries, this time accompanied by the stout man who had accepted a Rosary from us a few minutes earlier. But now she had a new story. She said she had come to Boise with friends, got stranded, and was begging money for a one-way ticket back to the other side of the country. We referred her to the St Vincent de Paul society. May the Lord heal her and save her (as well as a chronically homeless woman named "Andrea")!
A lone woman stopped, 20-something, possibly down-and-out, and with very short hair. She wanted a Rosary, and said she was familiar with it because she had been raised Catholic. She was newly arrived in Boise and hadn't connected with a faith community, but was beginning to feel the need for one. E. Lucy gave her a copy of our map to area parishes and encouraged her to attend Mass that very evening at the nearby cathedral.
The two evangelists gave away 15-20 Rosaries and its pamphlet, 3-4 Good News/kerygma leaflets, and 1 map.
Please pray for us again today? In past years, this has been the weekend that a convention occurs in "our business park", attended by many costumed people sporting horns and tails. Please pray that God sends people to us with hearts prepared to perceive their need for Jesus Christ and His Holy Catholic Church, and that much good fruit for His Kingdom comes of today's efforts.
God changes hearts! So thank you again for your prayers and other support for this apostolate. In turn, may God protect and greatly bless you and all those you love!
"Go with the strength you have" (Judg 6:14).