People still need God! - 2021-06-06
June 20, 2021
---
People still need God! So thank you again for your prayers for the Boise Catholic street evangelization effort.
A teen, from a group of four or five at a nearby picnic table, came over for a Rosary. Soon, three other members of his group each came over to get one. E. Lucy talked with the last girl, asking if she were Christian. "Not really," she responded. So e. Lucy gave her a copy of the kerygma, telling her it was important, was only one page, and encouraged her to sit down and read it. Pray they remember they are children of God.
Several 20-somethings stopped, in ones and twos. E. Lucy explained the Rosary devotion and set each of them up with a Rosary, mentioning  that many people experience an unexplained sense of peace and protection when they sit down and try it. They each thanked her. In turn, she thanks our dedicated Rosary makers!
A man carrying a sandwich board offering an occult service said he wouldn't be a part of a group that promotes abuse of children. Good! Neither would we.
Frequent passerby "Cole" stopped by several times to talk with Chuck and was very animated. He wasn't wearing a shirt so they talked about some of his tattoos. He brought up a local news event, then abruptly left to stand at the road and wave at cars. He returned and tried to have a conversation again, circling back to the same news event before leaving again. Pray for God's peace to fill Cole and heal him!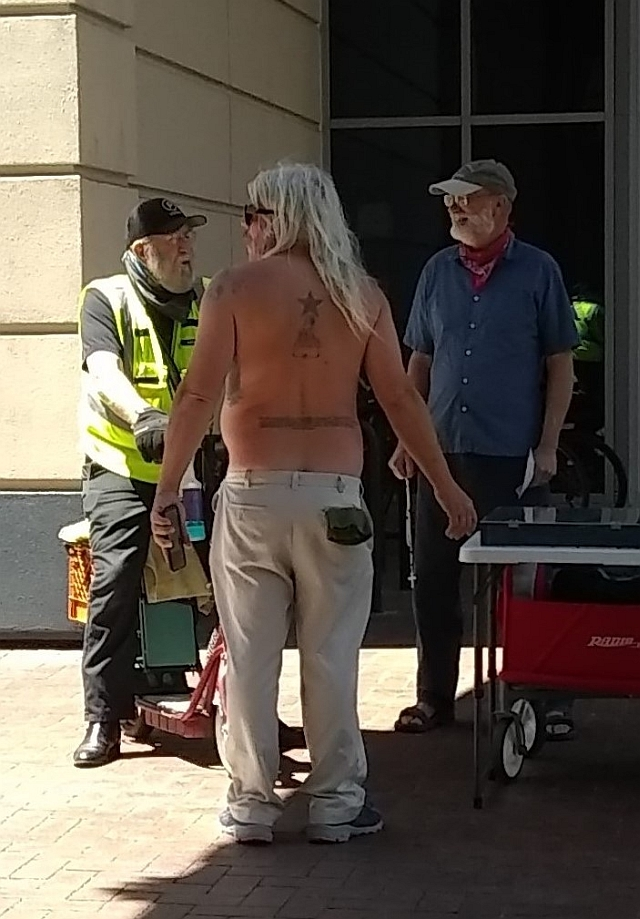 A pair of Police officers rode by. E. Lucy smiled and greeted them, but they just looked intently at us. Must be new on the assignment.
Repeat visitor "Michael" stopped again and wanted to talk about faith. He asked e. Chuck if he could "hang out" with us. As we offered Rosaries, and God's blessing when our offer was refused, he would add, "Jesus is real, hallelujah!" Other than that, though, he didn't seem very familiar with Catholic teaching, though he identified as Catholic. Eventually, he sat on his duffle bag and just watched. He stays in a homeless shelter and is in a God-centered addiction recovery program. He took one of our last chain Rosaries. Lord, heal him as he meditates on Your life!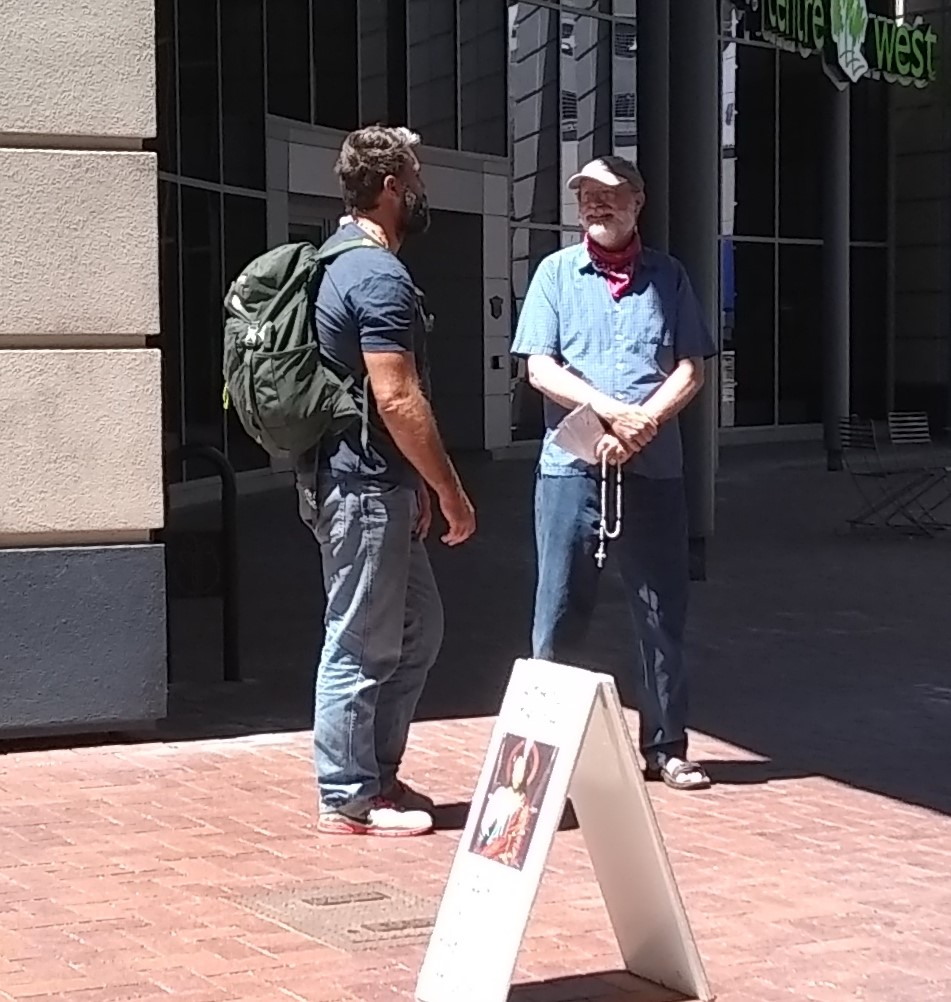 "John", the parking lot attendant, stopped on his new electric scooter. He was relieved to say that his tests showed that he had no cancer and that his infection is much reduced. As he was chatting, he said to a man who had just picked up a Rosary that he'd "better be sure to get the right prayers with the right beads". We assured the man that it was not so rigid a prayer. John then told several stories of his recovery from addiction and even accompanied us as we packed and left so he could finish a story. May Your healing hand draw John closer to You, Lord.
Some people took a Rosary from e. Lucy's hand, accepted the pamphlet, but didn't stop long enough for even a brief explanation.
A teen/preteen young man accepted a Rosary and explanation. He knew who Jesus is and seemed on the verge of speaking but just stood looking at the Rosary and the pamphlet on how to pray it. So, e. Chuck continued talking about Christ and the Good News. He did say he attended a church and would try the Rosary prayer. Pray for his perseverance in faith.
Altogether, the two evangelists gave away 20-25 Rosaries and the pamphlet on how to pray it, as well as at least one copy of the kerygma.
Please pray for us again today? Ask God to send people to us with hearts prepared to perceive their need for Our Savior and His Holy Catholic Church, and that much good fruit for His Kingdom comes of today's efforts.
Weather was fair, and lots of people were out. A few responded to their need for a closer relationship with God. So thank you again for your prayers and other support for this apostolate. In turn, may God protect and greatly bless you and all those you love!
"Go with the strength you have" (Judg 6:14).