Fish, families, and dishonor - 2019-08-18
August 25, 2019
---
Fish, families, and dishonor? All part of the mission, so thank you again for your prayers for Boise's Catholic street evangelization effort! Two evangelists were available.
A dad was pushing an over-sized stroller, filled with three girls (maybe 5-8 years old). He winced at their high-pitched squeals as he ran the stroller through the fountain. Then he stopped at our table when the girls cried out that they wanted a Rosary. (Perhaps, he was hoping to avoid more pain.) He told them, "Okay, but just get one and share it." Each girl, though, chose her own color of Rosary. They did accept only a single copy of the accompanying pamphlet, so they could share that.
A mom and baby stopped. She accepted a Rosary and its booklet. Although the baby was dressed in pink and flowers, the mom referred to the child as "him." God help us all!
"Mr. Cowboy Hat" from last week, returned. He thanked us for the Bible we had given him. He especially appreciated its commentary on some of the words in their original language. Some positive events had happened since he talked with us, so he thought God was affirming his openness to the Catholic Church. He asked about conduct at Mass, and evangelist Chuck advised, "At first, don't try to follow along. Just take it in! So much is happening there!" We encouraged our visitor to find an RCIA class. Then he asked whether homosexuality was a sin, since that's how he interpreted the Bible. We gave him a copy of SPSE's "Homosexuality" pamphlet, as well as a summary of the Catholic teaching: It's not a sin to experience same-sex attraction; it is a sin, though, to act out on it; therefore, people with same-sex attraction are called to live a celibate life.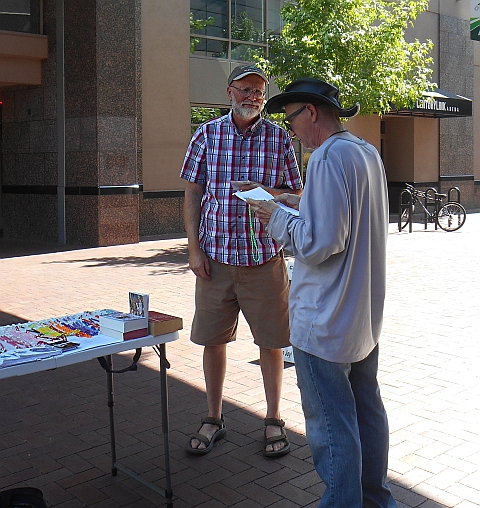 Another man stopped, asking about Bible translations. Turns out he's a cradle Catholic, but had studied the Bible with non-Catholic Christian groups (before good Catholic Bible studies became widely available). He complained about the sound system at his parish and about their choice of missalette. We encouraged him to look up the readings and become familiar with them before Mass .
Another family went by. One boy, perhaps 10, lagged back, wanting a Rosary. His dad said no. We told the boy, "Sorry, but you have to do what your dad says." He stuck out his tongue at us. Does that count as "dishonor for the sake of the name" (Acts 5:41)?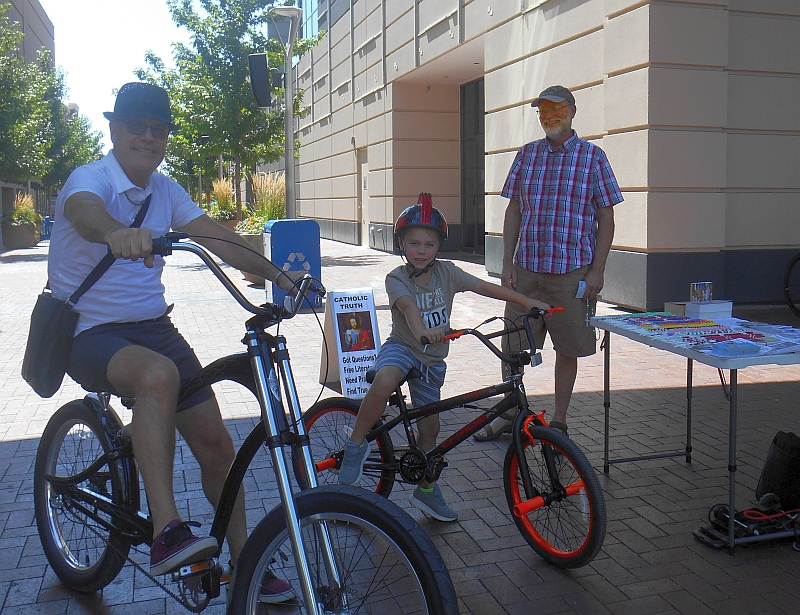 Altogether, the two evangelists gave away 15-20 Rosaries and its pamphlet, as well as a copy of the "Homosexuality" pamphlet.
Please pray for us again today? Please ask God to send people to us with hearts prepared to perceive their need for Jesus Christ and His Catholic Church. Please ask God to grant that much good fruit for His Kingdom comes of today's effort.
God continues to protect and encourage us. So thank you again for your prayers and support for this apostolate! In turn, may He protect and bless you and those you love!
" Go with the strength you have " (Judg 6:14).
P.S. Our new blog page should be working soon (they said), so please visit it for recent photos.