More than Mere Appearance - 2021-08-08
August 22, 2021
---
[More than Mere Appearance] We had three separate visitors from the same look-alike non-Catholic denomination. So thank you again for your prayers for the Boise Catholic street evangelization effort.
A man with very broken English came to ask for a Rosary. As he was making his choice and receiving the pamphlet on how to pray it, a man who looked and dressed very much the same came and also wanted a Rosary. They left together. Later in the session, the first man came back and wanted another one, "for Madame", but the rest of what he spoke didn't seem to be either English or French. E. Lucy decided no, so he ended up changing his first-choice Rosary for one with slightly fancier beads.
A large family came by, already Catholic, and each chose a Rosary. E. Lucy encouraged them to pray it together as a family.
A non-Catholic liturgical Christian doctor and his wife, from a state east of here, at first declined receiving a Rosary, but then the man came to the table to thank us for being there. He bemoaned the lack of faith to be found in the United States. (They had come through Boise on their way to/from a small town west of here to purchase a descendent of their prize dog that had suddenly died.) After we spoke awhile, he said they were non-Catholic liturgical Christians, but had "nothing against Catholics". Finally, he chose a Rosary after being surprised to hear the prayer is Christ-centered. E. Lucy urged him to get his church group to pray for his city where he saw so little faith. Lord in your mercy, hear our prayers.
"Jackson", a 20-something man on a bike, carrying a half consumed bottle of alcohol, and who attends a local university, came to the table unbidden. He asked about the Rosary. He is a non-Catholic Christian  and accepted e. Chuck's explanation and encouragement to pray the Rosary. But then he asked the difference is between Catholics and his liturgical denomination. E. Chuck explained his journey from that denomination into Catholicism, then handed him a "Why Be Catholic" pamphlet. He asked some questions about sin before moving on. Pray that his friendship with God is repaired.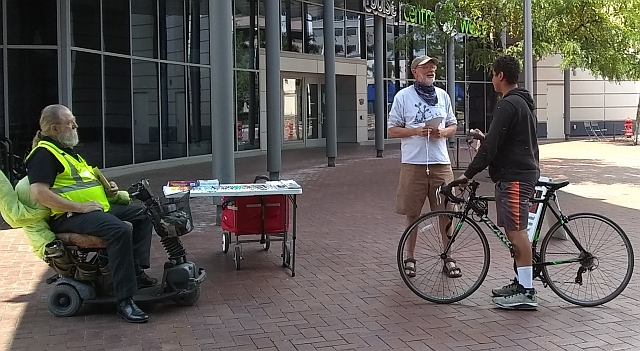 Too soon to tell if the recovery program is going to stick this time with "Tara", John's stepdaughter. No sign of Michael, the homeless man who wanted his Rosary repaired.
Two men came to the table, interested in our FAQ pamphlets. One is a strong Catholic and is trying to lead his non-Catholic Christian friend into the Catholic Church. They had already sought out the RCIA program at the nearby cathedral. They ended up taking "Common Objections", "Praying to the Saints", "What About Mary?", and the "Good News"/kerygma pamphlet. They also accepted our last copy of our map to area parishes. They each also accepted a Rosary, its booklet, and the encouragement to begin praying it.
Several people stopped only for a Divine Mercy bookmark/holy card. This was unusual, but welcome.
A 26-yea-old man named "Chris" had just skateboarded 20 miles to get to downtown Boise. He came to the table to receive a Rosary and hear what it was about. He had not been to church or thought about God in years, but had recently felt an urge to figure out the "faith thing".  Just two days prior to his visit to our table, he had prayed for the first time in years. He wanted to just study things for a while and not go to church, so we offered him a Catechism but he had nowhere to carry it for the long trip back home. So we returned to encouraging him to explore the life of Christ through the Rosary. Pray that Chris will continue to listen the promptings of the Holy Spirit.
A woman with a little girl declined our offer with an emphatic, "no, I would not". But the little girl held back, looking at the table. So, the woman relented and brought the girl over. As the little girl looked over the Rosaries, e. Lucy asked if they were Christian. No. E. Chuck talked with the adult, who said her mother had been a devout Catholic but had passed away some years ago. The woman said she had her mother's Rosary still, but it was only as a keepsake. E. Lucy gave the little girl a Good News/kerygma pamphlet. Pray that the little girl's attraction to the Rosary turns into a growing faith that pulls the adults in her family along as well.
Altogether, we gave away 15-20 Rosaries and its pamphlet, 3-4 copies of the kerygma , one copy each of "Common Objections", "What About Mary?", "Why Be Catholic?", and "Praying to the Saints", as well as 4-5 Divine Mercy bookmarks, and a map to area parishes.
Please pray for us today? Ask that God prepare people's hearts to perceive their need for Our Savior Jesus Christ and His Holy Catholic Church, and that much good fruit for His Kingdom comes of today's efforts.
Appearances can be deceiving, but the Catholic Church has remained true to the Traditions handed down from the Apostles. We invite people to take a closer look. So thank you again for your ongoing prayers and other support for this apostolate. In turn, may God protect and greatly bless you and all those you love!
"Go with the strength you have" (Judg 6:14).
https://streetevangelization.com/team-page/?team-chapter=boise&view-blog=true