Still in Need of Christ - 2021-09-05
September 12, 2021
---
Although Catholics and other believers feel encouraged when they see us, there are still many who have completely lost their way. So thank you again for your prayers for the Boise Catholic street evangelization effort.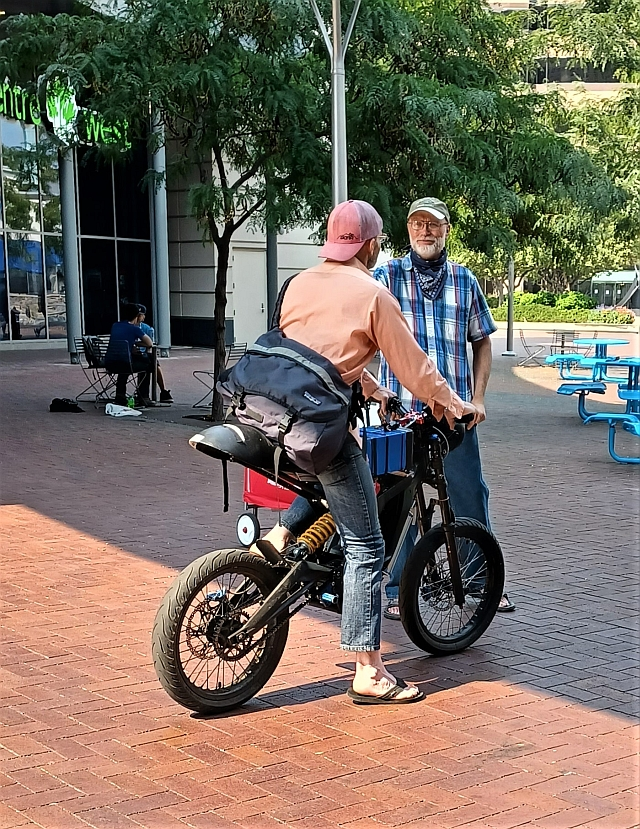 As we were setting up, a man on a bicycle, "Tony", stopped to look over the few Rosaries we were beginning to set out. He had just been to (a non-Catholic Christian) church for the first time since his recent "fall off the wagon". At the service, the sermon was on forgiveness and spoke to his situation. He acknowledged he got in trouble again shortly after his life started going well, he became overconfident, and then broke his habit of regular prayer. Soon, he was "making bad choices" again, and ended up "homeless and riding around on a bike." He was receptive to our encouragement to find a quiet place and pray the Rosary. He also wanted a copy of our pamphlet on Suffering. Pray for  Tony, that he will persevere in living out his faith in Jesus.
An extended Catholic family had rented one of the convention centers in the business park for a wedding, which included Mass. At least 10 of the out-of-town family members (in groups of three or four) came to our table. A few of them chose a Rosary, since they didn't have one with them, but all of them thanked us for being there. May God bless their entire family and keep them close to Our Lord!
A man and teenage daughter stopped, who were non-Catholic Christians. E. Chuck explained the Rosary devotion to the father, while e. Lucy talked to the daughter. The daughters' face froze into a polite smile at the mention of Jesus Christ, and she stepped back and away as soon as possible. May God touch her heart!
All but one member of a large family group refused our offer of a free Rosary. The exception was a pre-teen girl at the end of the crowd who wanted one. Her mother gave her permission to choose a Rosary. The girl wanted us to know that her church had presented her with her first Bible the previous week, news her mother was unaware of. We encouraged her to read a little bit every day, maybe starting with the Gospel of Mark. Fill her heart with your Word, Lord!
Several other family groups went by, each having four or more children as well as both parents. We always see that as a sign of the Holy Spirit at work! A couple of the families allowed one of the children to come get a Rosary. May that Rosary in the household serve to bring the whole family to Jesus Christ and salvation!
A man went by. When offered a Rosary, he paused long enough to show us the one he carries in his front pocket! May God bless him and keep him faithful!
A monk from a vibrant local community walked by, accompanied by another man. Offered a Rosary by e. Chuck, he laughed and showed him the 20-decade one he wears on his belt.
The man who was once an atheist and is now a theist (need to find out that guy's name) stopped to tell us that God is a woman and that the writers of the New Testament changed Jesus' words to reflect their male-dominated culture. E. Chuck countered that there was no historical evidence for this theory, that women are not pushed aside in the Bible and, in fact, held important roles, and that the most revered human in the Church is a woman named Mary. He merely repeated his assertion and moved on. Thank you for drawing him out of unbelief and into belief, Lord. We trust You to guide him to the Truth. May he follow Your lead.
As we were packing up at the end of the session, a man on a homemade motorized bicycle stopped and asked if we remembered who he was. Thanks be to God, e. Chuck got a nudge from On High and remembered his name is "Tyson". He was dressed better and looked healthier than the last two times we've talked to him. Tyson still wanted to promote his theories about the perfectibility of humanity through mere material improvement. E. Chuck agreed that humans can indeed grow in virtue and holiness but only as a gift from God, and only by cooperating with God and in imitation of his Son. What a human is meant to be is only realized in relationship with God and is not a self-made project. Pray that Tyson has an encounter with the living God!
Altogether, the evangelists gave away 35-45 Rosaries, 2 copies of the kerygma, 2 maps to area parishes, and one copy of our "Problem of Evil and Suffering" pamphlet.
Please pray for us today? Ask God to send people to us with hearts prepared to perceive their need for Our Savior Jesus Christ and His Holy Catholic Church, and that much good fruit for His Kingdom comes of today's efforts.
Jesus Christ is the true way to human flourishing and holiness! So thank you again for your prayers and other support for this apostolate. In turn, may God protect and greatly bless you and all those you love!
"Go with the strength you have" (Judg 6:14).