Jesus is still relevent - 2019-08-25
September 1, 2019
---
Jesus remains relevant. So thank you again for your prayers for Boise's Catholic street evangelization effort.  A particular shout-out to @Katie777 and to Barbara for your prayers and your encouragement.  Three evangelists were available.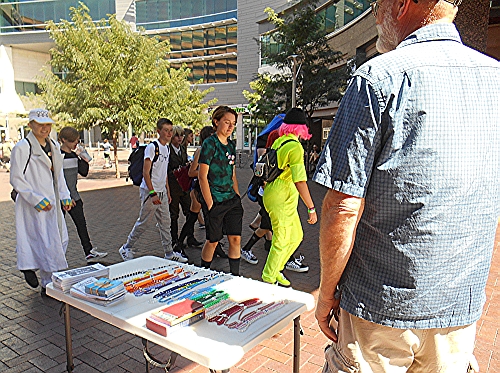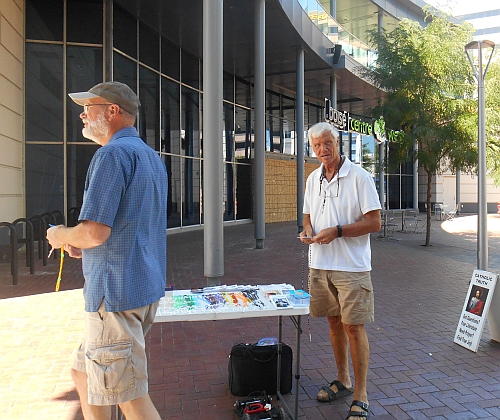 A woman stopped and thanked us for being out there for "Catholic Truth".  She attended Catholic high school in her youth.
A family of mixed races stopped. The dad wanted his three children (ranging from 8-15 years old) to know about all different religions. He explained the Rosary to them as being "the same as" what practitioners of a non-Christian religion use. Our evangelist tried to explain the devotion a little more accurately. They each accepted a Rosary and several of them accepted its pamphlet, and perhaps a kerygma pamphlet as well.
Two separate people stopped at our table, claiming to know nothing at all about religion and asking evangelist Lucy to explain Catholicism.  She gave the first one, a man, a Rosary and its booklet, a Good News/*kerygma* pamphlet, and a "Why Be Catholic?" pamphlet. Immediately afterwards, a woman stopped with the identical question.  Besides the materials just mentioned, the woman also accepted a copy of the Catechism, and (by request from her) a copy of our "Sexual Purity" pamphlet. Our evangelist at least was able to say, "Know this: Jesus is real. He is as alive today as He was on the Day of Resurrection. And He's worth getting to know."
A convention was going on a few blocks away, celebrating a genre of art that lends itself to costume wearing. Thus, several groups of people. in their teens and 20s and dressed in costume, passed our table. Very few of them, though, seemed open to Christianity. One group accepted a Rosary apiece, but not its accompanying pamphlet. One of them proclaimed she herself was divine, while another professed to serve her enemy and that of all mankind. God, save them!
Several families stopped by, most of whom did accept a Rosary and its pamphlet.
One woman politely declined receiving a Rosary from us.  A few minutes later, she came back with her aged mother-in-law, who was delighted to receive a Rosary. The elderly woman kissed it, and our hands, over and over. Though she spoke no English, her actions told us how much she loved the Lord. She also accepted a copy of our little prayer sheet with the Rosary prayers in Spanish. Her daughter-in-law said that it was because of her mother-in-law's devotion, and that of her own mother, that she and her family are people of Faith.
"Hosea", friend of "Walt" and whom we met a couple of weeks ago, stopped briefly to ask evangelist Chuck if he had seen Walt.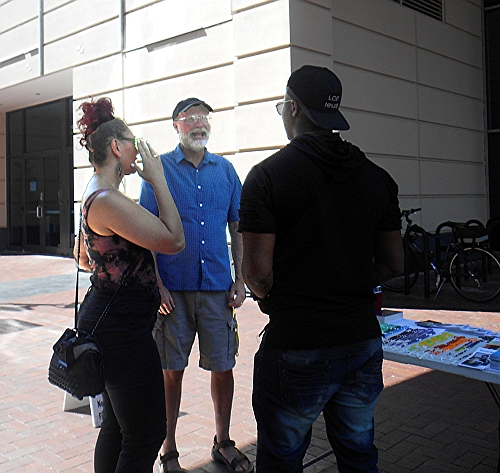 A couple in their late 20s, "Davy" and "Tia", were visiting from a nearby state for the weekend. Each accepted a Rosary and its pamphlet. They were not Catholics, but knew who Jesus is. A few other groups of people visiting Boise were offered a map of area parishes, and invited to attend the tour of the historical cathedral.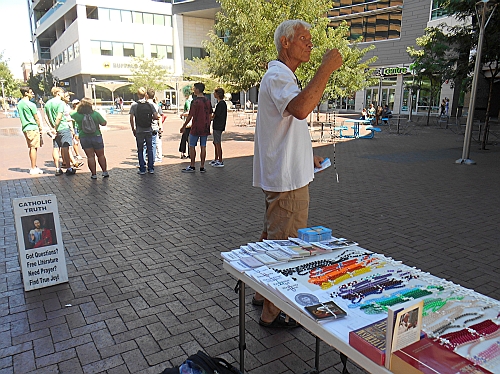 A large group of students from a local university were on a tour of downtown Boise. One of the men broke from the crowd long enough to accept a Rosary and pamphlet. Another man in the group talked to us but didn't take anything, cheerfully professing to be Catholic.
A woman in her late-20s to early-30s was on her way to work at a nursing home. She took a Rosary and its pamphlet for one of her patients who always held a Crucifix next to her heart. Our visitor, though, didn't want a Rosary for herself, telling us that she was not religious since she was young and wanted to have fun. Lord, help them both!
A Catholic family who live a couple of hours east of here stopped. They told us the children had just been baptized and confirmed, and they stopped to get Rosaries for everyone.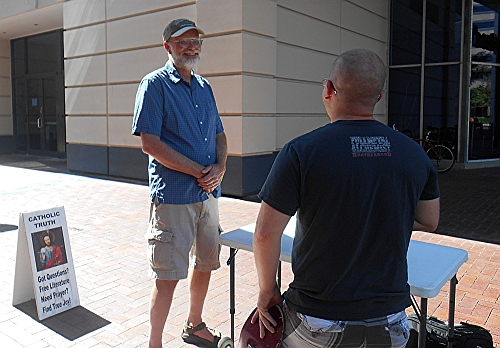 As we were packing up, 20-something skateboarder "Josh" stopped with questions.  He shared with us his theories about the origins of Jesus and who He might really be, and some other speculation about the nature of the Trinity and of mankind. We explained Catholic teachings to him and why staying with this orthodoxy was important. He thought we were trying to put the infinite God in a box, so we said that divine revelation was not a box but God's way of helping us to know and love Him. Evangelist Chuck also spoke of the importance of understanding as much as we can of God, while acknowledging the impossibility of fully understanding Him. Please pray for Josh? He at least is thinking about these things.
We received a particular prayer request: for "Marilyn", a non-believer diagnosed with aggressive cancer, and for "Joy", her non-Catholic Christian daughter. Lord, grant Marilyn the grace to come to believe before she dies.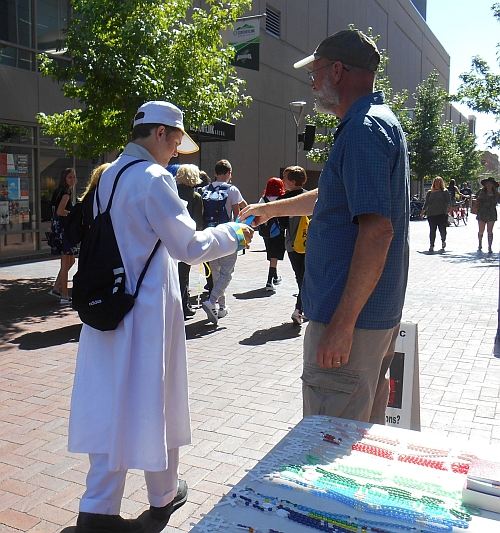 Altogether, the three evangelists gave away 25-30 Rosaries and its pamphlet, 1-2 maps of area parishes, 1-2 copies of the "Why Be Catholic?" pamphlet, 1 Catechism of the Catholic Church, 1 "Returning Catholics" packet, 1 "Sexual Purity" pamphlet, and 2-3 copies of the "Good News"/kerygma pamphlet.
Please pray for us again today? Please ask God to grant that much good fruit for His Kingdom comes of today's effort.
We still need a Savior.  So thank you again for your prayers and other support for this apostolate.  In turn, may God protect and greatly bless you and those you love!
"Go with the strength you have" (Judg 6:14).