Praying for Unity - 2021-11-28
December 5, 2021
---
[Praying for Unity] Last week, we interacted with several groups of non-Catholic Christians, recognizing that our reunion has not yet happened. So thank you again for your  prayers for the Boise Catholic street evangelization effort.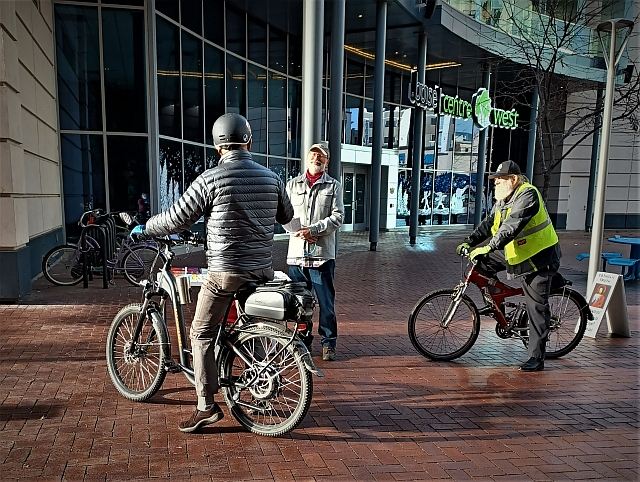 "Aaron" stopped by as we were setting up. You may recall him as the homeless man, from a few weeks back, who asked us to pray about his hurt rib (broken and otherwise untreated) and declining our offer of a Rosary at that time.  This time, when he came to the table, he was upset about just receiving a ticket from the city police. No, he was no longer attending church, he said, because he had gotten into trouble the last time he went. We encouraged him not to give up on the house of God, and took the opportunity to tell him about how and why the Eucharist draws Catholics each week. We prayed for him again, then suggested he take a Rosary and walk to the nearby cathedral where he could sit in the quiet and pray, but he didn't want one. His eye was drawn, though, to the booklet "The Dogma of Hell", so we gave him one. Soften his heart, Lord.
The heavyset homeless woman, in the electric wheelchair, stopped again briefly. She complained about having to carry everything with her or else it'd be thrown out. She still expressed no interest in receiving a Rosary or prayer. Please pray for her?
A small but multi-generational family group stopped, all the men choosing a Rosary.
A college-aged couple stopped for a Rosary apiece, proudly proclaiming their Catholicity and allegiance to the local campus' Newman Center chapel.
A man went by, saying he is "proud to be Protestant". May God heal the wounds in the Church and bring him home.
A nonbeliever stopped for a Rosary. E. Chuck proclaimed the Gospel to him. (Was it he who took another of the Hell books?)
Two women who did not speak much English enthusiastically accepted a Rosary apiece, though they did not seem to fully understand our questions or encouragements. Yet, after selecting the Rosaries, they crossed themselves and happily went their way. May their enthusiasm for Our Lord spread to all they meet.
A man with some teenagers declined our offer but then, after they had gone past the table, he stopped the group and came back to select a Rosary. An American citizen, his accent was, he said, from Argentina. We asked him what parish he attended. He hesitated, and then told us what town he lived in. He took the Rosary pamphlet saying he knew the prayer better in Spanish, then went back to the teenagers and stood showing them his new Rosary. May Our Lady help him guide his children in faith.
A 40-something couple declined our offer and it seemed they would keep walking by, but then the man paused long enough to say, "I don't need anything like that." We replied that the Rosary was a deep meditation into the life of Christ, and that brought him closer to the table. He still declined a Rosary but wanted the how-to pamphlet. Then he asked what we "hoped to accomplish" by giving out Rosaries. We explained we hoped to draw people into a deeper love relationship with Christ, His Church, and their neighbors through prayer and conversation. He said he attended a non-Catholic Christian church in a neighboring city, then he asked about the other pamphlets on the table. We offered him any he wanted but after looking over the titles he declined and went on his way. Open his heart to Your Mother's love, Lord.
An older couple on bicycles passed. The man was in the lead and gruffly said he wanted "nothing to do with that stuff" but, as his wife passed by, she said she already had a couple of Rosaries. We said a short prayer for her. Later, the man returned to tell us that Rosaries were useless, and that he identified as a non-Catholic reformation-era Christian. E. Chuck replied that he had converted from that denomination five years ago, but the man identified Catholicism solely with scandals of recent decades. E. Chuck challenged the facticity of his statements, but the man just repeated his accusations and rode away. Lord, fill our hearts with forgiveness and love for our neighbors.
Also, another thank you for your prayers for "Myron", the hospitalized coworker of "John-the-parking-lot-attendant". John reports that last week he was trying to sing along with Christmas songs, perhaps tunelessly, but still another step forwards! When Myron is more alert, John plans to shock him with, "Catholics have been praying for you!"
Altogether, the two evangelists gave away perhaps 15 Rosaries and its pamphlet, as well as 3 of the Dogma of Hell booklets.
Please pray for us again today? Ask God to send people to us with hearts and minds prepared to perceive their need for Our Savior Jesus Christ and His Holy Catholic Church, and that much good fruit for His Kingdom comes of today's efforts!
Painful rifts still exist within Christianity, and we try to be a healing presence. So thank you again for your prayers and other support for this apostolate. In turn, may God protect and greatly bless you and all those you love!
"Go with the strength you have" (Judg 6:14).