Angry Young Men - 2022-01-30
February 8, 2022
---
[Angry Young Men] Sometimes we are privileged to actually see the effects of God's grace! So thank you again for your prayers for the Boise Catholic street evangelization effort.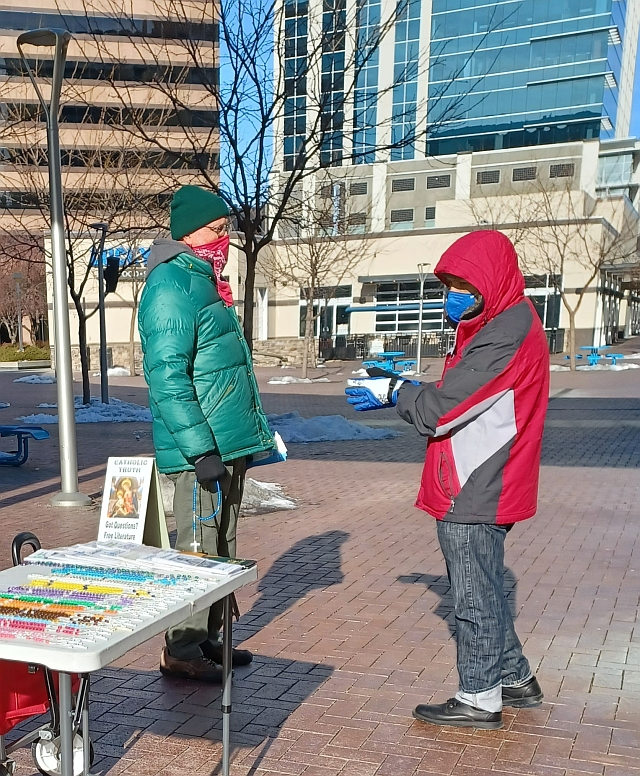 A man, whom we'll call "Tony" (St. Anthony, help this lost one be found again!) and who stopped to argue with the evangelists a few months ago, paused again to tell us he didn't need the Rosary or religion, that he could just go to God himself. He said many other things, but ended by talking about his father and brother being terrible role models, Catholic in name only, and with no change of heart. Plus, he felt scandalized by the negative history of the colonial Catholic missionaries in his home country. A lot of things had tempted him to leave the Church. He ignored all counter arguments, though, and continually changed the subject until even e. Chuck was beginning to get frustrated. Then another man stopped near the table who, as e. Lucy later perceived, was sent to us through God's permissive Will. The man was carrying what looked like a twelve-pack of alcoholic beverages and his language was filled with foul words. He declined a Rosary, demanding money for food. "Keep your Rosary," he yelled, "and give me pizza." He then started to stomp away, but stopped to yell at e. Chuck and "Tony": "I don't need a Rosary, I can go directly to God!" Then he stormed out of earshot. Hearing his own objections repeated by this angry, foul-mouthed man, "Tony's" tone changed. A moment later, he apologized to e. Chuck and wanted to assure him that he wasn't angry or making accusations about him personally. His mind was not changed about Catholicism but his mood was, and we parted with smiles. Thank You, Lord, for holding that mirror up for "Tony". Open our eyes to the mirrors You hold up for us.
While e. Chuck was engaged in conversation with "Tony", e. Lucy offered Rosaries to a mother with 2 young children (aged perhaps 5 and 2). Catholic, the mother gladly accepted our offer. Each of the three chose a Rosary. They had begun to pray the Rosary together, the older boy enthusiastically confirmed, but it wasn't yet daily. E. Lucy encouraged the mom to make it so. Please pray that she and/or her sons are granted the grace of the daily Rosary devotion, and the peace and protection which God grants through it!
While e. Chuck continued to be engaged in the seemingly fruitless encounter with "Tony", two strong-looking city policemen on bicycles went by. E. Lucy greeted them, but didn't want to slow them down by offering a Rosary. One of them returned the greeting. Incongruously, though, the one who responded had the face of a fine-boned Caucasian woman. A decade and a half later, the above encounter with the "hangry" young man happened.
A woman, attending the Remodeling Show that was going on that day in the convention center, stopped. She was happy to see us out there. She had "plenty of Rosaries at home", but asked for some of our pamphlets. She chose "Marian Doctrines", "What About Mary?", "The Problem of Suffering and Evil", and "Common Objections". For a reason she doesn't now recall, e. Lucy also offered her a copy of our "Confession" pamphlet, showing the "self test" (examination of conscience) inside. That opened the conversation! Our visitor told the story of her marriage and her conversion, and her feeling that she still hasn't been well catechized. She also asked for our prayers for the apostolate she's involved in: Rachel's Vineyard (healing for post-abortion parents). The next retreat is May 21. Please pray?
A man and woman stopped. He was Catholic; she was a non-Catholic Christian. We briefly described the Rosary devotion to each of them separately. They each chose a Rosary and thanked us.
Several Catholics assured us they had "lots of Rosaries", and one man even gave e. Chuck a fist bump and thanked us for being out there.
A Remodeling Show vendor from a mid-Western state was also glad to see us. Actively Catholic, he happily told us that his brother is a priest. Please pray they both stay loyal to the Faith!
A woman declined the Rosary as she passed by, saying "no English". But, a few steps later, she turned around and came to our table. "Are you Catholic?" she asked. "Yes!" we said. She explained that she was a from a country where, we understood, Catholicism has to stay very much hidden. She gladly accepted a Rosary, but was going to decline the pamphlet because she didn't read English or Spanish (the two options we had). We pointed out the pictures to go with the Mysteries and encouraged her to look online for the prayers in her native language. She seemed to be happy to try that. Please pray for her to grow in her Faith despite persecution, and that she will also be granted a sincere and deep love for the Rosary. Thank God, too, that we are able to declare our Faith openly in our city!
Altogether, we gave away 5-10 Rosaries and its pamphlet on how to pray it, as well as 1 "Marian Doctrines", 1 "What about Mary?", 1 "Common Objections", 1 "The Problem of Suffering", and 1 "Confession" pamphlet.
Please pray for us again today? Ask God to prepare people's hearts to perceive their need for Our Savior Jesus Christ and His Holy Catholic Church, that that much good fruit for His Kingdom comes of today's efforts.
God can touch the hearts of even people poisoned against His Church. So thank you again for your prayers and other support for this apostolate! In turn, may God protect and greatly bless you and all those you love!
"Go with the strength you have" (Judg 6:14).
P.S. Space limited us to telling only the one story here. For the rest of stories, including a very important prayer request, please visit our website (where they will be posted within the next day or two).