Abundant interest - 2022-03-27
April 3, 2022
---
[Abundant interest] An abundance of foot traffic brought us many interested people. So thank you again for your prayers for the Boise Catholic street evangelization effort.
Both a music festival and a home and garden show were going on last week, so there was lots of people out and about.
A man named "Will" and his 4-year-old daughter politely declined a Rosary and passed by the table, but a woman and her tween daughter stopped. It turned out they were all together, so Will came back and let the little girl join her mother. Will was curious about the Rosary, so e. Chuck gave him a pamphlet, demonstrated how to pray it, and showed him how the meditations call us into a deeper love for Christ. Though Will seemed to hold Christianity at arms length, in the end, he decided to take a Rosary and was open to try praying it.
Meanwhile, the 4-year-old also wanted a Rosary, but the 10-year-old walked away. Her mother told e. Lucy that the older girl was "anti-religion". The mom was thinking, though, about putting her in Catholic school. E. Lucy encouraged her to do so. She also encouraged her to pray the Rosary every day with her younger daughter. Then she gave the mother a St. Monica relic and told her the story of how St. Monica's son, St. Augustine, was lost for years but eventually not only came back but also became one of our greatest Saints. Pray that the reality of the life of our Lord Jesus Christ, and healing and love He offers, draw this family into faith in His saving work.
Two women stopped, "Linda" and "Susan". When asked if they were familiar with the Rosary, they said they were Catholic, but told us they belonged to an irregular "parish". Janet said she prayed the Rosary every day and challenged e. Chuck that he'd "better pray it every day, too." They declined the Rosary pamphlet because it includes the Luminous Mysteries, and they seemed doubtful that these Rosaries were actually blessed. E. Lucy and Susan did chat amiably about different indulgences offered for praying the Rosary. E. Lucy then asked them to pray for unity, but the suggestion was ignored. Pray that God softens their hearts, and the hearts of everyone who seeks God outside His Church. May we all stop "straining out gnats and swallowing the camel" of disunity.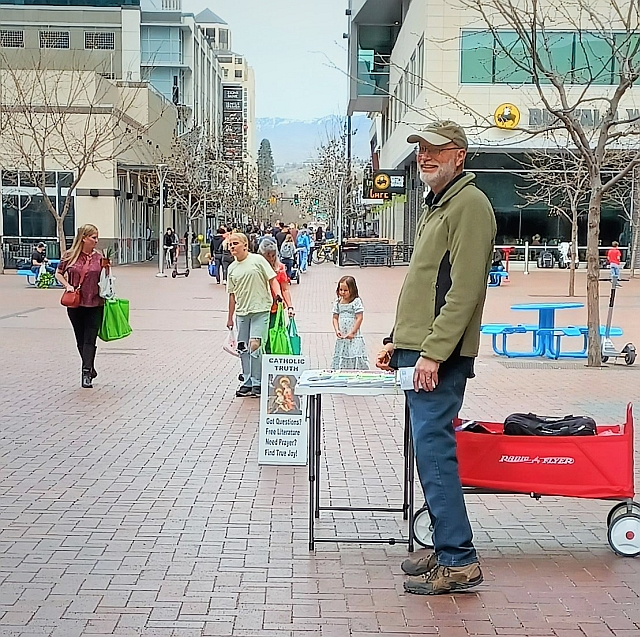 We gave away one of e. Chuck's hot-off-the-press, brand-new pamphlets, "Come Home", addressed to inactive Catholics. It went to a woman who volunteered to give us her unused Rosary-making supplies. (Yes, please!) She had not been back to Mass since the pandemic began, was new to the area, and so didn't know where to leave the supplies. We invited her back into active participation in the Catholic Church and recalled the unsurpassed blessings available only in the Eucharist. Pray for her belief in and return to the Sacraments of the Catholic Church.
A man with a longish, dark beard stopped to ask e. Chuck what we were up to. When e. Chuck explained our desire to draw people closer to Christ in faithful prayer, our visitor nodded agreement. Then he began a lengthy conversation about his belief in a flat earth and a large variety of conspiracy theories (most of which were concocted in the last 150 years specifically to discredit Christianity). E. Chuck pointed out that, whether true or not, most of those things were out of his hands, whereas our active faith in Christ was the only thing we could control, and was the most important thing in life. The man again agreed but returned to the other topics. Pray that he can turn his obsession from the world to God.
A 20-something woman stopped, sporting dramatic makeup. She had gone through RCIA and become Catholic a year ago at e. Chuck's parish. Now, she wanted a Rosary. Thank you, Lord, for all converts! Fill them with Your strength, grace, and perseverance.
A teenage girl stopped briefly. Besides Rosary and booklet, e. Chuck gave her a Divine Mercy prayer card and encouraged her to try it because it was a shorter prayer than the Rosary.
A man went by, loudly proclaiming he didn't "need the Rosary". May God save him!
Two teenage boys came by, one of them being directed to our table by the other. After the one had selected a Rosary and received the booklet, the other boy told us he already had a Rosary from us and had begun studying the booklet to figure out how to pray it. E. Lucy encouraged him to look for "15 minute Rosary" on YouTube in order to "catch the rhythm" of the prayer. He told her that the other boy was his brother.
A man accompanying two or three children said they'd stop on their way back. We must have ended our session before then, because we didn't see them again. May they accept God's offer of salvation before it's too late!
A mother and young child (5-6 years old?) stopped. The child asked who Jesus was. E. Lucy gave him a quick overview of salvation history, ending with the fact that Jesus was coming back to take us to Himself. The mom seemed satisfied. (I guess it had been a test.)
A man was walking by when he turned toward us and loudly saluted an entity that hates him and wants only his destruction. The evangelists remarked to each other that he's going to be in for a nasty shock if he ends up in that one's hands. Lord, have mercy! Save him!
A young mom, pushing her little boy in a stroller, stopped to pick out a Rosary. She was Catholic but had just moved here from another part of the state. So, we gave her a map to area parishes and showed her the one nearest her home. Pray she finds a warm welcome wherever she goes to Mass.
Altogether, the two evangelists gave away 35-40 Rosaries and its pamphlet, at least 1 map to area parishes, 1-2 Divine Mercy cards, 1 St. Monica relic card, and 1 "Come Home" pamphlet.
Please pray for us again today? One evangelist is out sick, but the other is rarin' to go. Please ask God to send people to us prepared to perceive their need for Our Savior Jesus Christ and His Holy Catholic Church, and that much good fruit for His Kingdom comes of today's efforts.
Many people were interested in learning about the Rosary last week. So thank you again for your prayers and other support for this apostolate! In turn, may God protect and greatly bless you and all those you love!
"Go with the strength you have" (Judg 6:14).
https://streetevangelization.com/team-page/?team-chapter=boise&view-blog=true