Easter Adventures - 2022-04-17
April 24, 2022
---
[Easter Adventures] Easter Sunday brought us some interesting encounters. So thank you again for your prayers for the Boise Catholic street evangelization effort.
As we were setting up, e. Chuck saw a young man suddenly drop to one knee in front of a young woman. Big grins ensued, followed by hugs and kisses. So, e. Chuck called to the man, "Did you just propose?" Yes. He invited them to come receive a Rosary to get their life started off right. When they came to the table, he asked the woman if she had been expecting that. "Not today!" she said. Although not Catholic, they agreed to receive a Rosary, choosing one between the two of them. May Our Lord bless their marriage and bring their resulting family to salvation!
A 20-something, homeless-seeming man stopped at e. Chuck's greeting. He has visited us before and goes by "Micah". He told e. Chuck that he was wishing to get ahold of his family. His family is local, so we suggested maybe he could just go see them in person.
While we were speaking, another apparently homeless man stopped, advising us to stockpile certain commodities and making odd claims about the military. This one was wearing a politically ultra-conservative t-shirt under an unbuttoned and open white business shirt. He offered to pay us for a Rosary, pulling out a wad of cash.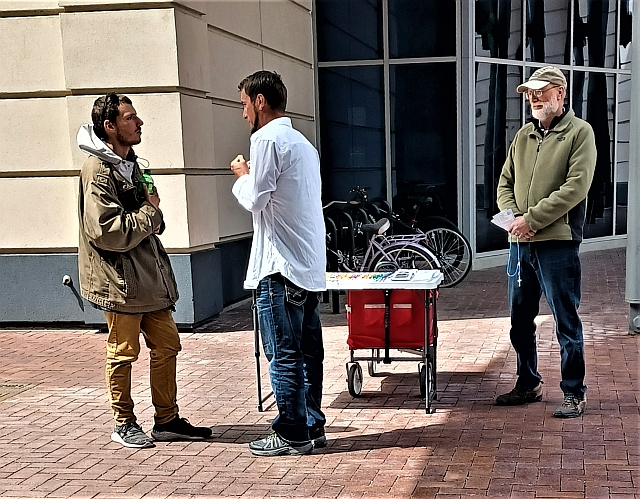 When e. Chuck politely refused the money and suggested he give it to Micah, the second man turned on our first visitor, accused him of being drunk, and then proceeded to alternately insult, brow-beat, and try to bribe him into repentance and living a Christian life.
He also tried to goad Micah into throwing away his "druggie clothes", promising him that he would not only buy him new clothes but would also set him up for 4 days in a hotel. E. Lucy warned Micah to not accept the second man's "hospitality" until he saw the second man actually pre-pay for things.
Chuck broke in and tried to dissuade the second man from his judgmental, literally hands-on tactics. While the aggressive man was thus distracted, e. Lucy slipped Micah a Divine Mercy prayer card and encouraged him to learn that powerful prayer. He was studying the card when the second man's attention returned to him and he started his harangue all over again.
After a few more minutes, e. Chuck asked them to move away from the front of the table so other people could approach and choose a Rosary. They complied and, after several more minutes, they walked away together.
The second man was evidently still urging Micah to throw away his clothes and his last two cigarettes as he physically steered him toward a trash can. When he let go, Micah took another step toward the receptacle, but then changed direction and moved back to the middle of the walkway. At that, the second man threw his hands into the air and headed into a restaurant, Micah continuing out of sight.
Some time later, the second man left the restaurant and came back by our table. E. Chuck was busy talking with someone else, but e. Lucy helped him complete the process of selecting a Rosary that didn't offend his male sensitivities. He didn't try to engage her in any more conspiracy-theory or other ploys.
May Our Lord grant mercy and healing to Micah and gentle the other man's heart, giving him peace and a love for Truth, and leading him and those he cares about to salvation.
Most people cheerfully returned our "Happy Easter" wish. But one man from a group of 4 people loudly said no to e. Lucy's offer of a free Rosary. When she wished him a Happy Easter anyway, his second no was both louder and sharper. May he not give a final no to Jesus' offer of salvation!
A man on a bicycle stopped briefly. He took the Rosary out of e. Chuck's hand, and give him "an Easter egg with a nice message" in return. He pointedly didn't return e. Chuck's "Happy Easter" wish. The message inside the plastic egg was one that you might call anti-forgiveness.
A family stopped because the mother was interested. She and the kids selected a Rosary apiece, but the father did not. E. Chuck talked to the father about mundane things as e. Lucy briefly described the devotion to the others. As they were walking away, we could overhear the father reciting the Hail Mary to them, but it did not seem to be in a positive way. Later, when the family walked back past us the father did not make eye contact with the evangelists. Pray for peace and protection for the faithful in this family.
Altogether, the evangelist gave away 10-15 Rosaries and its pamphlet, as well as a Divine Mercy prayer card.
Please pray for us again today? Ask God to send people to us with hearts prepared to perceive their need for Our Savior Jesus Christ and His Holy Catholic Church, and that much good fruit for His Kingdom comes of today's efforts.
God is Love. We try to mediate His presence to all comers, even those "rough around the edges". So thank you again for your prayers and other support for this apostolate. In turn, may God protect and greatly bless you and all those you love!
"Go with the strength you have" (Judg 6:14).