Toward Truth and Unity - 2022-04-10
May 1, 2022
---
[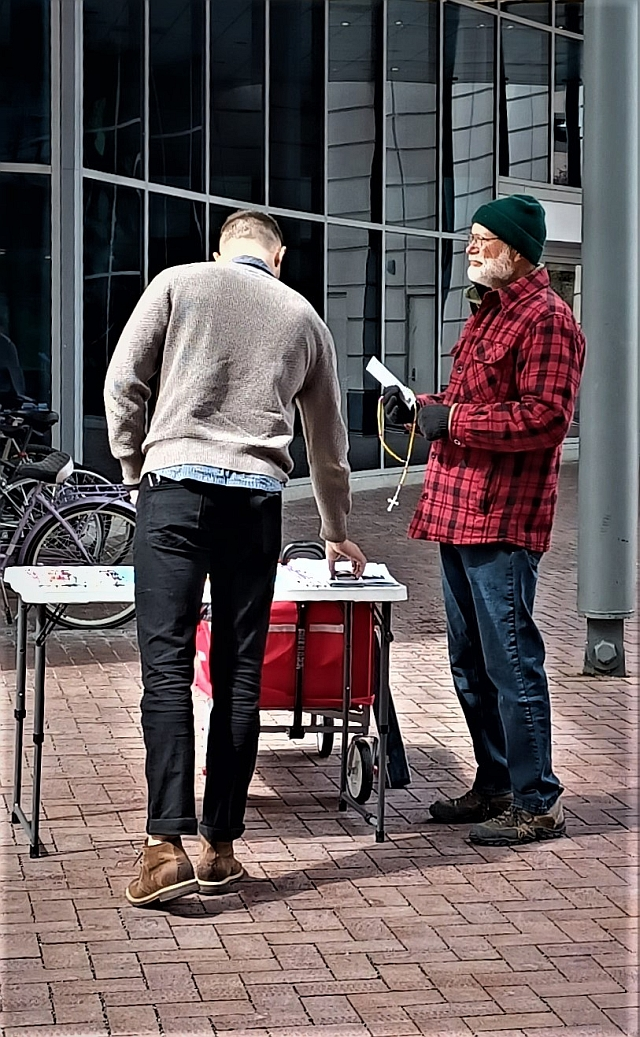 ] We still encounter people who yearn for Truth and peace. So thank you again for your prayers for the Boise Catholic street evangelization effort.
It had snowed enough to stick that morning, and was snowing again when e. Lucy arrived. Yet, the moment e. Chuck and our wagonload of stuff reached the square, the snow and wind stopped and the sun came out. (And therefore, so did the people. Thank you, God!) As we left, dark clouds were gathered again at the horizon.
"Ben", a businessman traveling from out of state, stopped for a Rosary. Turns out he'd gone to e. Chuck's alma mater, which formed a quick connection between them. Ben is Catholic and had just arrived that morning. He asked about parishes and we were able to steer him toward 2 or 3 that he'd probably feel comfortable in. He accepted a map with their web addresses. He said he would pray for us with his new Rosary, and wished us "good fishing". Pray for grace, mercy, and peace for Ben.
A tall 30-something man, who gave his name as "Eddie", jokingly asked us if the instigator of "the Reformation" was our favorite person. E. Chuck replied that he had converted away from followers of that one and into Catholicism just five years ago. Eddie asked why, so e. Chuck briefly related his reasons. This led Eddie to ask questions about praying to Mary and the Saints, about the Pope, the scandals, and about the nature of the Church. An active non-Catholic Christian, Eddie seemed to believe that God was in a period of "silence in the world". E. Lucy told him about Eucharistic miracles that God has continued to grant throughout each of the twenty centuries of Christianity, but Eddie seemed skeptical. He was not hostile during the discussion, just curious, and said it would probably be good if he took a deeper look into his faith. E. Lucy then handed him a stack of pamphlets covering the topics of our conversation as well as a copy of the Catechism of the Catholic Church. He also selected a Rosary. May the Holy Spirit guide Eddie in a deep and fruitful exploration of his faith and lead him to the Truth.
A culturally defiant-looking woman with very short hair surprised us by accepting our offer of a free Rosary. She accepted the booklet, but said she was already familiar with the Rosary.
A homeless man with an open bottle of hard liquor stopped briefly for a Rosary and its booklet before staggering on. Blessed Mother, obtain for him healing, safety, and salvation!
"John" was too busy to stop, although we saw him zoom by twice on his way to fix yet another parking lot machine.
One of the non-Christian-prayer-bead-making men from last week stopped briefly. E. Chuck encouraged him again to pray the Rosary he'd received at that time.
Two women in their upper teens stopped briefly because they "were heading to a concert". They each chose a nice Rosary. We saw them again, though, even before our session ended. E. Chuck commented that it must have been a short concert. They said they were just trying to buy tickets, and were now going to get food while they waited for the doors to open. Lord, please inspire them to learn how to pray the Rosaries they received.
Several people, both Catholics and non-Catholic Christians, wished us a happy Palm Sunday.
A young woman, working a food delivery gig, hesitated in her hurry and came to the table. She didn't know what a Rosary was and, when asked if she were Christian, said at first that she wasn't sure. Then she admitted that she wasn't. She said her family had believed in generations past, but belief seemed to have faded away in recent years, and she seemed to find that regrettable. We offered that she could be the one to bring Faith back to her family, and gave her a Good News pamphlet to go along with her Rosary. May she turn to her Lord and Savior in faith and thanksgiving.
Altogether, we gave away 5-10 Rosaries, 1 Catechism, 1 each of the pamphlets "What About Mary?", "Marian Doctrines", "Praying to the Saints", "Common  Objections", and "Petrine Primacy", 1 map to area parishes, and 1 Good News/kerygma pamphlet.
Please pray for us again today? Ask God to send people to us with hearts prepared to perceive their need for Our Savior Jesus Christ and His Holy Catholic Church, and that much good fruit for His Kingdom comes of today's efforts.
People still seek the Truth, and we work to lead them toward Him. So thank you again for your prayers and other support for this apostolate. In turn, may God protect and greatly bless you and all those you love!  Happy Easter!
"Go with the strength you have" (Judg 6:14).
https://streetevangelization.com/team-page/?team-chapter=boise&view-blog=true