"Three New Evangelists"
August 14, 2023
---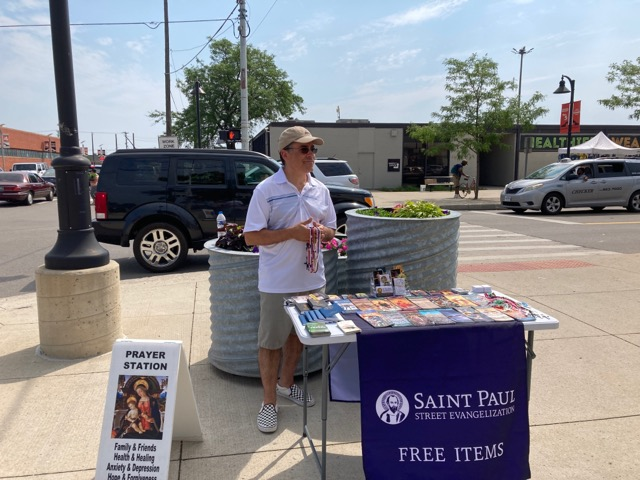 A few weeks ago, my friend Steve expressed interest in doing street evangelization with me. Likewise, Richard, whom I never met before, contacted me on the SPSE website and wanted to evangelize with an active team. I invited both of them to come and evangelize with me at Eastern Market last Saturday. Both accepted the invitation and Richard brought his teenage son, Ben.
Jehovah's Witnesses were standing at our usual spot so we went to another corner, closer to one of the parking lots. I gave all of them a five-minute crash course and advice. I told the three of them that, when we have more than three evangelists, we usually split up and cover more ground. Richard and Ben happily went to the opposite corner while Steve and I stayed near the table.
Two women walked towards us and I complimented one of them on her religious t-shirt that said "Blessed". They stopped and accepted rosaries for themselves and their immediate family. I offered to pray for them and asked if they have any intentions. One woman, Candace, asked me to pray for her daughter who is struggling with her marriage. All four of us held hands and I prayed for grace, strength, and unity in the family. Candace thanked me and took a few medals as well. She came back 20 minutes later and said, "You'll never believe what happened! I just ran into my ex-husband. I haven't seen him in six years!" I reminded her, "Hey, we just prayed for broken relationships and unity in the family!" She smiled and admitted that it might be the first step in healing her marriage and divorce.