Spiritually Seeking - 3/26/22
April 5, 2022
---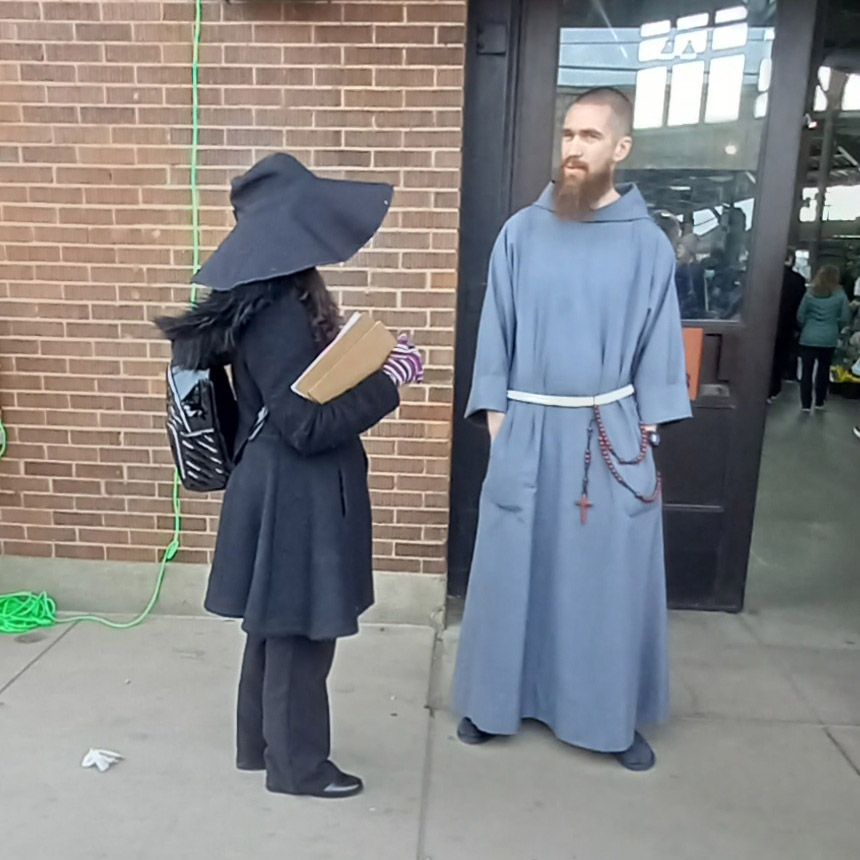 Br. Andre and I were walking through one of the large sheds at the farmer's market when I saw a young woman quickly walk down an aisle. She was wearing a hoodie with an upside-down pentagram, horns, and the number 666. I wanted to talk to her about the Satanic symbolism but she was too far away and quickly walked away. About two minutes later, she turned around and walked right by us. Br. Andre stopped her and said that he wanted to pray for her. The young woman, Carrie, was excited to receive prayer and said that she is spiritually seeking right now.
Br. Andre made the sign of the cross over Carrie's forehead and prayed over her. In prayer, he asked that Carrie would receive childlike faith, among other things. Afterward, Carrie said that part really stood out to her because she's a nanny for a young family and has a special interest in young children. She was overwhelmed with joy and hugged both of us.
Carrie grew up in a devout, Protestant family. However, in college, she felt a need to explore and make her faith her own, not just following what her parents believe. She briefly joined a Quaker community, saying that she enjoyed the simplicity of the religion. Carrie admitted that the pentagram and goat horns were bad but she believes in numerology and didn't question triple six. She has also adopted some Buddhist and New Age beliefs.
Br. Andre then gave her a third-class relic of Blessed Solanus Casey. Carrie had never heard of Blessed Solanus, even though she lives very close to his burial place. We briefly explained the story of Blessed Solanus and Carrie said that she would visit the Solanus Casey Center the next day.
We talked for about 45 minutes on a variety of subjects including the Divinity of Christ, sacramental grace, Christian community, and more. In the end, we invited Carrie to visit St. Mary of Redford. Br. Andre encouraged her to join the Thursday night women's group and invited her to Sunday Mass, especially the evening Mass, which draws a lot of young adults. Carrie thanked us for our time and our gifts and then promised to visit the church soon.