Gaithersburg
Country:
United States
State or province:
Maryland
Team Leader
Nancy McCambridge
Contact
Admin
Login
---
Team Badges
---
Recent Blog Posts
---
Let Your Light Shine Before Men
July 25, 2021
---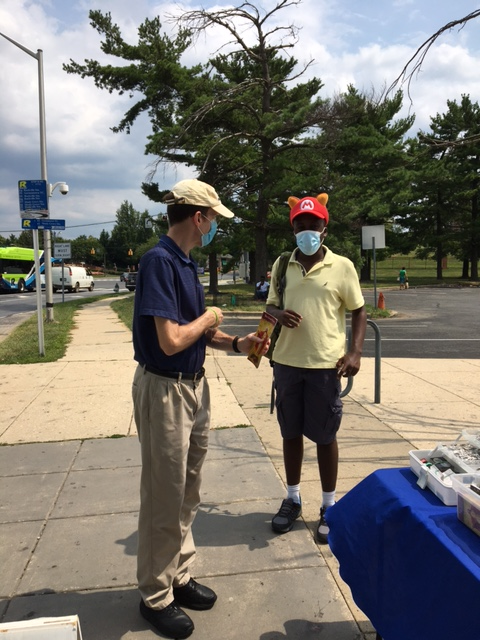 "For you were once darkness, but now you are light in the Lord. Walk as children of light"  (Ephesians 5:8)  The Holy Spirit wanted to impress on my heart that we are shining lights in the darkness, and just our presence being out evangelizing brings the very presence of Christ to people. Tom and I went out today to the bus terminal asking the Lord to provide divine appointments, and God provided.  Tom met a young adult named Derick who was seeking to grow deeper in his faith.  Pray that the wisdom that Tom shared with him, he would take to heart. I met a young woman named Sarah who was raised Catholic.  She is in the military and stationed with her husband, Theo, in this area for a couple of months.  They have not really been going to church.  I encouraged her to avail herself of the gift of the Eucharist and to reconnect with God.  I gave her information of a church right near where they are staying and she was very grateful for the miraculous medal and cross. I said I believe this is a divine appointment from God and she agreed.  Tom is pictured here with a young man named Jonathan.  I could sense he was filled with much fear about the pandemic and he shared with me that in his country of Uganda, everyone is under lockdown.  We prayed that God would take away his fear and fill him with His peace that surpasses all understanding.  He was very grateful.
Towards the end of our outing I met a man named Ram from India who is Hindu and just moved to this area because of his job.  His wife is back in India with their family.  As I gave him the Good News pamphlet, he was so very much interested in what I gave him and starting questioning me what was in the pamphlet.  I explained that I was there to proclaim the good news of salvation.  He started to tell me that his wife back home became a Christian and he hasn't a clue about what this is all about.  I proceeded to tell him the Kerygma and about  the Blessed Holy Trinity.  He was very eager to receive this information and asked if there was a Catholic Church near him which there was, and gave him the info.  He said his wife will never believe who he met at the bus metro!  God is full of surprises!
Thank you Tom for accompanying me on our outing today and for planting many seeds.  May it bear much fruit for God's kingdom!