First Outing of Green Bay chapter!
September 16, 2019
---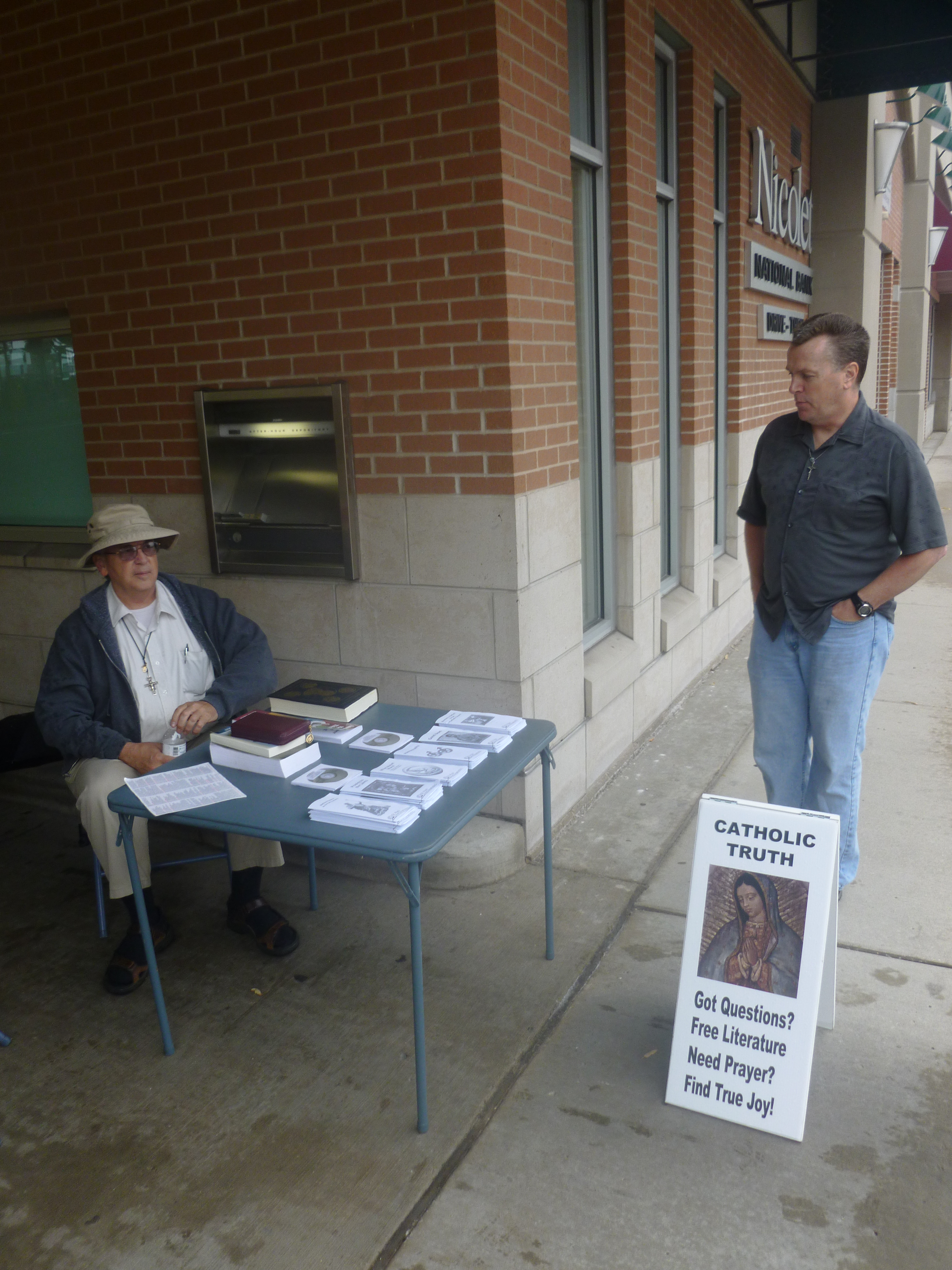 The Green Bay Chapter's inaugural event at a local farmer's market.
The Green Bay, WI, chapter engaged in our first evangelization event at a local farmer's market.  Mike, Shawn and Nate spoke to several people, inviting them to check out the Catholic Church.
The first person to approach us was an elderly man, who did not give us his name, who was Catholic, but angry that he keeps getting fliers to give more money to various organizations.  He said that being on a fixed income he cannot give to them.  We suggested that before he throw their fliers out to pray for the organizations.
Another woman, Mary, was a devout Catholic who stopped by to encourage us and pick up some materials to distribute at her apartment complex!
There was Helen, who was baptized Catholic but stated the only time she went to church growing up was when her Baptist neighbor took her.  She had recently been looking for a church to belong to.  We invited her to explore the Catholic Church and gave her the "True Worship" C.D. and Scott Hahn's conversion story.
Judy, a Catholic, had recently stopped going to Mass because she was told by another Catholic that when her husband of 31 years finalizes their divorce, she can no longer attend Mass.  We explained that she certainly can still go to Mass, and receive Eucharist, provided she confesses any mortal sin.  We encouraged her to move closer to the Sacraments, especially the Eucharist and Reconciliation, during this time of trial.  She took one of everything we were offering.
We had several Catholics give us encouragement, "thumbs up" and verbal support through out our time there.  The Holy Spirit was certainly working!  Please pray for all those we talked to today.  Green Bay is a ripe harvest!  Please pray for workers in the field!