Hagerstown Square July 29, 2014
September 16, 2019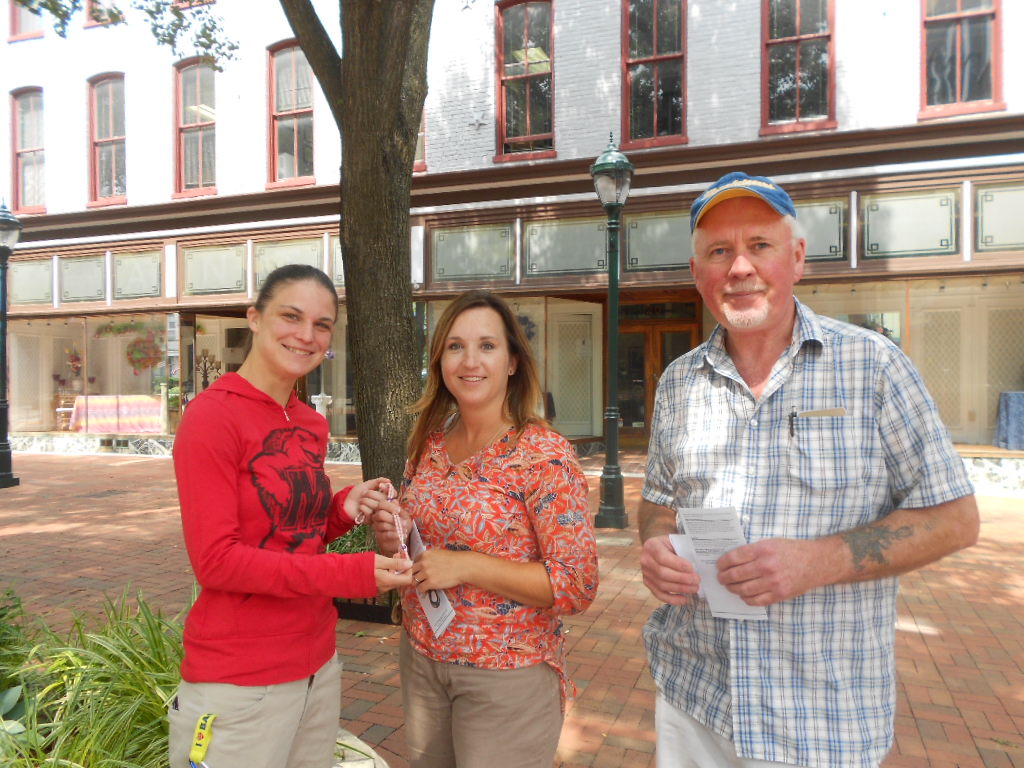 Our first encounter at the square was with Tara. We were still setting up when I invited her to take a rosary. She said sure! We had a great conversation with her. She was raised Catholic and her husband is Catholic but she is currently attending an evangelical Baptist church. She brings her son there. It turns out she knows a friend of ours who just started a very popular prison ministry in our town who is also a member of our Church. She was a delight to talk with and took a pamphlet on returning to the church and one on Confession along with rosaries. She was quite happy to see us and seemed open to the possibility of returning to the church. Please pray for Tara.
We were then, out of nowhere, surrounded by BMXers, and skaters. (we set up in front of a skate shop). Maria and I had good fun with these kids. They love the different colored rosaries. Maria showed them how to pray and discussed church with them. Maria is a very popular and successful youth group leader in our church. They all left with a few rosaries around their necks, and some knowledge of who Jesus is and the Catholic Church.
Our next friend was a young guy named Caleb. Caleb was a pleasure to meet. Very friendly and sincere young man. He is currently not going to church but believes in Jesus and is open to visiting St Mary Catholic Church. He wants to learn more, we gave him rosaries and how to pray the rosary. I've seen him around town before and he's seen me. So it'll be easy to keep in touch. His girlfriend is pregnant and they intend to keep the baby. We prayed with Caleb. Please say a prayer for him and his girlfriend and their baby.
Our next encounter was with Scott and Mike. They both approached the table at the same time. They are also new in town and looking for work and housing and both are open to a relationship with Jesus and maybe even the Catholic Church. Scott is a fallen away Catholic who has been away for awhile. We spoke for awhile about his spiritual life and the possibility of returning to church. We gave him pamphlets on returning to the Church,Confession and the Eucharist as well as a cd on The One Church. He took rosaries as well and said he would pray and come up to the church and see a priest.Sounds great. Pray for Scott. Pray for his return and a job and housing. Mike didn't know anything about the Catholic Church but is so elated about a very promising job interview and housing that he will be moving into soon that he felt inclined to thank God. Obviously he is open to a relationship with God and seemed interested in what we spoke of about the Catholic Church. So we gave him info about becoming a Catholic and how to pray the rosary as well as Scott Hahn's conversion story. He is going to stop by St Mary Catholic Church tomorrow to talk some more about this. We all prayed a prayer of thanksgiving for the many blessings he has received. Please pray for Mike's conversion.
Read more...
---
Read more...
---
Read more...
---
Read more...
---
Read more...
---