Evangelizing at the Christmas Pageant
December 12, 2022
---
There's never a time that evangelization stops, and that holds true as we get into these frigid months of winter. What was notable about this last outing was where it took place, and certainly was the most unique outing we have ever had! Angela, one of our Station leaders, spoke with the principal of her sons' Catholic grade school, Noonan Academy. In speaking with the principal, we were able to get a table in the back of the gym during the school's Christmas pageant this past Saturday, and it was a wonderful experience! We met many faithful Catholics who needed to be built up, as well as those that have been away from the sacraments for some time, and those that aren't yet in union with the one Church or Lord Jesus founded. Below are three testimonies from myself and our other two station leaders at the event: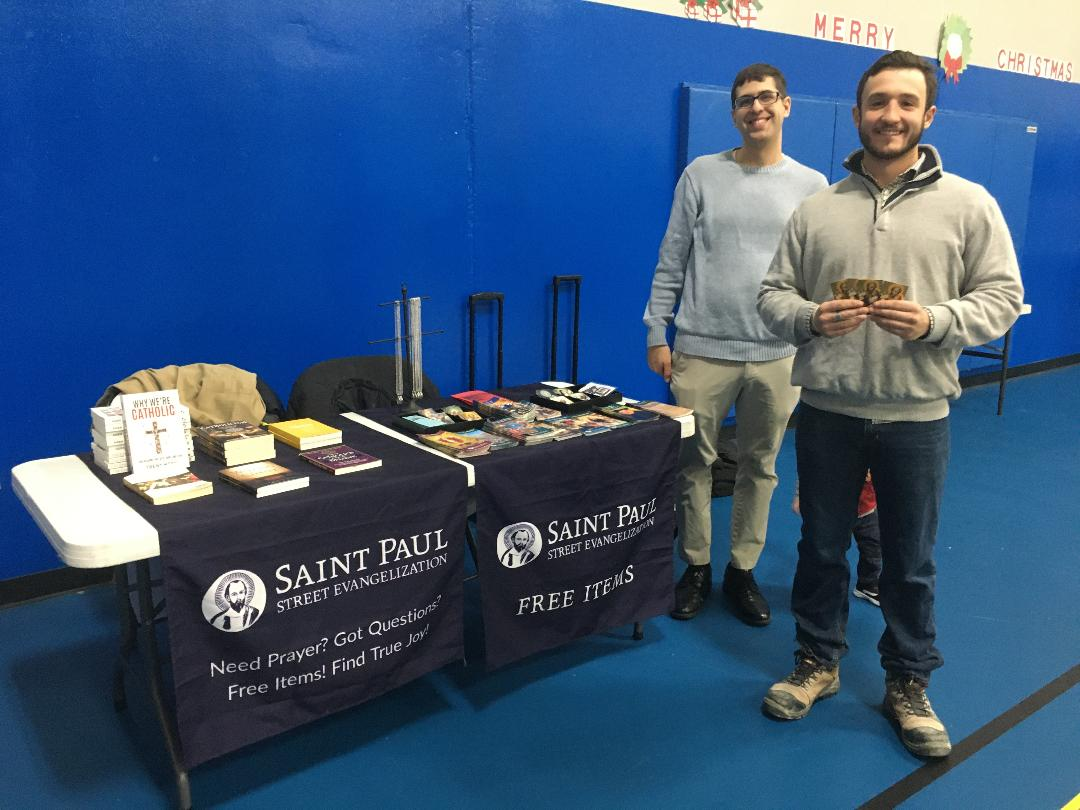 "We tried out a new venue for evangelization this past weekend: the back of the gym during the Christmas performance at our local Catholic elementary school. It was a great success! We encountered lots of eager children wanting to show off their new medals and scapulars. Additionally, we had several good conversations with people who needed some encouragement in their faith journeys. One woman is going through RCIA now to receive her confirmation! After taking every pamphlet we had available, we offered her a copy of Trent Horn's book "Why We're Catholic", which she happily accepted. We also gave away around 8 other copies of that book in this outing!" -Angela
"As Angela mentioned, we had many people wanting to take advantage of the literature and sacramentals being give away. All of the "Why We're Catholic" books seen in the picture above were given away. We also gave out several "Youcats" [youth editions of the Catechism] to some of the older children that were present. Many of the children wanted miraculous medals, and medals of their other favorite saints. Especially popular were the "$1 billion" bills with Pope Francis on them, as well as various holy cards! One boy especially wanted a Divine Mercy holy card for his grandmother.
"I was able to pray with a few of the children coming up to the table, and they were very selfless in asking for prayers for sick relatives and loved ones. Another woman came up who said she belongs to a parish in the Chicago archdiocese. She was surprised to see us out evangelizing, and said more Catholic Christians need to do this. She took several pamphlets, and asked whose image was on the "Faith Alone?" pamphlet. I told her that was Martin Luther, who had erroneously taught that one was saved by "faith alone". I told her that specific piece of literature helps us to speak more intelligently to our separated brethren, and encourages us to defend our Catholic faith. She was very appreciative of that, and took one of those pamphlets. Another man took virtually everything we had, from "The Problem of Suffering", to "The Bible Alone?", to "True Worship and the Eucharist" as he said he had a "three hour car drive and needed things to read". Praise God we were able to help so many! What was truly unique about this event is that we had an opportunity to reach the "low hanging fruit" of those that may already be in our pews, or have a closer connection to the Church than those we may encounter on the street at one of our regular events. These brothers and sisters of ours must be built up as well so they can be effective evangelizers in their words and actions. Iron sharpens iron! " -Nick
"I had a conversation with a women who said that we need more people to start praying and talking about God. She said God doesn't care about how nice your clothes are, or how many guns you have, God will be the ultimate judge and we need to start preparing ourselves now. She said that it was very refreshing to see people who were excited about the faith and were happy to share it with others.
"Another woman approached me and asked me if this was a Catholic organization. I said, "Yes, it is". She was very happy to see that Catholics were evangelizing because she's never seen a Catholic group going out and spreading the Gospel. She said the issue is that family's don't talk about God, so when kids grow up they don't know anything about the true faith. So it's easy for young people to be influenced by Jehovah's Witnesses and Protestants because you usually see them evangelizing in public. She said we need more Catholic Christians who are on fire for God and have a desire to evangelize because we are losing to other 'Christian groups.'" -Anthony
Please pray for all those they encountered and their prayer intentions! It is our hope we can do more events similar to this in the upcoming year. This is what the "new evangelization" is truly all about!