Report from Outing in Downtown Plainfield
November 6, 2021
---
The last year has gone by so quickly, and I suppose we'll find ourselves in the thick of preparing for Christmas shortly! Still, even with colder weather here, our Joliet Team has still been going out to spread the Good News of our Lord Jesus so as to bring as many souls as possible into His Catholic Church. While we often do larger scale events, we also are able to get out there just on a street corner to interact with the passerby. We did so the day before Halloween... or I guess one could say the eve of All Hallow's Eve! We had a group of 5 go out on the streets for a few hours. One of our station leader, Rachel, gives a brief overview of the outing: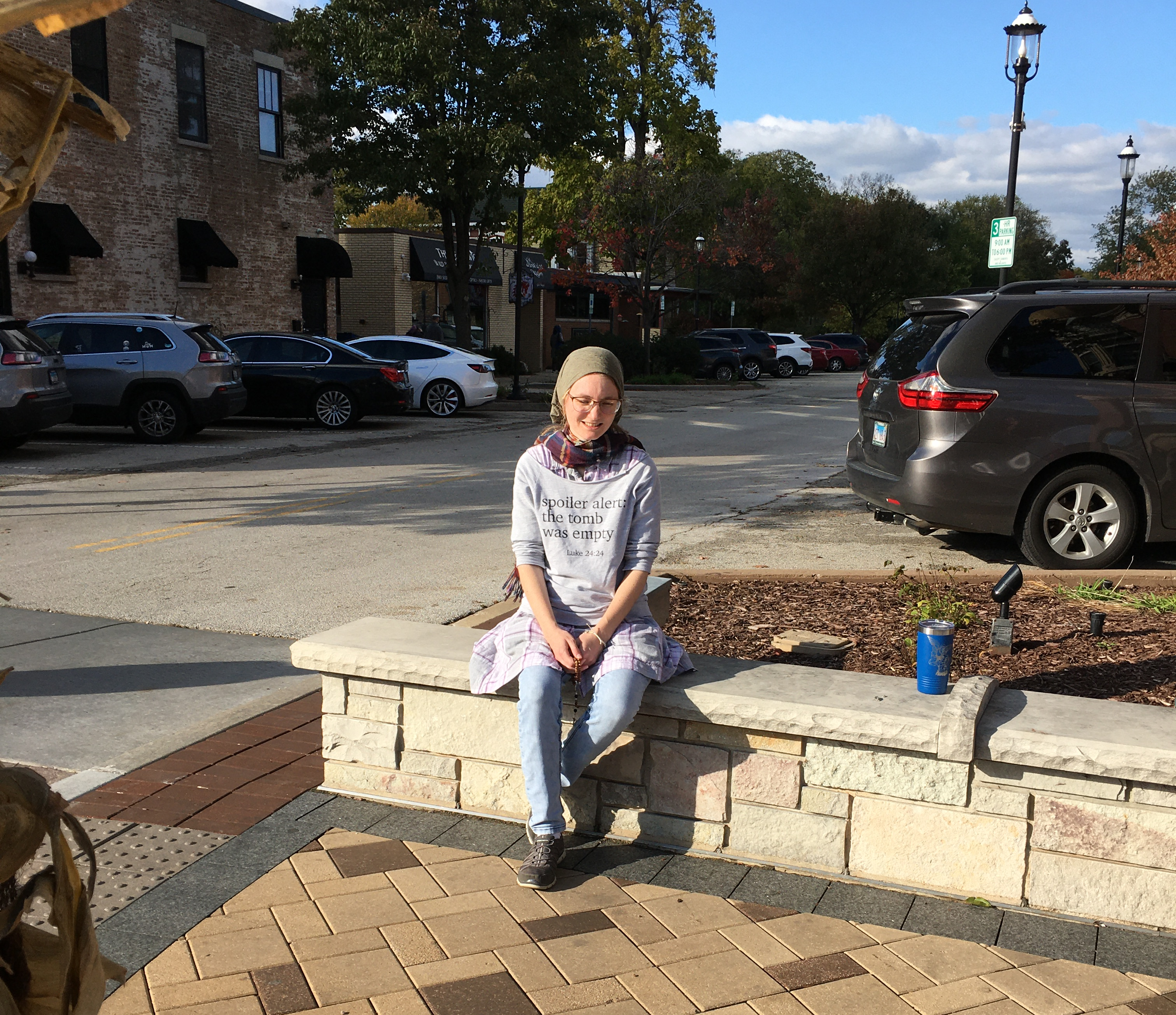 "As we've done before, we split up with some staying with the table and others (2-3) walking around. So I didn't see every interaction. Anthony Noska is totally fearless about engaging people, asking their names and prayer requests. He collected a bunch in his phone.
"It was a good day because some people were out wearing costumes and looking for candy to pick up (I had gotten some, but was happy Angela had it covered!). We talked to a man who was Lutheran but very friendly. I gave him one of the Petrine Primacy pamphlets. Another friendly man was a Jehovah's Witness and gave us his phone number. I gave him a couple pamphlets and he said many of his family members are Catholic, but he accepted them. Another man went to a nondenominational church didn't accept the pamphlets, but he let us pray for him as he was going through a divorce. It sounded like his wife had initiated it and he wasn't happy about it, so I prayed aloud for God to bring healing and reconciliation to their marriage if it was his will. A little girl was excited about the candy but also accepted a pink rosary. I asked her dad if they went to church anywhere, and he said they weren't Christian but went to church sometimes, so I gave him a "Good News" pamphlet. Of course, we had lots of people who weren't interested in anything, as well as Catholics who said they had lots of rosaries at home. Not many Spanish-speakers this time like in Naperville. I stayed with the table the whole time and did some praying, picking up trash in the area, and I got the pamphlets mostly organized when we packed up."
Another one of our evangelists, Nina, gave an excellent report on the outing: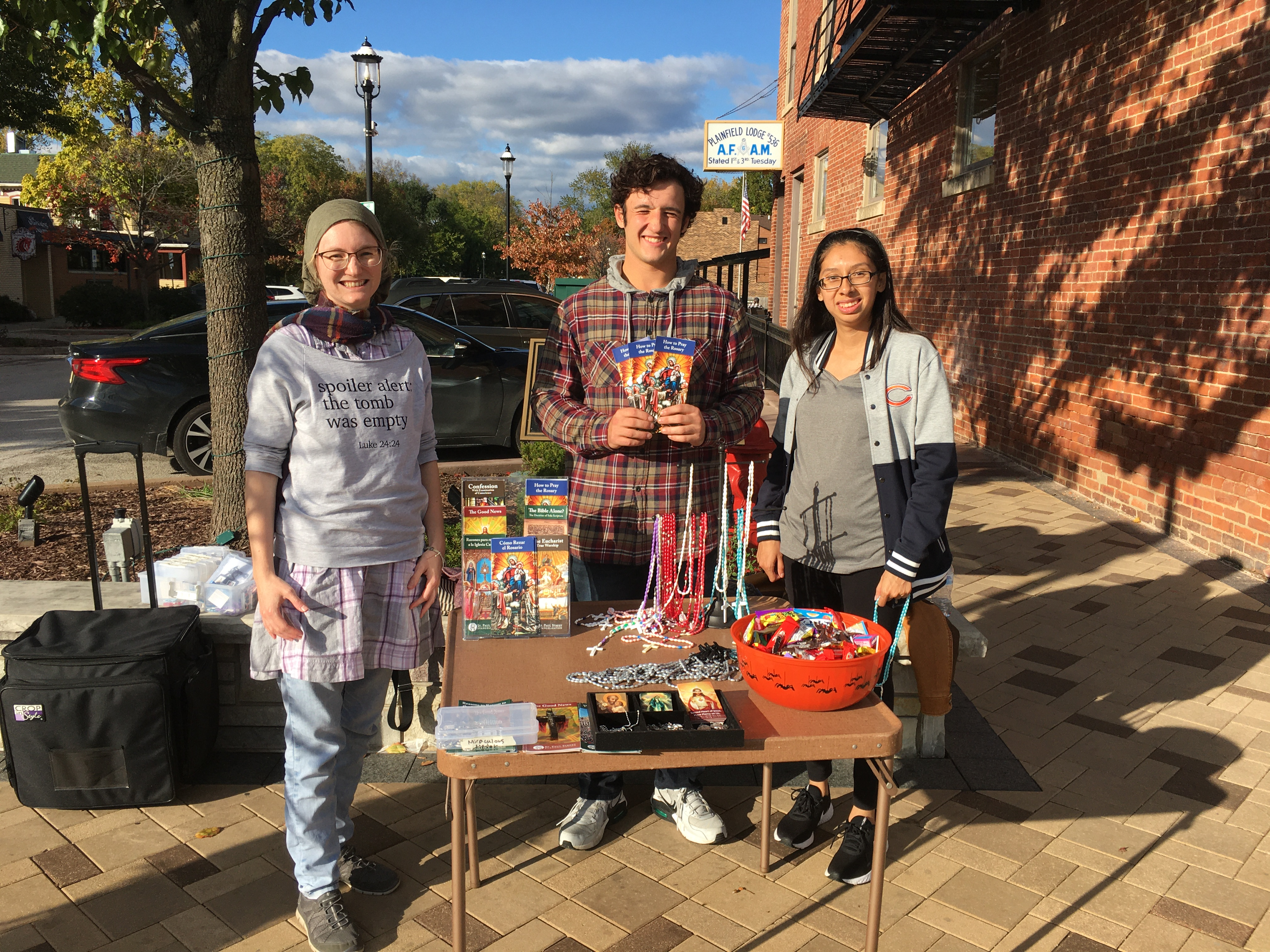 "This past Saturday, October 30th, our Evangelizing team went out to downtown Plainfield. The Lord provided us with some comfortable, sunny weather to share the Good News. Because we had six people, we made sure that we had people talking to others as they walked by, and we made sure to have two people in prayer (Rosary and Divine Mercy Chaplet). We also had people walking around, handing out rosaries and asking for prayer intentions. Having this dichotomy of prayer and evangelizing made the day extremely fruitful. Throughout the afternoon, we encountered people who identified with many different faiths including Catholic, Lutheran, Jehovah's Witnesses, and Jewish. Many people who identified as Catholic said they had plenty of rosaries at home (praise God!), and other Christians were willing to pray with us and talk about their faith with us.
"Anthony C. and I approached a younger guy walking into work, and he admitted to us that he was coming back from a funeral of one of his friends who had committed suicide. We offered him a rosary, promised to keep him in our prayers, and we walked away stunned at God's timing of that interaction. Anthony and I also saw some movers close to the downtown area. I was hesitant in approaching them as they were on the job, but Anthony boldly asked them if they needed help and if they wanted a rosary. One of the movers lit up when we asked; he said he grew up catholic and that his mom prays the rosary frequently. He admitted how much he needed prayer and how he needed to go back to church, especially with so many deaths this past year. I was so grateful Anthony felt moved by the Spirit to talk with him, and it reminded me to never write anyone off, no matter how disinterested or busy they may look. On a high note, towards the end of the afternoon, Anthony N. and I approached a couple who had baptized their baby a few hours ago and were celebrating in the area. We prayed with them and thanked God they recognized the importance of baptism. The encounters we had on Saturday were so powerful. After seeing the beauty of the labor, Rachel Cecilia reminded us how important it is to get out there, evangelize, and do what we are meant to do."
We also had prayer warriors praying for those out there evangelizing, as schedules don't always permit for everyone to go out. Our team was also then sent the prayer requests we received during our time out there. If you would like to join us, please drop me a line and we'll be glad to get you on our mailing list and alert you when other outings might be... or even schedule some as long as we have two or more gathered in our Lord's Name! Please pray for all those we reached and for their intentions as well, in the hopes that those outside the Church may come into her loving embrace!