This is Your Invitation to Learn About Evangelization!
February 28, 2021
---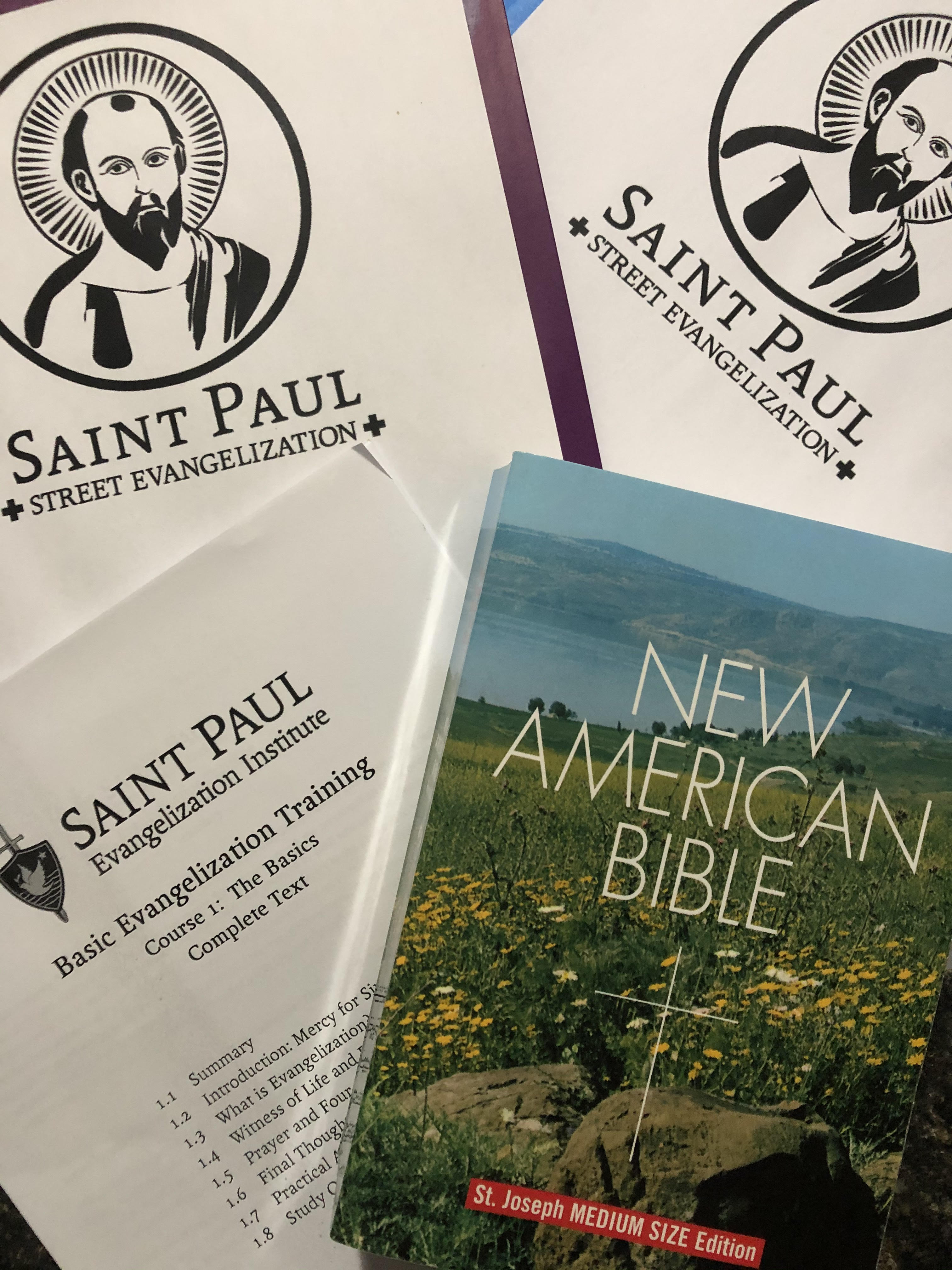 To first understand what Evangelization is, let's dispel some common myths that the media will have you believe. Stop for just a moment and close your eyes and focus what comes to mind when you hear Street Evangelization. Did you envision crusaders by crosswalks with big posters with images of Hell yelling at people scurrying to pass by? Were there thoughts of conversations from people holier-than-thou judging non-believers urging them to repent before it's too late? Rest assured, Street Evangelization is absolutely none of the above!
Okay, so what is Evangelization?  The definition of Evangelization is "to proclaim the good news" (St. Paul Evangelization Institute Course 1). It can be reporting good news about anything. For Street Evangelization, it is to spread the good news that Christ died for our salvation through the debt that he paid for us on the cross, that our sins are forgiven, and this is a gift that is given freely to all of us from God, the father.
Still thinking of stereotypical Evangelists? Let's call to mind then the first evangelists- the apostles! They lived, followed, and studied the life and love of Jesus Christ's teachings. Their final calling from Jesus was to go out to all the ends of the Earth and proclaim the good news. When you picture Jesus and the apostles, do you picture yelling and judging people? No! Ancient people gathered from everywhere just to hear Jesus and learn about his loving ways.
Street Evangelization works similarly- in a loving, non-confrontational way. We offer people on the street rosaries and miraculous medals. This opens up the conversation. We share with them our witness to Christ's love for us as an example of how it can improve their life in immeasurable ways. We ask them if they have any prayer requests and we pray for them. Then the few minute interaction concludes with inviting them to take the next step- this can be meeting for coffee to answer more questions, going to mass, church events, or retreats.
The parishes of St Francis De Sales and St. Phillip are starting this new journey of Street Evangelization. We would like to invite you to keep learning more with us throughout the next few weeks by following our journey. As our Street Evangelist team is learning and growing, we will share each week's lessons topic through a summary in the blog. It won't end there, when we hit the streets, we will be blogging about the experiences and lives changed through the simple invitation that Street Evangelization inspires. What lives will you change by planting that seed?
There are many ways that you can help us. You can follow along with the blog, pray for us, and when you feel called- join the team! We are many parts of a whole. Everyone has unique talents and ways that they can contribute to the bigger mission- leading people to Jesus Christ.
A little background on your team:
In October of 2020, at the end of a very moving Women's Welcome Weekend, Deacon Jay put the call out for interested participants to be in a new evangelization group. A little background about the 2020 Welcome Weekend, the givers went and extra 6 months in preparation for this weekend because… well, you saw the year mentioned- need I say more? The team would meet outside at the school or at Armco Park. The Welcome Lessons were put on pause until a more formal plan for the retreat was put together. In the meantime, the ladies continued to meet socially distanced once a week participating in a Psalm Bible Study, talking about God moments, asking for prayer intentions, and ending each meeting with prayer. In such an uncertain time, it was a relief to gather with our Sisters in Christ and lean on trusting in God. Tara Luers was on that giving team and she is a huge inspiration to many of us to keep the Welcome momentum going. When Deacon Jay made that announcement in October at the end of that retreat, several of us looked at each other and realized that this was God's calling for us to keep the momentum going.
From Woman's Welcome on the team are Charlotte, Bonnie, Maureen, and Lauren, as well as Deacon Jay himself and his wife, Kathleen. This is just a small snippet of how the team began and just a portion of the team. We have other members from St. Francis De Sales and St. Philip on the team each with their own story about why they feel called to Evangelize. Everyone has a different reason for why they are called to Evangelize and each are uniquely personal and some deeply private. Within the next few weeks, members who feel comfortable sharing their story on the blog will get the opportunity to do so. Before we dive too deep into our Evangelization stories, the next blog will introduce each member of the team!
Over the past several months, Leader, Charlotte Fister, and Co-Leader, Lauren Connolly, completed the St. Paul St. Evangelist (SPSE) Team Leader Training and Certification. SPSE "is a grassroots, non-profit organization, dedicated to responding to the mandate of Jesus to preach the Gospel to all nations by taking the Catholic Faith to the streets… Founded in May 2012, St. Paul Street Evangelization provides the tools and resources for Catholics to engage the culture in a simple, non-confrontational method of evangelization"  https://streetevangelization.com/about/ . Currently, there are St. Paul Street Evangelization teams in 39 states. There are even teams in Canada, Amsterdam, England, Honduras, Sweden, and Wales.
The first SPSE Team meeting was held on 2/24 at 7pm in the old library at St. Francis De Sales. Our next meeting is 3/10 at 7pm in the same location. If you are interested in joining the team at any time, please contact Charlotte Fister at Charlotte.Fister@gmail.com or Lauren Connolly at Connollyjlc@gmail.com. God Bless!