New Beginnings!
March 30, 2021
---
March 21, the start of Spring and the start of new beginnings! It is so serendipitous that the St. Francis De Sales & St. Philip's St. Paul Street Evangelist Team shadowed the Cincinnati St. Paul Street Evangelist Team downtown at Smale Riverfront Park on the first day of Spring. It is a happy coincidence not just because it marks the start of our new beginnings as an Evangelist Team, but it also marks the start of new beginnings for the people who we come in contact with on the street.
Five of us from the team were out in the park shadowing Mark and his team from Cincinnati St. Paul Street Evangelization. If I reported back to everyone that we weren't at all nervous going into this event, that would be completely false! For many of us, we ran through every possible scenario in our minds. What if I offend someone? What if I get yelled at? What if the cops come and make us leave? What if someone really escalates things and they push me or throw something at me? I am sure there are many more situations we played out in our heads over the days leading up to the event and just like most things in life, reality isn't as bad what the anxiety played it up to be. Which is why we should give it to God and not worry so much!
The day was absolutely stunning out! Not too hot, not too cold, barely a cloud in the sky, and the first flowers of the year were in bloom. Mark and the team set up a table over by the Brent Spence Bridge at the Smale Riverfront Park Playground. On the table were informational pamphlets on how to pray the rosary, what the miraculous medal is, why return to the Catholic faith, and more. Also on the table were actual rosaries and miraculous medal necklaces, crucifix necklaces, and Catholic books. All of the items we had out are free. We joked that the magic word is "free". Our team was there to shadow, however we could help out as we felt comfortable. For the most part, we watched the Cincinnati team in action.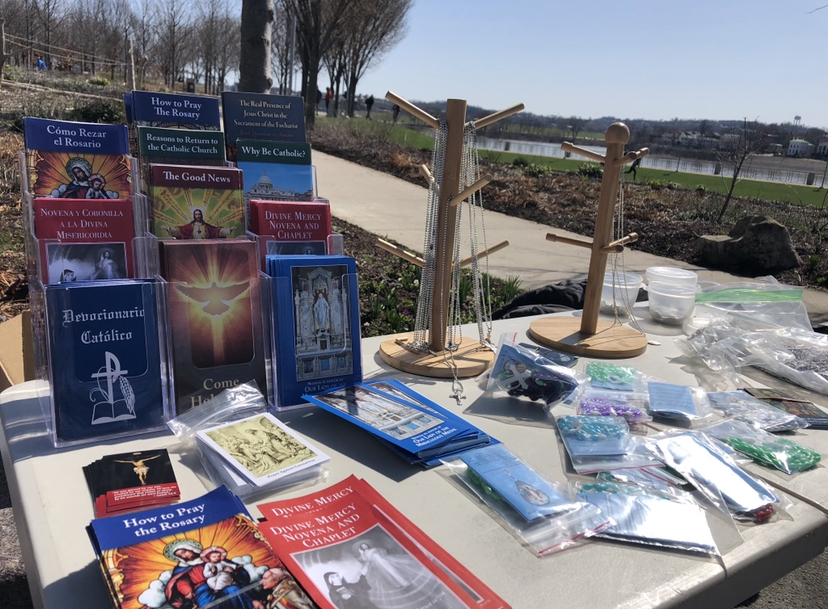 Here's how everything actually played out:
-One man very admittedly said, "Absolutely not!" to a free rosary.
-One person was a believer and conspiracy theorist discussing how round the Earth is (or is not) with us. In 5 years, it was the first interaction of its kind for the Cincinnati Team and a good example of how to lead with love for our team!
-Most people walked by in a hurry and said, "No, thank you."
-Around a third of those that walked by us took a free rosary and/or medal.
-What was most surprising to our team was how readily people wanted to be prayed over.
-There were a few people that walked right on by us, saying "No, thank you" before we could even finish our sentence. But when they heard, "Is there someone or something we can pray about with you?", they turned on a dime to come back to our table and tell us who they would like us to pray for.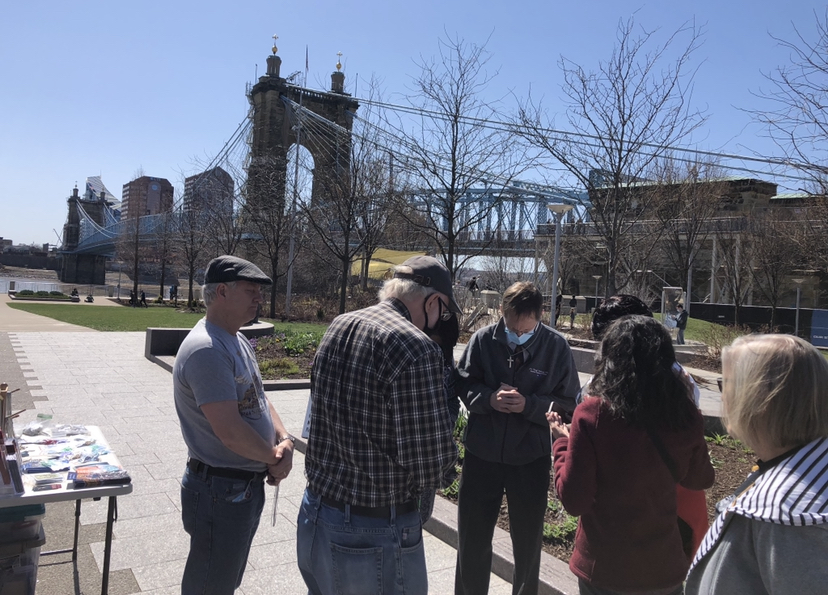 In the beginning, we joked that the magic word was "free". At the end of the day, our take away was that true power was in the word "pray". It was incredible how people opened up to the Evangelist Team about their troubles and how touched they were when they were surrounded by Evangelists putting hands on their back and saying a prayer for them. People that were so quick to want to leave before, stayed to tell us stories, smiling, and hugging the team for the simple act of praying with them. They walked away a little lighter and happier after that simple act. God was truly working in mysterious ways that day!
Shadowing the Cincinnati Team went by so quickly and we learned so much. We have a focus and are excited to continue training over the next few weeks. We are going to slowly start to introduce ourselves to our local community, beginning on April 10th from 8:30am to 1pm at Let's Lebanon! Check out more about Let's Lebanon, a local business community event at the Warren County Fair Grounds at lebanonchamber.org. Stay tuned for more adventures from the street!