Our First Street Event!
June 14, 2021
---
This past Saturday, June 12th, 2021, your St. Francis De Sales & St. Philip: St. Paul Street Evangelization Team (that's a whole lot of Saints on our side!) went live for the first time at Dayton's Five Rivers Metro Park. Well in advance, we had our checklist planned out; Rosaries? Check! Miraculous medal? Check! Books, Pamphlets, handouts? Check! Table and tablecloth? Check and check! First Amendment Permit to hold the event on the park space? Yep! We had everything we needed and a full team of trained individuals ready to change some lives!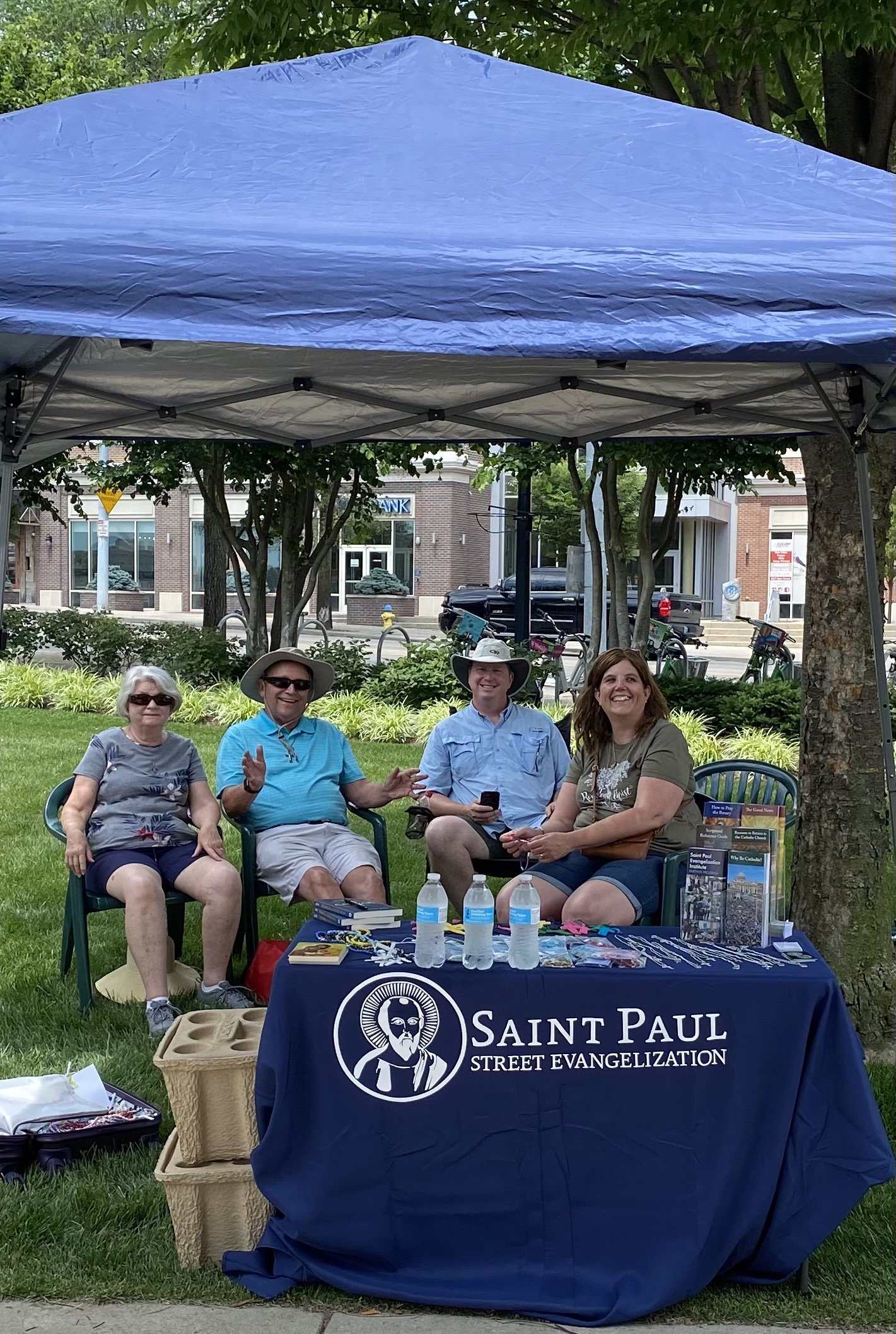 Being our first outing, external elements were kind of an afterthought. Besides, it is only for two hours and our training event a few weeks ago was so delightful outside. At the last minute, a case of water, ice, and a cooler were purchased. Thank goodness too because it was a scorcher! Shortly after unloading all the things from our checklist at the park, our first visitor to our very freshly setup table, was a park employee who wanted to verify that we had a permit. Luckily, we were prepared, presented our permit, and were given permission to continue setting up.
Visitors were few and far between after that. Unbeknownst to us, at the other end of the park was a water playground, which held the majority of the people during our 2 hour stay. The majority would see a tent set up and go out of their way to walk pretty much as far away as possible from us. A few were in the zone and on their phones, too busy to look up and notice us. An even smaller fraction took us up on the offer for a free rosary or miraculous medal. At one point, Deacon Jay suggested we hand out water to people. On such a hot day, this was the key to getting people to stop for a little bit and talk to us.
One gentleman on a bicycle, rocking out to some tunes, did a full on u-turn to come back to our table. He promptly got off his bike and started proclaiming the good
news! AMEN! His name is Gregg. He very much appreciated the refreshment and told us he collects crucifixes. After he was happy with the selection he made, he told us that he has studied dozens of religions from all around the world and they all lead him back to the Catholic faith. He said, "It is only through Jesus Christ that we are saved." He proceeded to tell us a story about when he was 8 years old and playing with fireworks. When it exploded in his hand, he said he was in immense pain. He knew he was going to be in trouble for playing with fireworks and not knowing where else to turn he ran to his room, got on his knees, and prayed to Jesus to take his pain away. He said in that very instance, his pain was healed. He didn't want to bore us with more stories like that, but he said he had dozens of similar nature. When he left he thanked us for being there and told us to have a great d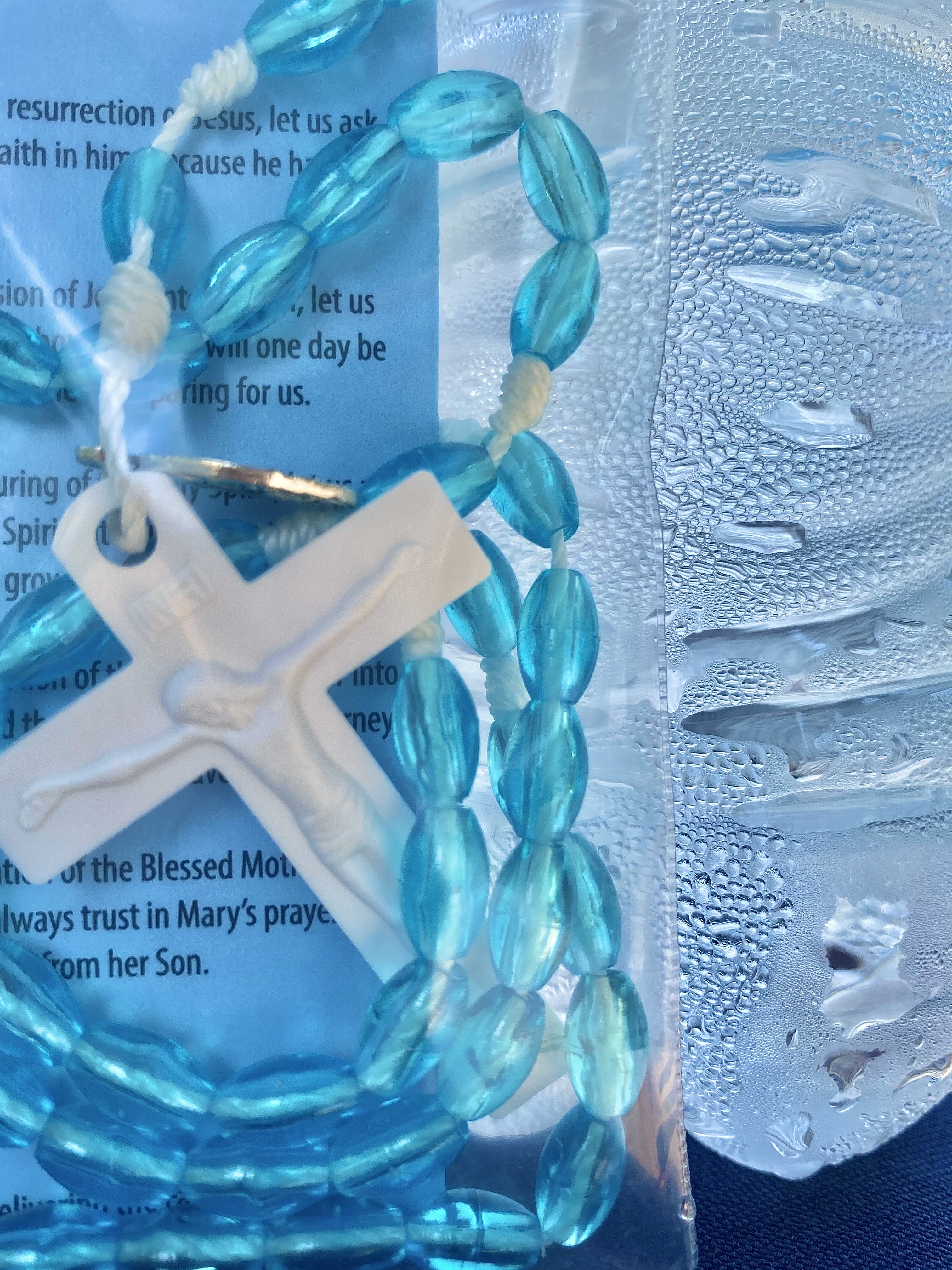 ay.
Although we probably gave away more bottles of water than we did rosaries and medals on Saturday, it was a great way for the Evangelist Team to get their feet wet (pun fully intended). We could not help but to draw the parallel from bottled water to the living water.To quench our thirst, we drink water; however, for our souls to truly be satisfied, we need the living water of the Lord.
"If you knew the gift of God, and who it is who says to you, 'Give Me a drink,' you would have asked Him, and He would have given you living water" (John 4:10)