Philadelphia - Lower Bucks County
Country:
United States
State or province:
Pennsylvania
Team Leader
Nancy Hoyt
Contact
Admin
Login
---
Team Badges
---
Recent Blog Posts
---
Suburban Station Philadelphia, 01 Apr 2017 (no fooling!)
September 19, 2019
---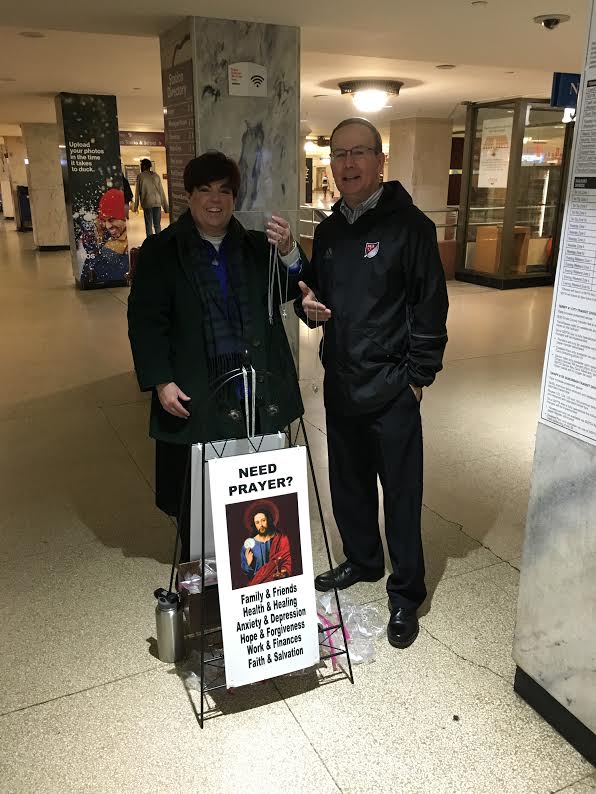 We had two new people join our evangelizing efforts today: Grace Burns and Joe Hosack. The weather was a bit too nippy for standing on the parkway, and after five minutes, we decided to move to Suburban Station. We spent 2½ hours in the comfort of the station, and ended up distributing 60 rosaries and 50 religious medals, as well as praying with about 20 people (some in groups). Among the notable encounters was a young man named Carlos who was thrilled to get a rosary and crucifix. Carlos said that he had really learned to pray while in prison and was now in his second year without drugs. He asked for prayer to stay drug free and he was deeply touched by having us lay our hands on his shoulders and invoke the help of the Holy Spirit. A young woman asked for a rosary and confessed that she knew how to pray it, but had lapsed from the practice of the faith and took this as a sign from God to return to attending Mass. There were a number of people struggling with employment, family issues and health problems, and all were receptive to the gift of prayer. Joe had an amazing experience of calming a young man who was initially make loud, inflammatory remarks about us. He went over to him, talked lovingly and managed to convince him that he needed prayer – and he did. The young man went from not wanting to shake hands with Joe to allowing him to put his hands on his shoulders and pray for him. We all left the station elated with the experience, and thank God for allowing us to be his ministers.