Philadelphia - Lower Bucks County
Country:
United States
State or province:
Pennsylvania
Team Leader
Nancy Hoyt
Contact
Admin
Login
---
Team Badges
---
Recent Blog Posts
---
Saturday, 29 July 2017 – Outside of Children's Hospital on the Feast of Saint Martha
September 19, 2019
---
While the rain had stopped in the suburbs before Mass began at 8 AM, it began to rain again during our ride down to center city, threatening our plans to evangelize outdoors.  God answered our prayers about 5 minutes before we arrived at the Cathedral, and in ten minutes, our team of four (in three separate cars) assembled in the lot.  Mark and Nancy were blessed to have along Grace Burns, who has participated in our efforts on several occasions, and we warmly welcomed Rich Scanlon, the new director of evangelization at Resurrection Parish in Delran, NJ.  Rich was raised in Warminster, PA, but only returned to the Philadelphia area a few weeks ago after living in Connecticut and Florida.  Rich received training in street evangelization several years ago, and so he was able to hit the ground running once we had sezzzt up our station in the sidewalk adjacent to the Hospital of the University of Pennsylvania.   Rich and Grace quickly saw why this area has become our new favorite venue for evangelization, as the quality of our contacts is about as high as one could possibly hope for.   Many of the stories that emerged were truly heartbreaking and led to some tears during our prayer huddles, yet there was never a sense of despondency.  Instead, our encounters were a strong testimony to the power of the theological virtues of faith, hope and love, and when we finished about two hours later, we all felt on fire with the Holy Spirit.  Nancy took this photo of Grace and Rich while stationed alongside our A-frame sign: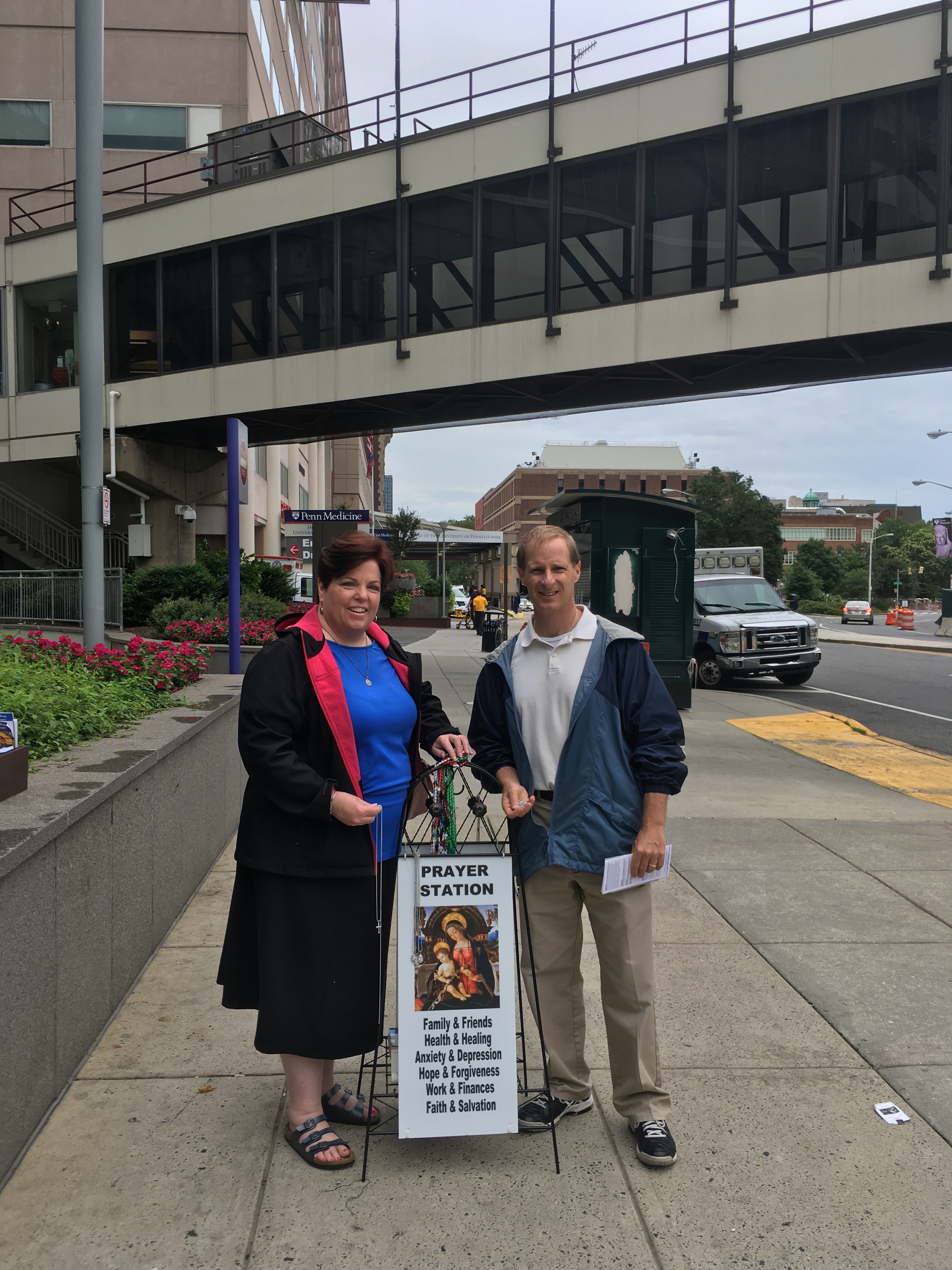 Please intercede for the following people, who have requested our personal prayers:
Christine, whose 12 year old son Jack suffers from Crohn's disease and has had a sezzztback following a bowel resection.
Kris, whose 12 year old son Alonzo was born with cystic fibrosis and is awaiting a lung transplant.
Odell Darrington, who suffered a serious heart attack and is being treated at HUP.
Anita, whose husband Dennis is very sick:  for her peace and their family's finances.
Mark, whose wife Diane had a double mastectomy and is struggling with recovery.
Jackson, a 15 month old boy who needs open heart surgery.
Zanah, whose father is struggling with medical issues regarding his leg.
Barbara, whose friend Diane is trying to heal following an aneurysm.
Kim, who is going into the hospital for treatment and asks for a speedy recovery.
Jonathan, who is 15 years old and awaiting a lung transplant due to cystic fibrosis.
Lindsay, whose mother Dale requires a heart transplant:  that she may heal fast and lead a long healthy iife
Mary Jones, whose grandmother Jesse had a stroke,
Billy, who has been sick and requires permanent shelter.
Solomon, who asks for prayers for world peace.
Sotir, who is awaiting surgery in HUP.
Aria, who was born prematurely and spent the first ten months of her life in the hospital and finally had her tracheotomy tube removed yesterday.
Steve, who requests prayers for babies in their mothers' wombs and for all women considering abortion.
Erika, who requests prayers for all hospitalized children.
Carmen and John, who request prayers for their daughter Evelyn, who has a sleep disorder and lifelong illnesses.
Tracy, whose 15 year old son Zaniah was just diagnosed with Crohn's disease.
Pam, whose 8 year old daughter Lily was just diagnosed on Wednesday with juvenile diabetes.
Solomon, who requests prayers for his general intentions.
Christina, whose daughter Taneeya has bone cancer and needs a miracle to be healed.