Philadelphia - Lower Bucks County
Country:
United States
State or province:
Pennsylvania
Team Leader
Nancy Hoyt
Contact
Admin
Login
---
Team Badges
---
Recent Blog Posts
---
St. Patrick's Day in Philly University City
September 19, 2019
---
3/17/2018
We were fortunate to have enough disciple-power to sezzztup for St. Paul Street Evangelization in two locations on Saturday, St. Patrick's Day.  The first was sezzztup in our typical Children's Hospital of Philadelphia and Hospital of the University of PA area, summary provided in #1 below, and the second was sezzztup a few blocks up, on the "Erin Express" route, summary provided in #2.  See our team member writeups below!
Evangelization Spot#1, hospitals:
From the desk of Deacon Mark:   Robert joined Deacon Mark for the first time at the 34th Street hospital area.  We sezzzt up in our normal area, and within a few minutes, we began meeting people in need of prayer.  Robert quickly got the hang of approaching people coming out for a break or walking by, and was adept at finding ways to engage them in conversation.  We sometimes prayed as a team, but many times worked individually with the people we encountered.   There were a good number of people outside for the first hour, but as lunchtime approached, we discovered somewhat ruefully that far fewer people were willing to stop and talk.  Curiously enough, all prior sessions but one had taken place in the morning, and none of them involved the lunch hour, so we may have to take this into consideration when making future schedules.
One of our most poignant encounters was with a Catholic grandfather named John, who lives in Hazleton and had been summoned to CHOP the day before because his grandson was on the verge of death.  Little Greyson is 9 weeks old and was born two months prematurely.  He has Down's syndrome, and required immediate open-heart surgery to save his life.  He has since come down with leukemia, which also commonly affects children with Down's.  They have literally hundreds of people praying for his recovery, and overnight, Greyson began to respond favorably to the treatments.  He has a long road ahead of him, but the grandfather says he appears to have a very strong will to live.
From the desk of Rob:    In one encounter I spoke with a young Catholic nurse from the West Indies who moved here from Ohio, who listened thoughtfully and said she had been thinking of going back to church. I gave her a rosary and St. Michael medal, and encouraged her to go to Mass and to Confession. She seemed to really take it to heart. Her name is Ima, please pray for her.
In another encounter, I walked over to a woman smoking a cigarette who seemed troubled, and sat down next to her and introduced myself. She was Catholic non-practicing, her daughter was in the Children's Hospital there, and she also had a relative who committed suicide recently. She seemed generally touched that someone would pray for and listen to her, and considered it God's doing. I gave her a Miraculous Medal, saying how much it has changed our lives, and also a rosary with instructions on how to pray it. Her name is Kristen, and her daughter in the hospital is Savanah. Pray for her.
Lastly, I asked a man if we could pray with/for him and he was very suspicious because we were Catholics and said, "You are a stranger, and it's not good." He was a big man. But then he seemed to have a change of heart and said, "sure." So I prayed with him. Then he asked if he could pray for me and I said sure, which he did. Then we chatted and I smiled at him the whole time and it seemed to disarm him. He agreed we have a fight on our hands, but I told him it is not with each other, it is with the culture. Then we hugged. He even left, then came back and gave me $5, which we will use to buy more holy medals! His name is Jeff, he is a Baptist minister, please pray for him as well.
Many people with many problems. We live in a post-Christian, pagan culture, broken by sin and weighed down by misfortune for many. We need more fools for Christ. The Holy Spirit gives you courage to be a fool for Christ. Any ordinary Catholic can do it, you just have to ask for the grace and He gives you the words. We are merely getting out there and planting seeds, the Lord makes it grow if it is His will and He is the harvestmaster. It terms of mass conversion I don't know if we will be at that point, but like Saint Paul even if we can "save some" or at the very least pray and be a comfort for those who need it, we are doing the Lord's work and being his hands and feet. Nothing gets done without the Holy Spirit. But when He is there, watch out!
Please intercede for the following people, who have requested our prayers:
Patrick – middle-aged man at HUP for MRI, and asked for prayers for his brother Bobby, who committed suicide three months ago.
Kristin – daughter Savannah is  sick and hospitalized in CHOP, and asked also for prayers for a relative who committed suicide
Steve – his mother Karen mother has cancer, suffered a heart attack and now has a breathing tube
David – for healing of his leg
Ray and son Khameer – general intercessions
Mike – general intercessions
Ima – sezzzttled in Philadelphia six months ago and has been attending church sporadically in West Philadelphia.  She recognizes her need to become a regular parishioner in her new home town and promised to go to Mass tomorrow.
Zuli – 7 year old girl with brain tumor (80% removed through surgery).  Came up from Puerto Rico with her mother for surgery just before Hurricane, and the father had to remain behind to begin repair of devastated home.  Her mother's family are Jehovah's Witnesses but she is not really involved.
Maritsa – Catholic woman in HUP who just had surgery to remove cancerous tumor of kidney.  Her husband and son thanked us for our prayers and accepted a rosary.
Greyson – little boy from upstate Pennsylvania, born with Down's syndrome two months premature, who required surgery to help repair his congenital heart defects and now is battling leukemia.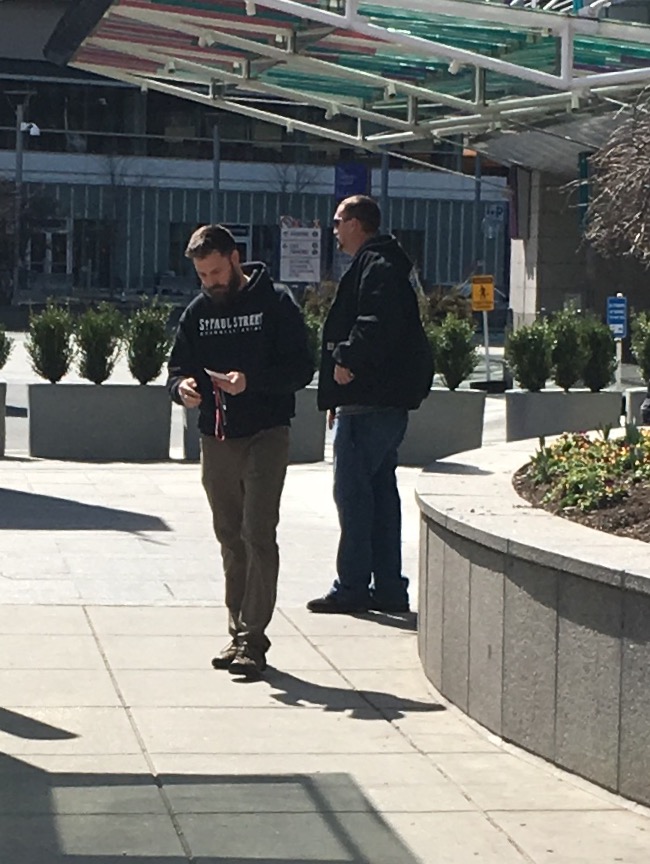 Evangelization Spot#2, Erin Express route:
From the desk of Nancy:  Nancy and Don sezzztup a prayer station at the corner of 34th and Chestnut, directly in the route of people doing the annual "Erin Express" St. Patrick's Day bar crawl that goes throughout the city on foot and by bus.  Many people arrayed in their green to celebrate the patron saint's day came past us.  We were out of St. Patrick medals from our previous weekend SPSE but had remaining prayer cards; this provided a nice backdrop to a crucifix on a chain, making for easy wearing of sacramental honoring the saint.  See picture below!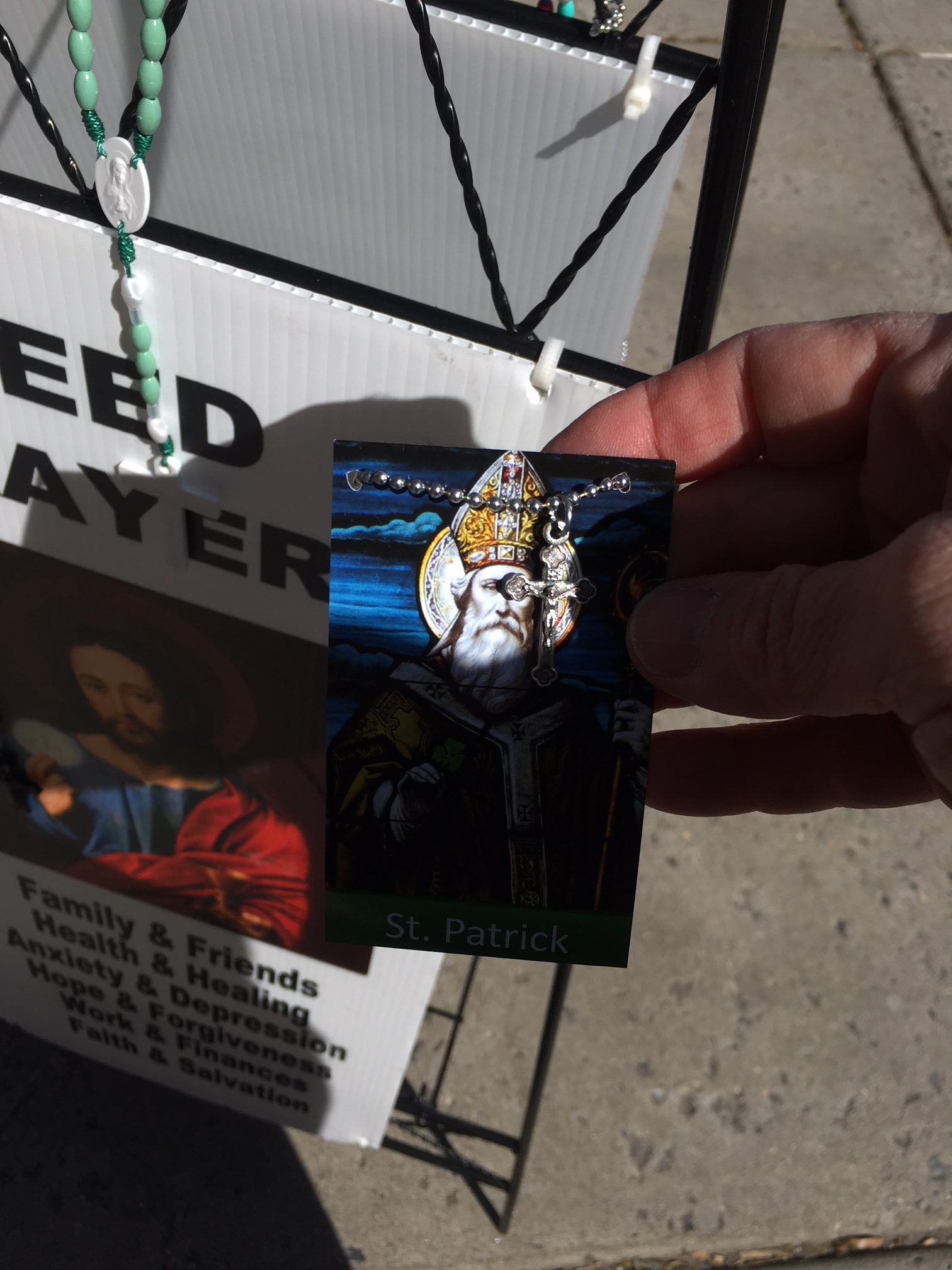 Early on, a couple of sweet young ladies stopped to get green rosaries and how to pray the rosary pamphlets.  They were heading down to watch the Penn relays, an annual track and field competition in the city.  The one exclaimed how happy her mom will be that she got this for her.  Upon asking if they knew the story of St. Patrick, they told us that they had gone to Catholic school and knew some of it.  We teased and told them it was quiz time! 🙂  They recalled that he had been a slave and had to feed and care for animals and that there was something about snakes.  When we told them that St. Patrick actually was born in England, they were shocked and announced something silly along the lines of "oh my gosh, my whole life has been a lie!"  On the snakes, we talked about how the Irish were majority pagan, worshiping nature, and that thanks to St. Patrick, Ireland was greatly converted to Christianity through his work and that this was likely the reference to the snakes… the riddance of pagan worship.  We all chatted about how whenever one meets a person who has some Irish heritage who is a Christian, that it is very much thanks to St. Patrick for this fact.
A man named Conor came by with his friend. He stopped to tell us that he was so pleased to see us there; that we were a great reminder that St. Patrick's day is not just about getting drunk.  Conor had been born in Ireland and has been in the United States for some years.  He is a pHD student at University of Pennsylvania.  He wanted to pray for a woman friend who is greatly suffering from depression, for her healing.  Also he asked for prayers for his buddy who is a boxer trying to make it successfully in New York.
Several large groups of party-goers came by.  Many did not show interest in stopping for prayer nor accepting our prayer cards and crucifixes, but a significant number did.  It was interesting how some would pass by with the group of friends, only to run back, as if a little voice told them to, and ask if they could have a crucifix and prayer card.  We did have the opportunity to tell some of them the history of St. Patrick. The story was generally met with amazement both over the fact that they did not know his history at all and that he had been so effective at converting so many / having a great effect to this day.
This mission reminds us of how it is good to plan for making encounters based on particular feast days or community events, to think of how to relate to people in public, in the hopes of helping further open all of our doors to Christ.  It is good to try to help people see that there are Catholic persons of faith who look like us, seem approachable, who want nothing more than to remind the world of the love of Christ and His Church for humanity.
Please remember the following intentions in your prayers:
For Conor's lady friend to be healed of her depression, for his boxer friend to be successful and safe and moral in matches.
For Robin's son Sameer to be guided in making good choices and making good friends and for Robin's safety at work.
For Samuel to know the peace of the Lord and for peace in our world.
For Clarissa to have excellent clarity of thoughts and judgement / decision making, through God's ever present guidance.
For Greg's girlfriend Shannon who suffers with cirrhosis, for her healing and recovery.
For Darlene's mom Connie to heal and recover and come home from the hospital and for her grandson Chris, who will be moving home soon, to make good choices in life and good friends, and to know Jesus alive in his life.