Philadelphia - Lower Bucks County
Country:
United States
State or province:
Pennsylvania
Team Leader
Nancy Hoyt
Contact
Admin
Login
---
Team Badges
---
Recent Blog Posts
---
Our Lady of Good Counsel Carnival
September 19, 2019
---
(NH) Several members of our Phila. / Lower Bucks St. Paul Street Evangelization team served at the local OLGC Church carnival in Southampton last Thursday, Friday and Saturday evenings.  Praise be to God for many encounters and beautiful weather!  Many rosaries, blessed medals, pamphlets, prayers, and joy were on hand from our evangelists Don, Dan, Bernard, Cheryl, Nancy and Bill.
Giving out the Miraculous Medal at this carnival was a special treat, as OLGC Church has a stained glass window depicting St. Catherine Laboure and the medal.  See below window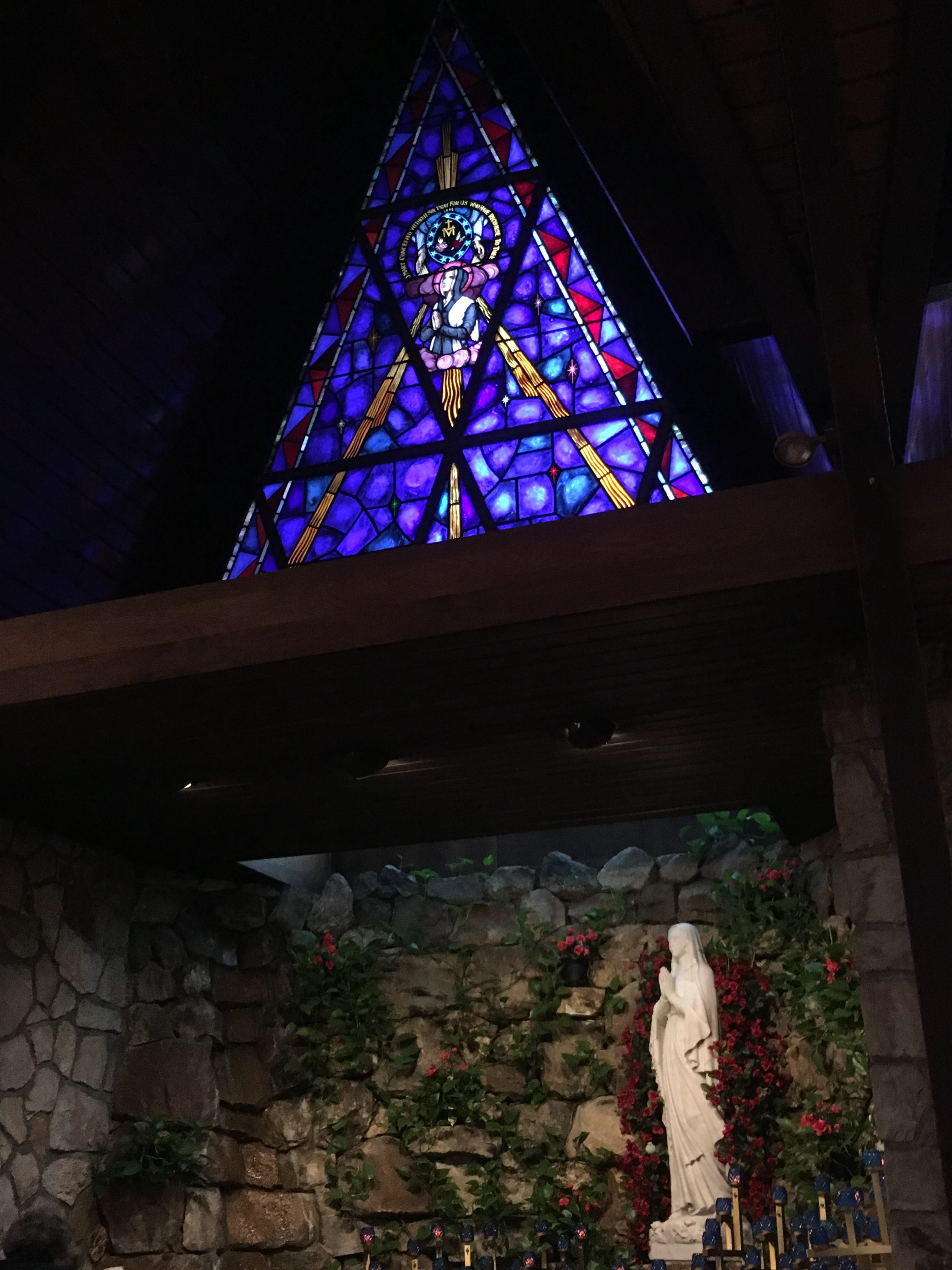 with St. Catherine, an image of the medal and the hands of Our Blessed Mother reaching down, above the shrine to Our Lady of Lourdes.
The subject of the presence of this window in the church helped with starting conversations about whether a person has ever been inside OLGC church, whether the person was Catholic, and how they must try to go into the church, Catholic or not, when it is open, to see this beautiful window associated with the Miraculour Medal they were receiving and to offer their prayers there.  As Bishop Robert Barron has stated, "beauty is the arrowhead of evangelization".  Perhaps another year, the team may be allowed to give church tours during the carnival 🙂
Many people prayed with our evangelists, and many had stories to tell and intentions to request.  There were several parishioners who came by and built up our evangelists.  Some remarked about how they had never seen us at the carnival before, as this was our first time at OLGC carnival, and thanked us for being there.  One longtime member of the parish remarked how it is so good for us to pray with people and that it is something that Catholics need to learn to do more.  She said that praying in Mass and praying after confession with the priests is so good, but they are very busy, and praying with others offering their intercession for us is wonderful.  She particularly asked for prayers for her children and their choices and for her daughter's boyfriend who is Muslim to have a conversion to Christianity.
Another long time parishioner came over and mentioned that he had been at the Malvern retreat, where our team had been blessed to give a talk last winter (blog post here: Malvern Retreat Blog Post). This fellow was so pleased to see us at his parish carnival witnessing to our love of Christ and His Church.  Moved by seeing us there, and having reported to his wife post-retreat about some of their parishioners presenting there, he brought her over to our evangelization table / prayer station to see for herself.  The grandchildren were with them too.  This family accepted many blessed medals, prayer cards and rosaries, and were a great blessing to our evangelists, exclaiming that fellow Catholics sharing their faith with the world is so greatly needed.
A woman police officer came by, not in uniform, and received a St. Michael the Archangel medal.  She was moved particularly by receiving this because her parents used to pray to St. Michael to protect her special needs son.  Evangelist Don prayed with her for Our Lord to protect her and help her find assistance with the care she needs for her son and for Mary the Mother of God to intercede for her and help her nurture her child.  Some time went by after she left and a man came over to the table.  He said he was her husband and he thanked Don profusely for speaking with and praying with his wife.  He said he has rarely seen her cry in all of their years of marriage, and she broke down telling him the story of her encounter with our evangelist and that she was crying out of happiness.  God be Praised!
One man came by with his infant son and was speaking with us for a bit.  He relayed that his wife and two year old were going on rides and that he had "baby duty".  He mentioned that he was a Catholic and a member of the parish.  We chatted about the wonder of God's creation in babies and how good it is for he and his wife to have his little family.  He agreed and said that his dad told him that while he and his wife were talking about waiting to plan another child, no time will ever be the perfect time.  The young father replied you just have to do it.  Agreeing, we spoke of how the Catholic Church has always been and will always be the world promoter of trusting in God when it comes to family planning and embracing the wonder of children.  He accepted a blessed medal and prayer card.
Sharing our love of Christ and His Church in America is not always the easiest thing for us to do.  We are so fortunate to have the St. Paul Street Evangelization ministry providing the resources to us to be able to be the army that we know God wants us to be for Him.  Thanks be to God for calling us and allowing us to serve him at the OLGC carnival!
Please pray for the following people and their intentions:
Mary's family
Philip, Marie and Christian's family health and safety
Joanne raising her 5 grandchildren on her own
Matt's freedom from the addiction of alcohol
Colleen health of her family
Judy's healing and relief of knee pain due to arthritis
Gary's healing and slow progression from Parkinsons and for wife Sally who is caretaker
St. Lucy please intercede to Our Lord for the healing of a parishioner's eyes
Richard on dialysis, for his healing and knowledge of God's love
Chrissy and her children and for the paternity test to be done
Terry's health of family and friends
Viviana's family peace and togetherness
Loretta to grow ever closer to Our Lord
Regina for her family and especially children
Mary for family finances and jobs
Cathy for Trish's recurrent tumors to stop grow and for full healing
Cathy for her family members who have rejected their faith, for understanding of when to speak with them for God and when to keep quiet
Tom for complete healing and full recovery from anxiety and depression
Barry for healing and relief from frightening thoughts and visions as well as physical pain
Brian who is fighting addiction to return to the Church and for his children and family who are suffering due to his addiction
Gina for assistance with her special needs son and for her family
Denise to grow in faith
Rich for his health and his recently graduated daughter Renee's success
Barbie, 40 years young, for healing and recovery from her back surgery
Joan for blessings on her helping her sister
Jerry for his elderly parents who are starting to fail and for his peace and hope in caretaking
Kim for the blessing of conceiving a baby
Donna for brother Michael's reconciliation with his children
Christian, who is recently diagnosed with muscular dystrophy, for his slow progression and healing and for him to know Christ is with him always
Strength for Mark and Linda and Rosemary
Marcia for her family peace, unity and protection
For extended family living in Brazil, for safety and good travels