Alpha
October 9, 2019
---
"I am the Alpha and the Omega, the first and the last, the beginning and the end."  (Revelations 22:13)
Alpha and omega are the first and last letters of the Greek alphabet.  The words above come from the final book of the Christian bible, and  sum up who Jesus Christ is, quoting the same words used by God in Revelations 1:8.  God is infinite, omniscient and omnipresent.  He is everywhere, and everything is His.  We are His children who are entrusted to care for His creation, and also for each other.
God created each one of us individually.  He molded us; he knitted us together in our mother's womb.  He loves us with an everlasting love, and cares for us so very deeply.  He created us with a heart that desires to know Him more and more; we have a natural curiosity; when we think about it, we wonder why are are here? What's the point of my existnce?  Is there a purpose to my life, and if so, how do I find out what it is?   We seek answers to these questions in many ways, depending on our background or experience.  We rely on our friends and family and the world to guide us in the right direction.  But how do we know they aer reliable? Do they really have the truth of who we are meant to be?
Many people nowadays have had little or no exposure to Christianity. Some of us were raised in Christian homes, with parents of one or another religion, yet we still have many important questions.  We have heard good things and bad things about Christianity.  Some people in the world have a negative view of Christians, blaming them for wars and other atrocities in its history. Many others praise it for all the good that is does in the world, such as helping to feed and clothe and care for poor, educating the youth, healing the sick and injured in their hospitals.  They bring hope and joy and happiness to those who are hurt, lonely, depressed or in mourning.
Christians have a set of instructions, a Bible, but it's hard to read and understand because it was written so long ago over thousands of years. So how do we find out the answers to the big questions:  Who is God, and why was I created?  What am I supposed to do?  Am I here for a purpose, and how do I discover it?  How does my life impact others?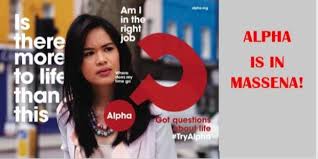 In Massena, we have a wonderful program to help discern the answers to big questions.  It's called Alpha, and anyone can join in.  Over a period of 8 weeks, people gather for a meal, a short talk, and discussion time to share with others.  No matter your background or life experience, Alpha welcomes all.
This Fall beginning October 1, they're meeting on Tuesday evenings from 6-8:30 pm. For more information on this or future sessions, please call St. Peter's Parish office at 315.769.2469 or email smarion@massenacatholics.com