Rochester, NY
Country:
United States
State or province:
New York
Team Leader
James Scheer
Contact
Admin
Login
---
Team Badges
---
Recent Blog Posts
---
Week of July 20
September 16, 2019
---
Teams evangelized the Farmers Market in Geneva on Thursday, Ontario Beach Park on Friday (see photo below) and the Rochester Public Market on Saturday. One gentleman, whom I've seen several times over the summer,stopped to evangelize us. When I asked his wife if she would like a rosary, she said, "No, we're Christian." Her husband, however, took a pamphlet on how to pray the rosary.
Members of Fr. Tony Mugavero's parish team evangelize their church neighborhood every Thursday night, handing out rosaries, crosses, and pamphlets.
Please keep in your prayers Carm Caruso's two prematurely-born grandchildren. Thank you.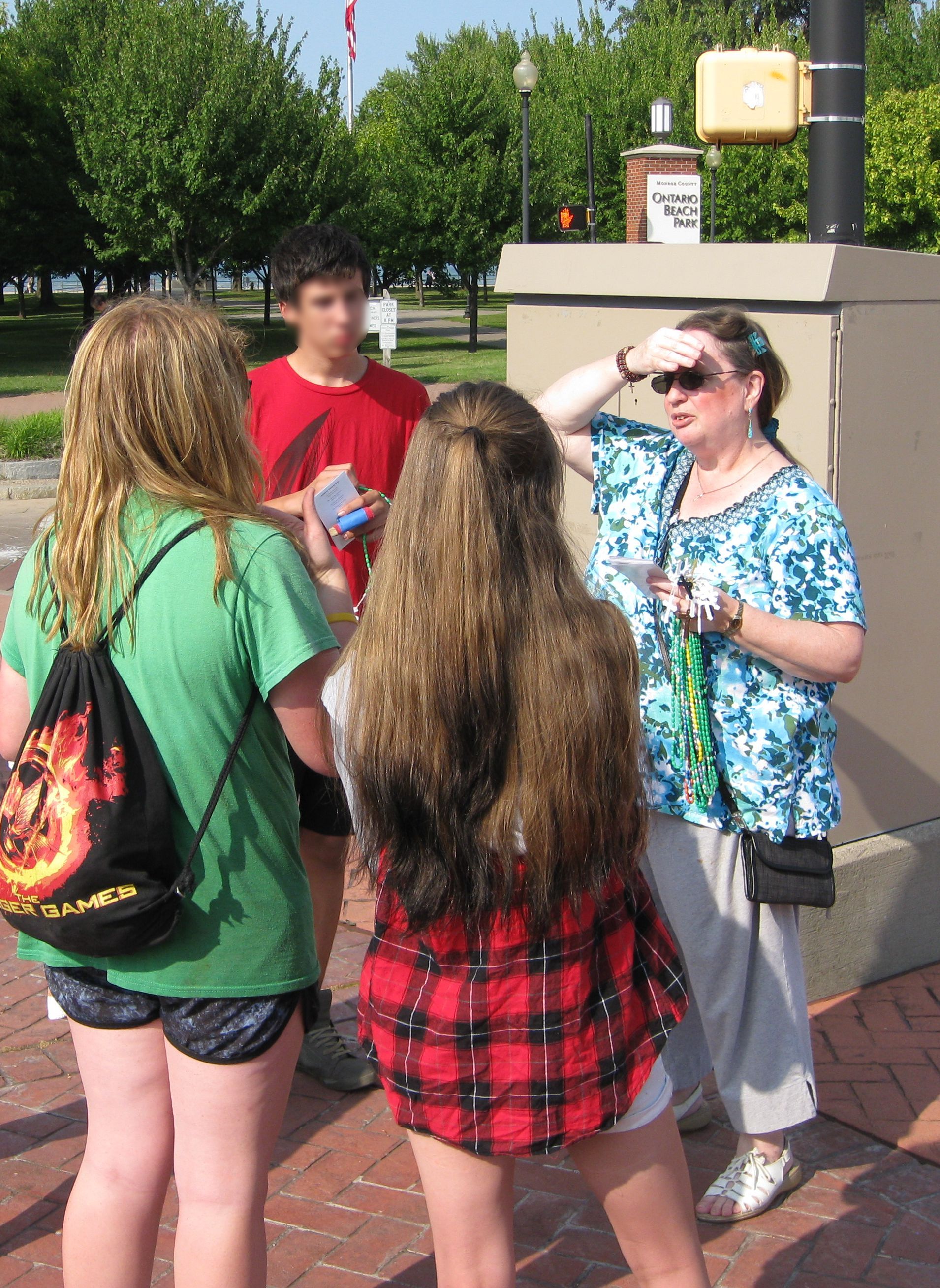 Karen speaks with several teens at the beach.
Team member Dominick Zarcone adds the following:
"To greet shoppers with a smile and offer them a Rosary, a guide to praying and a Rosary CD fills me with joy and gratitude. I cannot help but believe the Lord Jesus is pleased with these efforts to bring His Good News to our City. Engaging others for Him is meaningful knowing the Holy Spirit is working in the lives of the evangelizer and the evangelized.
Yesterday at the Public Market, one woman actually took the time to ask me what the Rosary has to do with Christian prayer. She Listened; Took all three items and Offered me God's blessings with a genuine heartwarming smile. Small children love to choose their favorite colors and pick out the Rosary of their choice. Parents are watching, listening and hopefully beginning themselves to be open to the Good News.
Also, I encountered a number of people connected to the RGRTA Bus Company for whom I have been an employee 37 years. There were bus passengers, a RTS driver, a Lift Line driver, an Authority Executive Officer, and a transit union attorney. What a joy to greet and offer Rosaries to both customers and colleagues. A hearty thanks to our SPSE Chapter Founder, Father Mike Mayer, for knowing and valuing the Church's most important service of love. Going into the "street" to announce Catholic Faith in the Savior Christ is wonderful. Come and See!"
Karen Kuntz adds the following:
"This morning I spoke w/ a woman who grew up Catholic but left the Church & is now attending a Methodist church (sorry, I didn't get where – the conversation didn't come to that). Anyway, I asked her if she had ever considered coming back to the Catholic Church. I asked her if she ever missed the Sacraments, particularly the Eucharist. She said she never really thought about it. Let's pray that she DOES think about it! I reminded her that Christ is truly present in the Eucharist & that He wants her to come back & share in the graces available in the Sacraments. That's about as far as I got, b/c she took off after that. But she did take a rosary & a guide & a St. Francis/St. Stephen info card, so let's share this w/ the group so we can pray for her."