[Data not found]
Country:
[Data not found]
State or province:
[Data not found]
[Data not found]
[Data not found]
Contact
Admin
Login
---
Team Badges
---
Recent Blog Posts
---
On the street @ Civic Center: April 16
September 5, 2019
---
Today it was a "duo" ..Matt and Robert hit the street at Civic Center, which has proven to be a ripe spot for evangelizing many people, and people from all backgrounds and socio-economic levels.
Many rosaries, leaflets, and prayer cards were given out ..and both Matt and Robert spoke to lots of people. Many conversations were short, but several were lengthy.
Robert spoke at length with a couple who were transplants from Boston. The man was recently in prison, and is Catholic. The woman (his girlfriend) was not Catholic, but decided to become her boyfriend's religion (in her own words). Robert commented that he was an "intense" man, in a spiritual sense. The man is eager to get his life on track and to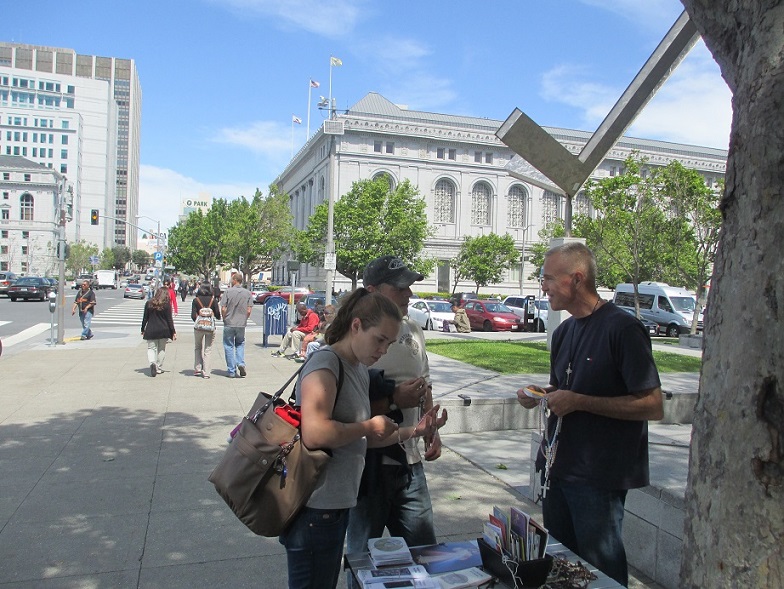 practice his Catholic faith. They were very grateful to have encountered SPSE and Robert.
One man, Rich, spoke with team leader, Matt, at length. He told a sad tale of his parent's divorce when he was just 13-years-old. His mother couldn't handle the break-up, and subsequently committed suicide.
Matt asked if the suicide negatively affected his faith. To Matt's surprise, Rich said, "No, it's actually what sustained me".  His father was not very paternal, and didn't want to be "burdened" with raising a teenager, which added more tragedy to an already tragic story. When Rich turned 18, he left for college, and decided he would care for himself and get a good education. He admits to being happy and successful today. He also asked, "Hey, do you guys (SPSE) need help??". He was given a business card and told to get in touch with Matt. We may have inadvertently recruited a new member for our apostolate!
We ran out of "How to Pray the Rosary" leaflets, which we always provide when giving a rosary to someone who doesn't know how to pray it, or to a fallen away Catholic who has forgotten how. We also give out "15 Promises of Our Lady to Those Who Pray the Rosary".
We feel it's important (well, necessary!) that people understand WHAT they are praying,and HOW it will affect their lives.
We have some miraculous medals, but they are more costly so we reserve those for individuals who are in most dire straights (spiritually) and for those whom are suffering more greatly, perhaps physically or psychologically.
Civic Center has become one of our usual places to evangelize; the foot traffic is ideal, the sidewalk is very wide, and we reach a wide segment of the population, including tourists who visit the Asian Art Museum and City Hall, both on the Plaza.
Please contact us if you feel called to share your Faith with us!