St. Raphael
Country:
United States
State or province:
Minnesota
Team Leader
Sharon Hedman
Contact
Admin
Login
---
Team Badges
---
Recent Blog Posts
---
10/30/21 St Raphael School Rake-A-Thon
October 30, 2021
---
The day started a bit nippy as Sharon and Phil greeted families gathering for the annual St Raphael School Rake-A-Thon, a combination service project and fundraiser.  Due to time constraints, not all families could stop by our two tables of SPSE materials and free books.  We were able to give a mother who is not currently practicing her Catholic faith a rosary and other rosary materials along with "Reasons to Return to the Catholic Faith."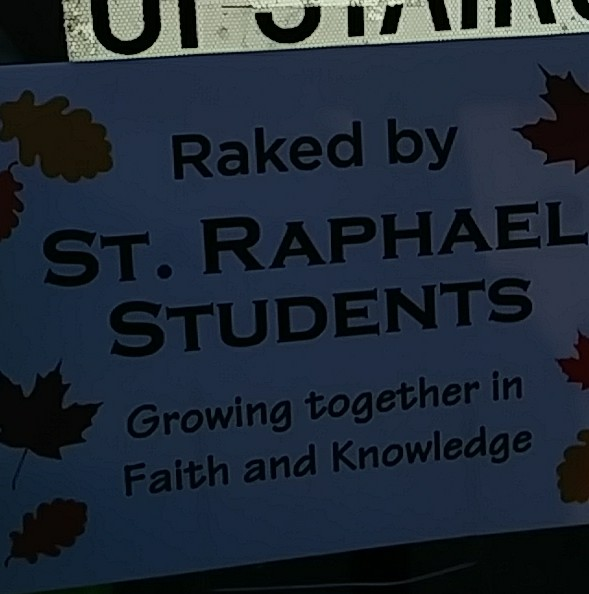 Last year due to Covid protocols, the usual lunch for families after the raking did not happen.  This year the lunch did happen.  Before Phil left for  another parish volunteer commitment, he helped Sharon move the materials into the school cafeteria for the families who returned for the hot dog and chili lunch.  It was thought during lunch would be a better opportunity to reach out the families and reach out Sharon did.  A mother picked up replacement medals and chains for ones received at last year's event which had broken. Children picked up medals (many several took multiple medals) and chains.  Parents and children picked up free books.  The second grade teachers took medals/chains for her students (except for the one standing next her that she knew had received one). Even our new parochial administrator Fr. Hagen stopped by and picked Miraculous Medals cards to hand out with the Miraculous Medals he carries with him in a rosary pouch.  We started the morning with a small quantity of loose chains (12?) and Sharon opened a bag of 50.   After the families left, Sharon discovered the loose chains left are probably less than five.  Please pray the children will continue to happily wear their new medals/chains and the sacramental graces they receive will aid them to grow in their Catholic faith.